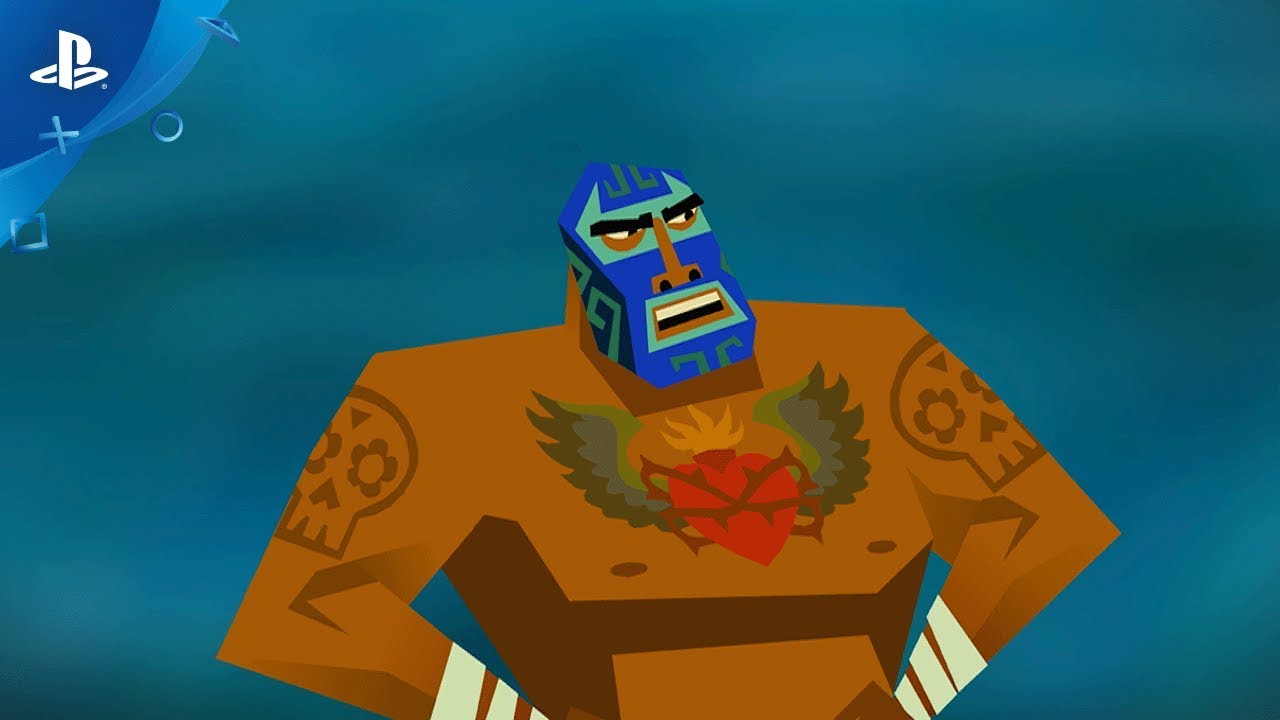 The long-awaited pollo-powered platformer sequel is finally here
Grab your spandex tights! The GOOD ones. You're gonna need to get limber, because Guacamelee! 2 finally comes out tomorrow, with a 10% discount for PlayStation Plus members! We're thrilled to debut the launch trailer here on the PS Blog. And beyond that, a little treat — we'll give you a peek at our process for taking story scenes from idea to implementation with some before-and-after animations.
When creating each of the story moments in Guacamelee! 2, we start with the concept art / storyboards for the scene. Once we're happy with the storyboards, we move on to a very rough mockup animation and review that as a group, making changes until we're all satisfied. Finally, we make all of the art and animations needed for the scene and implement the story moment in-game.
We've gone through this process for dozens of scenes in Guacamelee! 2, and we thought it might be interesting to share a few examples with all of you!
JUAN'S HOUSE
As the game opens, you see a bit of Juan's cozy home life after saving the world in the first Guacamelee! — just before getting interrupted by the next crisis. First we have concept lead Augusto's storyboards:
This moment formed the basis for the opening of our announcement trailer.
To plan out the actual in-game sequence, Augusto developed it further in Adobe Flash, working it into the real layout of Juan's newly expanded house:
And our final treatment matches that pretty closely!
THE DARKEST TIMELINE
Things go south pretty quickly at the start of the game. This scene where Juan drops into a scary, alternate-reality version of his peaceful hometown ended up dramatically changed after the concept phase, but the core moment of meeting the game's bosses was kept similar:
(Spot the shot that became another moment in our announcement trailer!)
For many reasons, we instead ended up telling this scene as a flashback recounted by another character (for one, that heap of dead luchadors would have really cranked up our ESRB rating).
MEETING THE CHICKEN ILLUMINATI
This concept was a bit less fleshed out than the previous examples, but this "Super Secret Chicken League" definitely had charm. The idea eventually evolved into the "Chicken Illuminati", an important yet mysterious group in Guacamelee! 2. Augusto polished this up in a Flash animation, showing Juan's chicken form descending to meet them through a strange tunnel:
This is another one where the game matches the Flash mockup closely. We really wanted the reveal of this oddball secret chicken society to be both grand and ridiculous.
Hope you'll check out the whole grand and ridiculous game on your PS4 tomorrow!