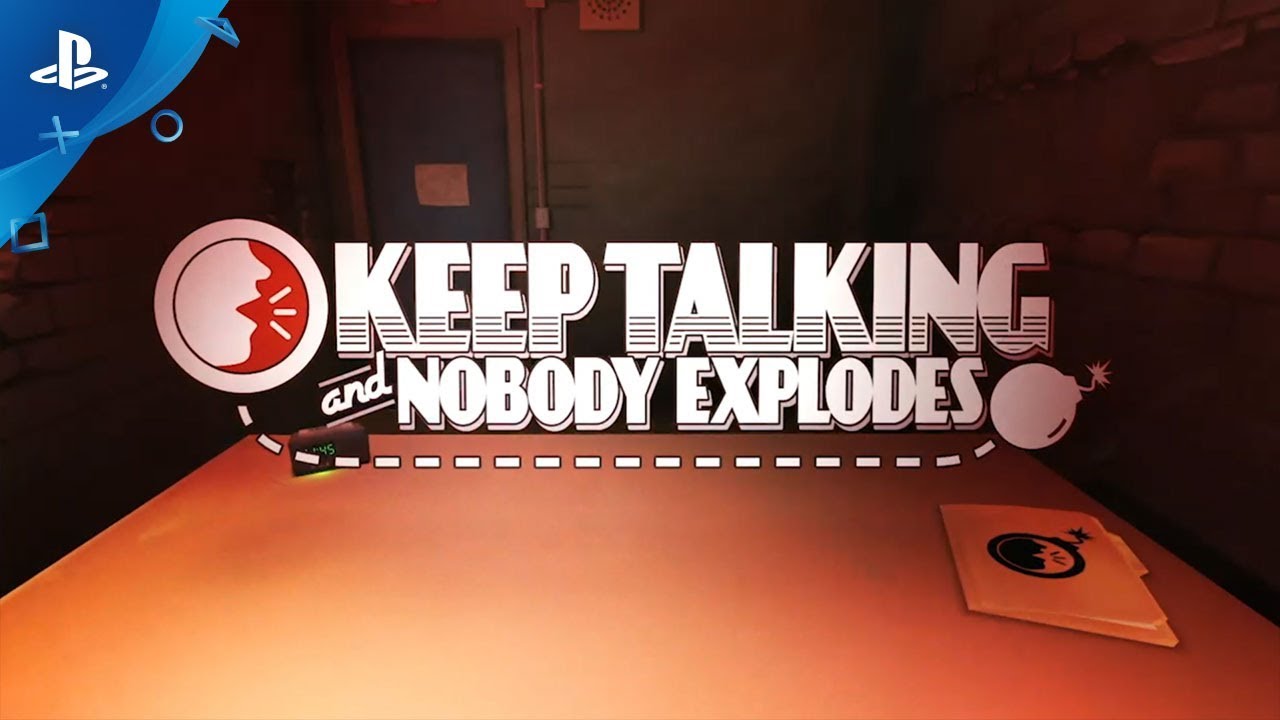 The friendship-testing party game opens up to a whole new audience next week.
Steel Crate Games is the small-but-plucky team of four behind Keep Talking and Nobody Explodes. We are beyond excited to announce the release of "Flatscreen Mode" on August 16!
What is Flatscreen Mode?
Dear reader, we're so glad you asked. All will be explained in due time. But first, let us give you the rundown.
In Keep Talking and Nobody Explodes, one player is trapped in a room with a ticking time bomb. The other players are the "Experts." They must help defuse the bomb by deciphering information from the Bomb Defusal Manual. But there's a catch: the Experts can't see the bomb.
Survival will rely on teamwork, creative thinking, and a bit of trial and error.
At its core, Keep Talking and Nobody Explodes is a local cooperative, party-puzzle game. Rounds are fast. And success hinges on your team's ability to communicate effectively. So choose your words wisely. One mistake and it could all be over.
No one said it was going to be easy.
The puzzles are designed to be tricky to communicate. And the manual? Tricky to interpret. But the rules are fair, and they are always correct. No bomb is ever the same. The puzzles will change. If you plan on getting out alive, you and your team will need to keep your wits about you.
How did we come up with the concept for this game?
A bit of history: Keep Talking and Nobody Explodes was first designed for virtual reality. In the early days of concept development, we noticed there was something missing from the VR experience. After demoing to friends and family, we saw that bystanders were left out of the experience completely. Watching someone else play VR? It's not much fun.
What if players were separated by roles? Each with only half the information needed to solve the problem? We could turn bystanders into active participants. We knew we were onto something.
Just about no one has two to six VR headsets lying around, but almost everyone has a phone, laptop, or some sort of smart device with a browser. By creating a manual, we turned bystanders into players, giving them an essential role and the means to easily join in!
This translates beautifully to Flatscreen (aka non-VR) Mode as well. Only the Defuser sees the TV screen. So if you can talk to the Defuser, you can be their Expert, even remotely.
"But wait!" I hear you ask, "You said this was a local co-op game?"
We did. It's true that local co-op is exclusively supported, but unlike other co-op games, you just need to talk to your friends to be able to play. PS4 voice chat provides the perfect medium to play with your friends. Grab a copy of the Bomb Defusal Manual—which is available for free—and join in as an Expert. You can even browse it on your phone.
Both PS VR and Flatscreen Modes are included together. Players who already own the game for PS VR will get the Flatscreen Mode in an update for free on August 16. Save 10% on Keep Talking and Nobody Explodes from August 16 to August 23 at PS Store.