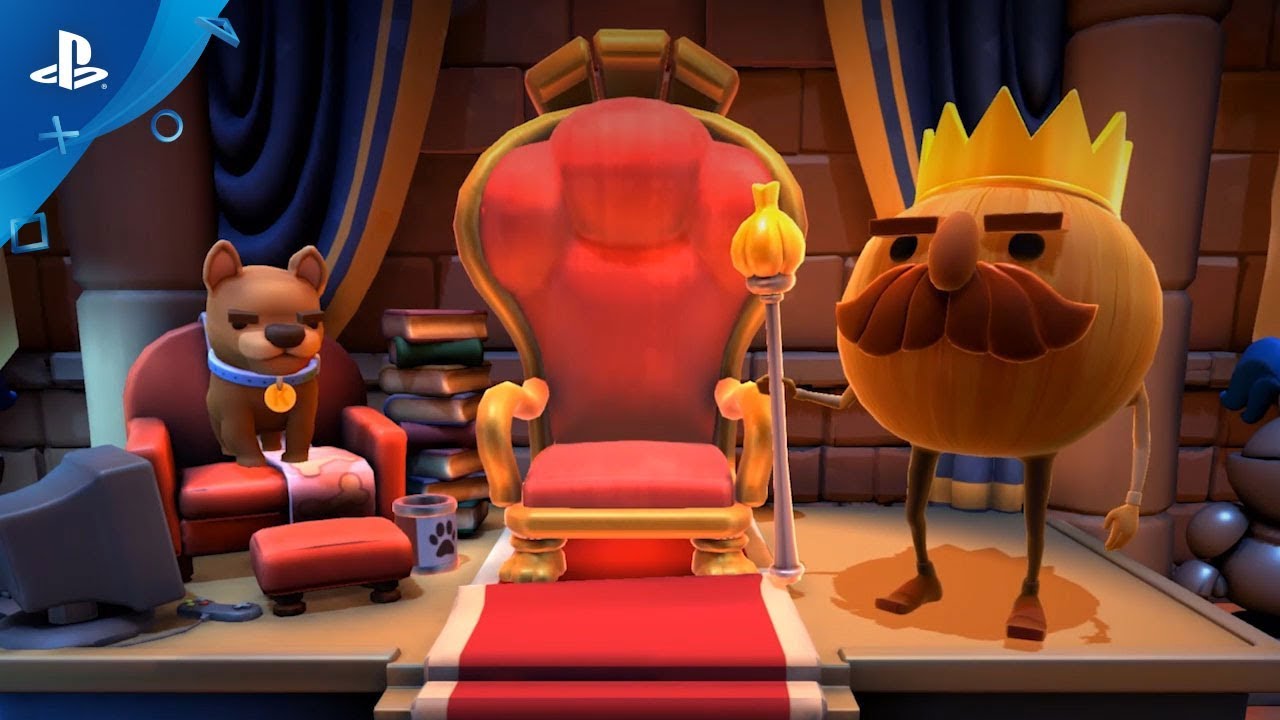 Sate the undying appetite of the unbread in Ghost Town Games' follow-up to their wild kitchen co-op hit.
First, a little background.
My name is Phil. Two years ago my friend Oli and I released a co-op cooking game called Overcooked. It's the first game we've released from our two-person studio Ghost Town Games, and it was developed entirely in my front room on a shoestring budget (You can still see Oli's dent in the sofa!).
It's safe to say that our expectations for the initial release were fairly low. We'd had a great response from anyone who would play the game with us, but every time we tried to pitch the game to publishers it more or less fell on deaf ears. We were delighted when Team 17 agreed to help us promote the game, but our main goal at that stage was to recover the cost of our development, so we could… pay next month's rent!
Nothing could have prepared us for the success of Overcooked after launch. We suddenly found ourselves inundated with messages from players all around the world, people playing the game with their friends, hoovering up each new content drop and clamoring for more. But while the number of players was increasing, the number of people working on the game… wasn't. We have always maintained that one of our greatest strengths as a studio was our small team size and the freedom it gives us to take risks, make mistakes and change our minds, but as a two-person studio there was no denying we were going to struggle to keep up with the demand for new content.
There was another issue: On Twitter, Facebook, forums, even on YouTube we were constantly being messaged by players who wanted to play the game online. We'd always maintained that Overcooked was a local multiplayer game, but when we saw messages from gamers wanting to play the game with their siblings living overseas it was hard for us to ignore…
Sharing our Toys
We were talking with Team 17 about this dilemma around the time were working on the release of our second DLC for the game, when they made an interesting suggestion. Team 17 aren't just a publisher, of course — they've been developing games for over 25 years, and it just so happened they had a group of developers free. Would we consider meeting with them to discuss a potential sequel?
We were hesitant at first, but we decided to meet with the developers and talk through how we would envisage the potential sequel. We spoke for hours, tossing around ideas and scribbling down suggestions for new mechanics and new levels, talking about the art, the audio, the animation, it was a really exciting time and we came away feeling really energised. Suddenly we had a way we could respond to the fans, giving them the new content they wanted and adding online multiplayer for all the players who couldn't play the game locally with friends.
So What's New
We learned a lot when we were making Overcooked, we built the foundation for what a co-op cooking game could look like so with the sequel we set to work building on this as much as possible. With Team 17's help we've been able to expand the game to include all the content we wished we'd been able to include in the first game as well as brand new ideas we never would have thought of. Here's just a taste of what's in store:
Online Multiplayer: Get together a group of your best chefs from around the world and work together to take on the game's brand-new campaign.
Dynamic Levels: We have a handful of exciting new levels which change on the fly as you play them (Ever seen a hot air balloon kitchen crash land into a sushi kitchen? You will soon!)
Throwing: Raw ingredients can be thrown between chefs, or directly into pans… and bins. This brand-new mechanic will really put your skills of co-ordination to the test.
New Story: The Onion King has unwittingly raised an army of unbread which are laying siege to the Onion Castle. Help satisfy their hunger by exploring the Onion Kingdom for new recipes.
New Chefs: We have a whole host of chefs returning from the original game as well as some brand-new faces joining the squad.
New Recipes: Sushi, pancakes, steamed buns and so much more!
New Mechanics: Travelators, fire barriers, moving platforms, moving rafts and much more to be discovered!
New Kitchens: Sushi kitchens, swamps, alien planets, mines the list goes on!
So What's Next?
We're going to be watching the release of Overcooked 2 very closely and we'd love to hear from you. What do you love to cook? What's your favourite new feature? What's missing? We want to continue to add content to the game so we'd love to hear from every chef out there, so we can keep making the game better and better.
Thanks so much for reading. See you in the kitchen!
Phil & Oli