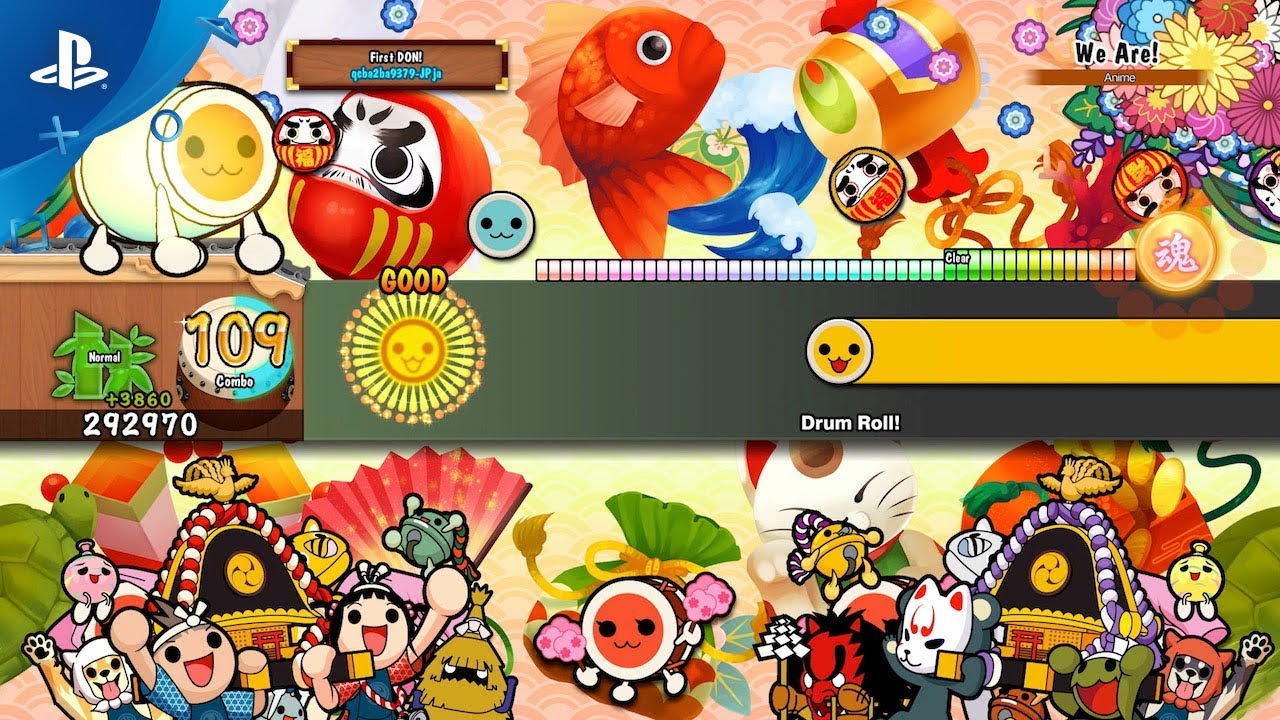 The cult rhythm hit comes stateside, featuring songs from Neon Genesis Evangelion, Dragon Ball, One Piece, Tekken, IdolM@ster, Hatsune Miku, and more.
We're overjoyed to announce that Taiko no Tatsujin: Drum Session is coming to PS4 on November 2, 2018!
The game will feature iconic songs from Neon Genesis Evangelion, Disney favorites including Frozen and Zootopia, and tracks from Kemono Friends, Osomatsu San, Hatsune Miku, and even Touhou Project. We didn't forget to include some of our own personal favorite songs from the Tekken series, Tales of Berseria, Ridge Racer, and IdolM@ster!
Looking for something more contemporary for your Drum Session? The classical song category is your ticket! Jam out to the likes of Rossini, Offenback, and Carmen. These tracks are a great way to get used to Taiko no Tatsujin's mechanics and gameplay.
The dev team in Japan is also super-pumped to share Taiko no Tatsujin: Drum Session with everyone, so without further ado, here are a couple of messages from Ueda-san, the producer and Sasoaka-san, one of the members of the development team.
"Hello everyone, I am the producer for the PS4 version of Taiko no Tatsujin, Ayano Ueda. Taiko no Tatsujin was released in 2001 in Japan as an arcade game. This is the first time that we're releasing the series in the United States on PS4!
"One cool new feature I would like to tell you about is that you'll be able to battle online with ghost data collected from players all over the world. We're also including some popular anime songs from Dragon Ball, One Piece, and Attack on Titan, so be sure to check them out when you pick up the game!"
–Ayano Ueda
"Hello, this is Takehito Sasaoka, a member of the Taiko no Tatsujin development team. It's been 18 years since Taiko no Tatsujin showed up in arcades in Japan for the first time. "Taiko no Tatsujin" was born with the concept of 'Anyone can easily enjoy playing Taiko through the rhythm of music.' Eighteen years later, I hope that everyone in the world enjoys the series and what it represents. Please enjoy and play the game with the kawaii characters including Don-chan!"
— Takehito Sasaoka
Once again, we're absolutely delighted to finally release Taiko no Tatsujin: Drum Session in the United States. See you November 2 on PS4 for some incredible drum sessions!