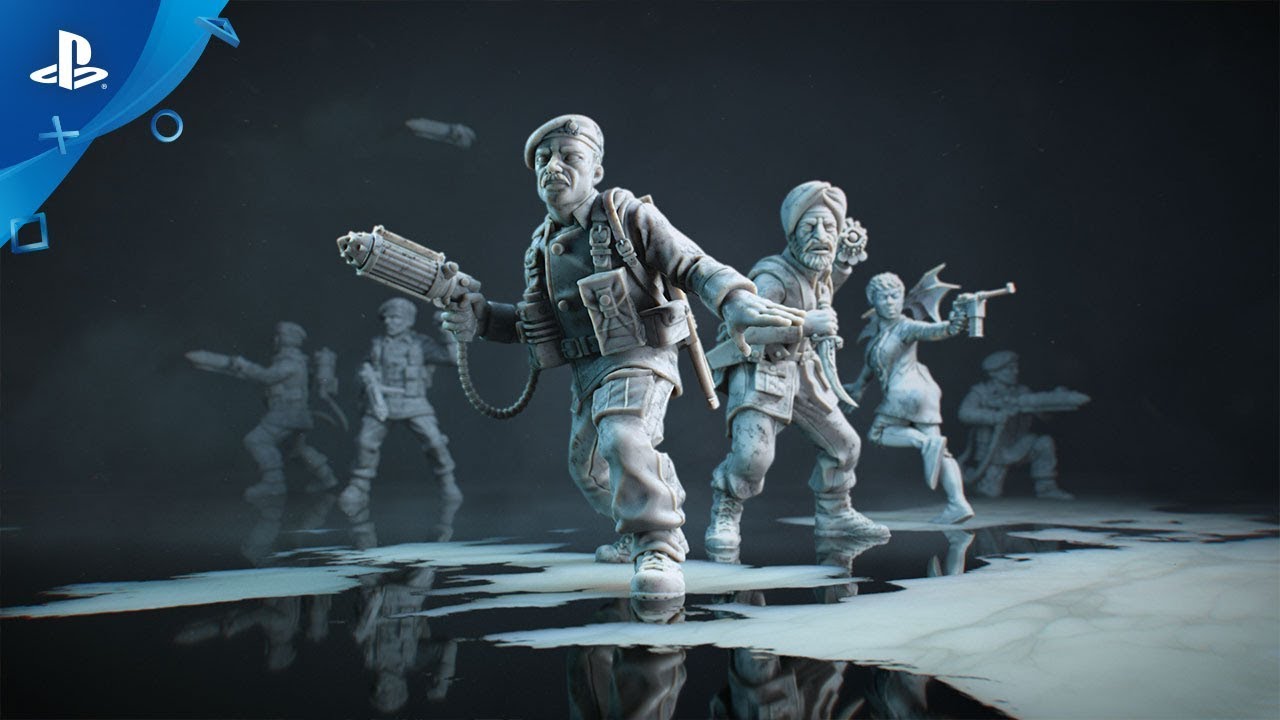 Turn-based strategy meets Weird World War.
Hello! I'm delighted to announce that we are working with publisher Ripstone to bring Achtung! Cthulhu Tactics to PS4 later this year. In Achtung! Cthulhu Tactics, the greatest horror from beyond meets the greatest conflict in human history.
Within, you'll find a turn-based strategy game with RPG elements set in the dark and desperate days of World War II, but where the Nazis are not the darkest foe you will face…
Weird World War
Based on Achtung! Cthulhu, the multiple award-winning RPG universe from Modiphius, Achtung! Cthulhu Tactics pits your strategic skills against the Nazi's supernatural warfare divisions and the unholy alliance they have formed with inhuman powers.
"Achtung!" is German for "Attention!" and became attached to fiction around World War II in the medium of pulp comics and films from the 50s onwards. Cthulhu is a slumbering titanic god from places between the stars whose awakening will herald the end times. He is the titular "star" of the 1928 classic weird fiction story The Call of Cthulhu by cult author H.P. Lovecraft.
Lovecraft's stories, and those of his peers, captured many people's imaginations and have steadily spread since their creation, being re-interpreted and re-cast by subsequent generations, a tradition that has now extended into the world of PlayStation.
In Achtung! Cthulhu Tactics, you control a crack squad of agents parachuted behind enemy lines, deep into Nazi occupied territory. There you must investigate rumors of and, if possible, stop occult experiments fusing science and the occult that are said to be performed in an underground Nazi bunker.
This mission is one of many contributing to The Secret War, a hidden conflict spanning the globe. Allied forces fight a desperate defense against the axis of evil in an attempt to overthrow the Nazis and their allied Cthulhu Mythos powers.
The Shroud
We've developed a number of unique gameplay features for Achtung! Cthulhu Tactics that give an original twist on the squad based, turn-based strategy of games such as Hard West, Shadowrun Returns, and XCOM.
Working with the themes of good vs evil and light vs dark, we have gameplay that reflects these ideas — we call it The Shroud. Created from the arcane activities of the enemy, within its shadows the enemy thrives: being obfuscated and gaining advantages from being hit when inside of it. However, the allied boffins, reverse-engineering some strange archaeological finds, have been able to equip all of their covert teams with amulets that bring a countering-aura to The Shroud.
Skilled command of such equipped troops means they are able to disperse The Shroud and so expose the enemy and destroy them, giving your forces advantages in a firefight. Combined, this system becomes a layer of strategic gameplay beyond the classic "get to cover and shoot" of other games in the genre.
Join The Secret War
We invite you to join the Secret War to fight against the darkness for our very survival! We have lots more to share, including details of our unique Momentum system, so we will be back with more updates soon. We can't wait for you to experience the battlefield of Achtung! Cthulhu Tactics for yourself on PS4 later this year.