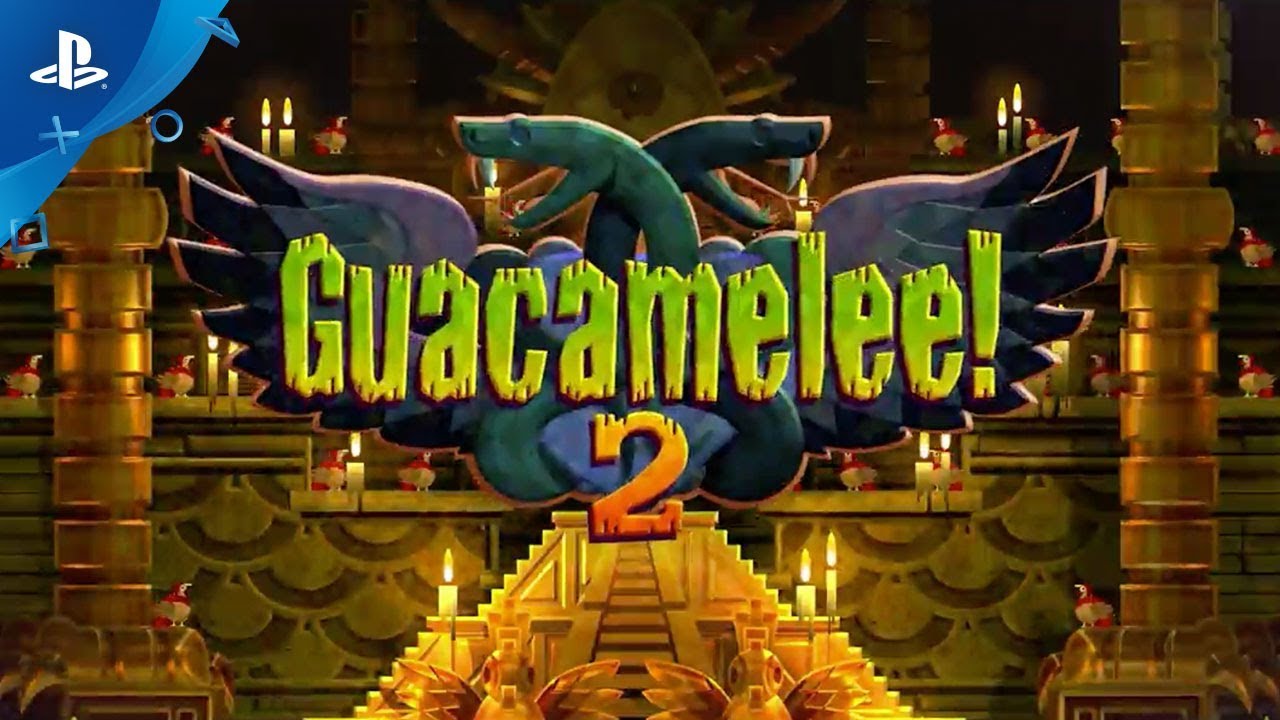 Unleash your inner luchador in the sequel to DrinkBox Studios' acclaimed Mexican folklore-inspired platform-brawler.
Late last year, we announced that Guacamelee! 2 would be released… "soon-ish." Well, soon-ish has almost arrived at Drinkbox Studios!
We're thrilled to announce that Guacamelee! 2 will launch for PS4 on August 21st for $19.99, and that you can pre-order the game right now at PlayStation Store with 20% off for PS+ members! Check out the new launch trailer above.
The original Guacamelee! launched in April of 2013. It's now over five years later and the game still stands as the definitive Mexican-Folklore-Inspired-Luchador-Platform-Brawler-Metroidvania! How do we top that?
More Chicken!
The power of the pollo reigns supreme throughout Guacamelee! 2.
Small tunnel to traverse? Turn into a chicken and strut right on through.
Giant purple block in your way? Pollo Shot and smash that bad boy to bits.
Wait… what's that? An orange block? Smash it with an expertly executed Pollo Slide.
Pollo Shot against bouncy walls and ricochet yourself a rapid path to freedom.
Experience the full glory of Pollo Glide by using air currents to reach unprecedented heights!
But what if the entire fabric of the Mexiverse is at risk of collapsing in on itself? No problem. Stumble upon a secret society of prophetic chickens and prove your worth. Could JUAN be the fabled CHICKEN-MAN!?
As you can well imagine, these new chicken moves aren't just for busting your way into exotic new locations. Pollo combat is frantic, furious and fabulous.
In fact, there's so much new chicken gameplay and content in Guacamelee! 2 that we embedded a genre-busting Pollovania completely inside of the main story's Metroidvania. The only such game in existence as of the writing of this post… probably.
How to Train Your Luchador
As we were making Guacamelee! 2, it occurred to us that all of the new abilities we were adding would require extensive training for players to properly master. So, we recruited a batch of mostly competent and somewhat knowledgeable characters to fill the role.
As players progress through the world of Guacamelee! 2, they'll encounter ability trainers. Each of these trainers has a specialty that they focus on. Complete trainer challenges and they'll hook you up with powerful upgrades and cool new abilities.
Climb to the peak of fitness with Doña Chamoya or sharpen your beak under the tutelage of Rooster Ramírez. Upgrade your grappling moves with Coscorrona or decipher Uay Coco's instructions to punch with explosive force!
However, if you really want to fight with finesse, visit Flame Face in one of his many tequila bar franchises and go toe-to-toe against punching Poncho (don't hold back, he's paid well for the job).
A Bigger Game than Ever Before
Guacamelee! 2 is an epic adventure that can be experienced alone or co-operatively with three of your closest amigos. Explore hundreds of new platforming and combat challenges. New abilities such as Eagle Boost, Rocket Kick, GOOOTCHA! and more add to Juan's awesome arsenal of luchador moves. Upgrade your pollo form with Pollo Shot, Pollo Slide and a plethora of new chicken abilities (some secret, some not so secret). Select strategically from dozens of new skill upgrades to maximize your lucha potential.
So how did we plan to squeeze all of this into a game the size of Guacamelee! ? We didn't! Thanks to our poor planning, we were forced to create a much larger game than the original. You can expect a bigger, badder world, with all sorts of interesting nooks and crannies to explore and conquer.
We've worked extremely hard on the game over the past two years, and we're super hyped that people will finally be able to experience Guacamelee! 2 so soon. Please feel free to ask any questions you have in the comments below, and we will try to answer them the best we can!