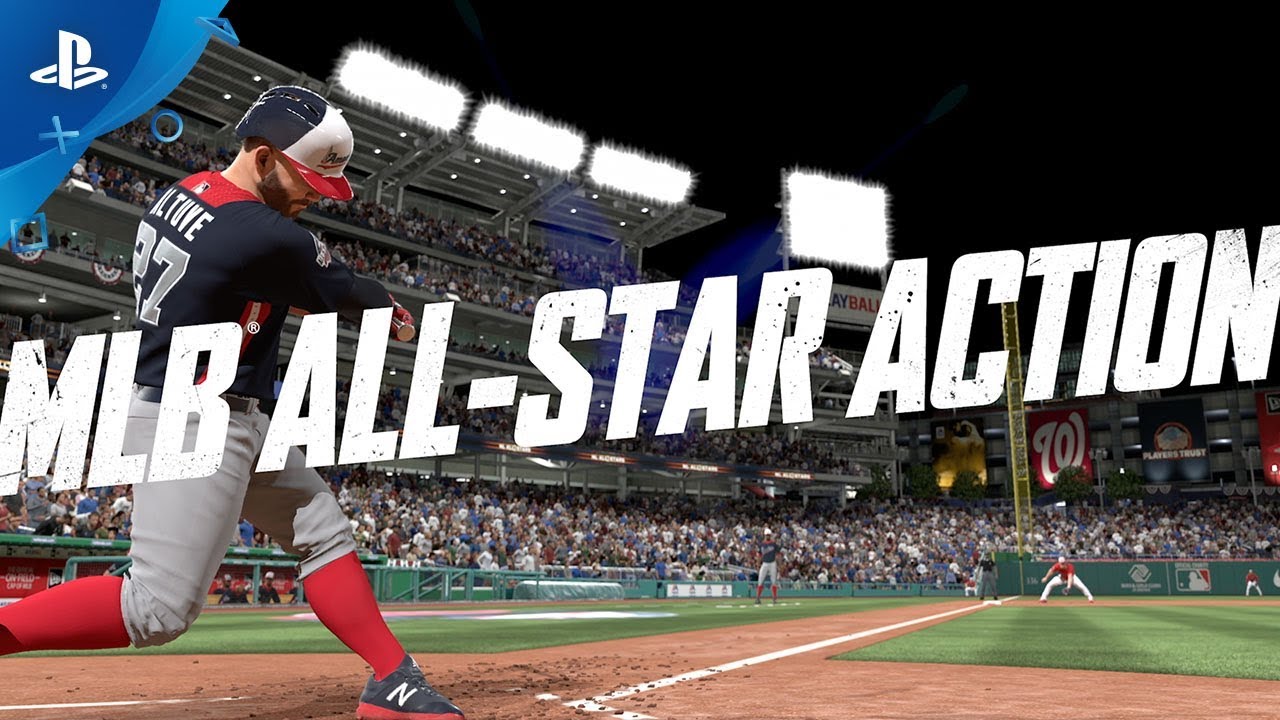 PS Plus members can claim 10 free standard packs for MLB The Show 18 through August 7.
Summer brings out baseball's best during All-Star Week! And MLB The Show 18 is pulling out all the stops to bring you the best baseball video game experience with new All-Star-related rewards and time-limited events, plus a big sale and prizes.
New All-Star Edition
Starting today, we'll be replacing our MVP Edition with the All-Star Edition, available only on the PlayStation Store for $49.99.
This new edition immediately adds All-Star-caliber players onto your Diamond Dynasty squad, grants powered-up equipment for your customizable created player in Road to the Show, plus provides valuable items to build a championship-winning club in Franchise mode.
This All-Star Edition will include:
Game
11,000 Stubs
Mission Starter for Gold Player
Mission Starter for Diamond Player
3 Gold Sponsor items
2 Gold Equipment items
1 All-Star Equipment Item
1 All-Star Flashback Item
Jump Start Pack (24 Silver player items)
10 Standard Packs
30 MLB The Show PS4 Themes
1 Classic Stadium
10 Standard Packs for PlayStation Plus
For all active PlayStation Plus members, we also have a special offer. Starting today through August 7 at 12AM Eastern, PlayStation Plus members can pick up 10 free standard packs for your copy of MLB The Show 18! Pick them up here.
MLB The Show 18 Stub Sale
Between July 13 12AM Eastern and July 24 11AM Eastern, all stubs bought from the PlayStation Store will be 50% off, meaning:
1,000 Stubs | $0.49 USD
5,000 Stubs | $2.49 USD
11,000 Stubs | $4.99 USD
24,000 Stubs | $9.99 USD
67,500 Stubs | $24.99 USD
150,000 Stubs | $49.99 USD
New In-Game Events & Rewards
The celebration continues in the popular Diamond Dynasty mode, which will be loaded with All-Star themed game content this summer!
A number of time-limited missions are available in July to earn All-Star Flashbacks and Legends such as Hall of Famer Tony Gwynn. Missions require home runs and pitcher strikeouts, so add your favorite players to take on other teams around the world or try single-player mode.
Leading into the MLB All-Star weekend, look for three big online All-Star events. These events are faster three- and six-inning games with special lineup building rules. It's a great chance to earn more All-Star Flashbacks to add to your dream team as you play with your best American and National League players. Diamond Dynasty missions and events require an internet connection and an active PlayStation Plus subscription.
While you play in Diamond Dynasty, check out other Programs to earn Babe Ruth, Jackie Robinson, Stan Musial, Mike Piazza, Frank Thomas and other all-time greats to complete your fantasy squad!
Stay tuned to MLB The Show's Facebook, Twitter, and Instagram as we visit the nation's capital and get your eyes on all of the All-Star Game festivities. Or visit theshownation.com to join the community and read about the latest news and content in MLB The Show 18.