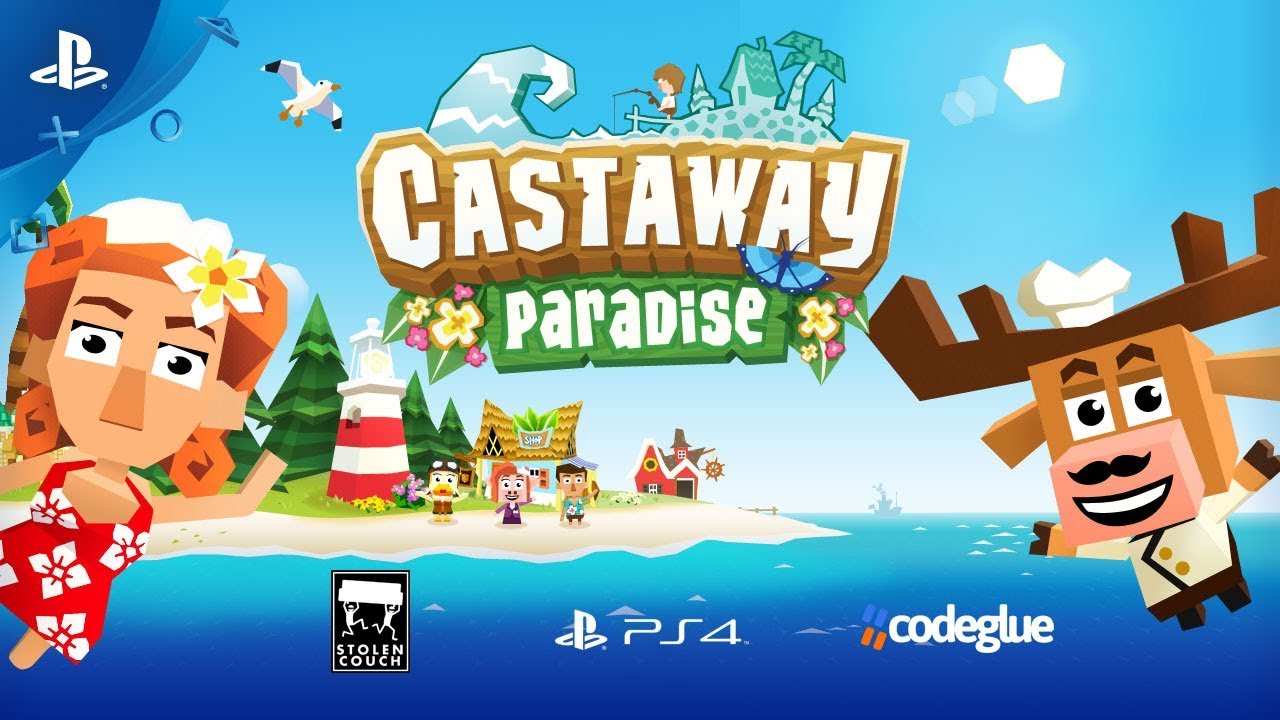 Farming, fishing, and decorating your new island home are just a few things you can do in this relaxing game.
How many of you are big fans of Animal Crossing? We certainly are, so much so that it inspired us to make our own game. Our fresh take on the concept is Castaway Paradise, coming to PS4 July 31!
The story is simple: you've been caught up in a storm, and now find yourself washed up on the shores of a quiet island in the middle of the ocean. You're covered in seaweed when you wake up to see a friendly stranger looking down at you. This time, being shipwrecked might just be a stroke of luck!
Your new island home is full of quirky characters and things to do. The goal… is to do what you want! The villagers are happy to offer guidance and jobs, but nothing is mandatory. If you want to spend your days hunting for the biggest or most colorful bugs, go for it. Whether you're farming, fishing, or taking jobs, you can be earning cash by selling things you find. Even a relaxing walk along the beach can be profitable if you take the time to collect some of the bits and pieces which have washed up.
So what can you buy with your earnings? There is a huge range of items, furniture, and clothing to collect. We've taken inspiration from events, cultures, and styles from around the world. Whether you want to show your love of soccer, hold a traditional Chinese tea party, or even turn a room of your house into a hospital ward, you have freedom to mix and match.
What you see in these screenshots is just a tiny taster of all the content in the game. The same goes for clothing. Dress up for holidays like Christmas or Halloween, put together a stylish party outfit, or wear horribly clashing colors! You can do whatever you feel like each day.
Naturally, the island's other inhabitants will celebrate holidays with you, and you can get to know them as you help with fixing up the island after the big storm. There's no need to rush around meeting everyone at once – just take your time. You'll have plenty of opportunity to get to know your way around as the seasons change.
If you're an outdoorsy type, we've got fishing, gardening, farming and bug-catching. If you prefer more artistic pursuits, we've got interior design, dressing up, and the chance to shape the island into your perfect tropical getaway.
In Castaway Paradise, the world is your oyster. This is a holiday that never needs to end! With so many things to do and so many customization options, you could spend a lifetime trying out different clothes and redecorating your home. We've made so much content for the game that sometimes even we get surprised by something for sale.
If an island holiday sounds appealing, make sure to mark the release date in your calendar: July 31! Why not treat yourself to some time in the sun? We'd certainly recommend it!