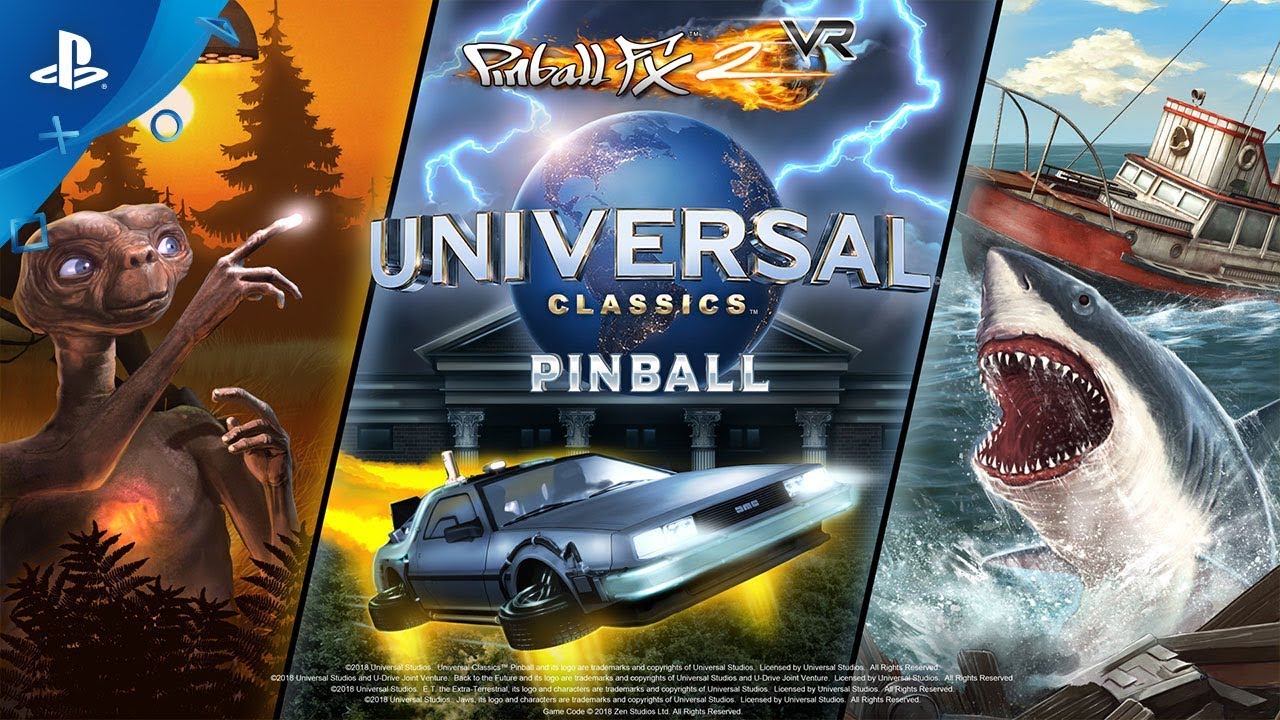 Enjoy the first-ever movie-based pinball tables in PS VR, featuring Universal Classics Back to the Future, E.T., and Jaws.
Hello pinball and PS VR lovers! Universal Classics Pinball is available now on Pinball FX2 VR for PlayStation VR! Zen Studios is excited to boost our Pinball FX2 VR library with this three-table pinball pack.
As you may know, Pinball FX2 VR is already available with nine awesome tables, including Telltale's crowd-pleaser The Walking Dead. The release of Universal Classics Pinball is the first movie-based table content Zen has been able to bring to VR – in fact, these are the first movie-based VR pinball tables ever!
That's right – Universal Classics Pinball is based off three incredible cinema classics featuring Back to the Future, E.T. The Extra-Terrestrial, and Jaws.
Back to the Future
With the power of PS VR, you'll experience some of your favorite moments from the films like never before. I don't know about you, but Back to the Future Pinball is my favorite of this bunch. I get to travel through time with Doc Brown and Marty on their exciting adventures through the decades.
Oh, and there's a fully animated DeLorean that flies right off the table and zooms around the virtual pinball cabinet at speeds approaching 88 miles per hour. Yes, Back to the Future is awesome.
E.T. The Extra-Terrestrial
Come to think of it, though, E.T. Pinball is pretty great, too. I love reaching the game mode where I get to collect pieces of candy in the field. And of course, the fully animated E.T. character is so charming, he greets you with a wave at the start of each game and even stretches out his neck over the virtual pinball table to see how your game is going.
And do you remember the iconic moment in the film when E.T. levitates the planets in Elliott's room? He does that same thing in the game too!
Jaws
But then again, Jaws Pinball is an extremely thrilling table.
Picture this: You're stranded in the open sea with a dorsal fin circling you, with nothing but your floating virtual pinball cabinet to hold on to. It's a fully animated great white shark, waiting to show off his terrible teeth and bite into the side of your virtual pinball cabinet.
So, tell me in the comments – which table do you see yourself playing first? Honestly, I can't seem to make up my mind on which is my favorite. I warn you, it's not as easy as you think.
Go ahead and try them all! Immerse yourself in these fantastic film-based tables as they come to life in a whole new way with PS VR. You'll never look at virtual pinball the same way again.