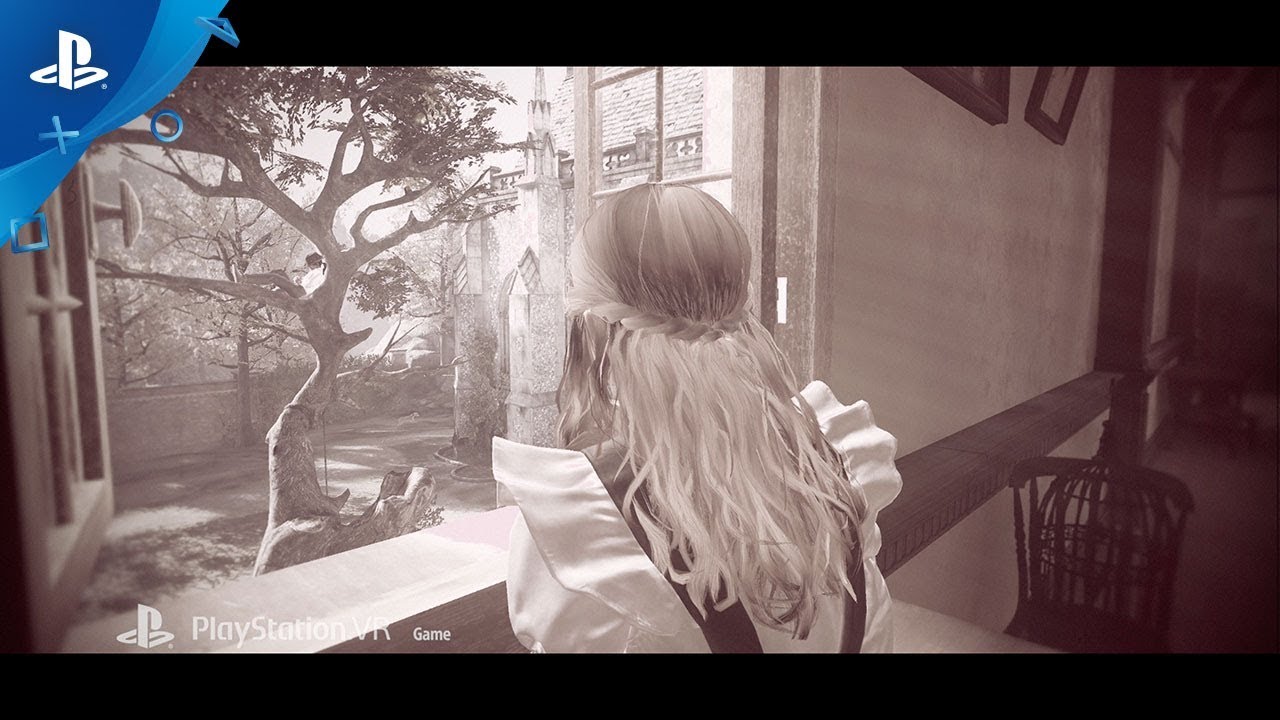 The celebrated Bloodborne & Dark Souls creator discusses his unexpected new project.
Tucked away towards the end of this week's PlayStation E3 Showcase broadcast was the surprise announcement that Bloodborne and Dark Souls creator Hidetaka Miyazaki is working on Déraciné, a new adventure game for PlayStation VR.
Set in a boarding school, you play as an 'unseen faerie' who explores the building while it's frozen in time, slowly uncovering its mysteries.
Peaceful, calm and low-key, it seems an unlikely departure for a studio that has made its name creating brutal, hard-hitting action games. So, in search of answers – and never one to turn down an invitation to chat with one of the great game creators of the past decade – I caught up with Miyazaki backstage at E3 to learn more about this mysterious new project.
Here's what I found out.
There are 4 reasons why Miyazaki wanted to make Déraciné
The studio wanted to try its hand at VR: "Firstly, as a developer, we knew that we needed to be up to speed with what was going on in the VR space," Miyazaki explains. "We were trying to find an opportunity to work on a project that would bring is into the fold."
Miyazaki wanted to revisit FromSoftware's past: "As we were starting to wrap up Bloodborne and Dark Souls III we were obviously looking at what might come next, but at the same time we were looking at what we'd done in the past," he says.

"We actually released a lot of adventure games prior to our more recent reputation for action titles. For example, we released one called Echo Night. We didn't want to just bring that back, but at the same time we knew that we had heritage in adventure games.

"So that gave us the opportunity to start having an internal conversation about what we could do within that genre, while at the same time looking at VR – and the two ideas meshed well."

It was time to try something different: "In recent years most of our games have been made by very large production teams," explains Miyazaki.

"We wanted to challenge ourselves to do something new, but on a much smaller scale so that we could be freer to look at fresh ideas that didn't require a huge commitment, while also being interesting enough to keep our team's imagination flowing."

It was time to make something strange: "Maybe not all our newer fans will know this but once upon a time we used to put out very strange, quirky and unique games. That's very attractive to me as a developer – I don't want to keep on putting out the same kind of games all the time.

"I think occasional surprises are enticing to our fans. This is exactly that. It's unexpected and doesn't follow on from any of our recent titles – hopefully it appeals to our audience by being something new and fresh. It felt like the right time to do that."
What does Déraciné have in common with Dark Souls and Bloodborne?
Despite how different it is on paper from Bloodborne and the Souls series, after playing Déraciné for about 20 minutes, I was in little doubt as to who created it. From an aesthetic point of view at least, it has Miyazaki's fingerprints all over it.
"It's flattering that you were able to get that sense so quickly!" replies Miyazaki before pointing out a few themes he seems as common to all his work:
Storytelling: "The way that we tell the story – the fragmented storytelling approach we take."
Serenity: "The other thing is the quiet calmness that might evoke a certain mood that is unique to FromSoftware games."
Beauty: "There is also a sense of beauty that I think is common throughout our games, even though the way that beauty is expressed can be very different."
Mystery: "There is maybe a sense of mystery that is quite unique but maybe executed in a similar way to other of our games."
Why Miyazaki favors "fragmented" storytelling
As anyone who has played Bloodborne or the Dark Souls game will know, FromSoftware delights in leaving a series of breadcrumbs for the player to follow should they wish to decode the story at these games' core.
It can be frustratingly oblique at times, but also helps give Miyazaki's games their unique, cultish appeal, fuelling conversation and fan-theorising long after you've put the controller down.
As confirmed above, the snatches of story I uncover during my brief time with Déraciné, make it clear that it's a game very much cut from the same cloth.
"It's an absolute true fact that this is the methodology that I take in telling stories in our games," says Miyazaki when asked why this is how he chooses to tell his stories. "It's an approach that I really like."
"I believe it's rooted in my own life experience," he continues.
"When I was a kid I was reading books that were probably intended for an older age group. They were books that were very hard for me to understand.
"If I read the book straight-up I probably didn't understand some of the words or concepts and the meanings. But the work that I had to do – like leaving some of the story up to my imagination, or going back to read things again later when I had greater understanding – that's a process that has had a big influence on what I do today.
"I feel like you can have 'easy' books that you can read all the time but once in a while I feel like you should feed yourself something a bit more challenging,that gives you a sense of enjoyment and fun when you are finally able to understand it.
"That's the approach I like to take – to ensure there is that sense of happiness in understanding what is being told."
Goodbye H P Lovecraft, hello 19th-century Scottish poet Fiona McLeod
Bloodborne famously dripped with the dark, gothic trappings of celebrated horror and fantasy author H P Lovecraft. Like that game, Déraciné takes inspiration from classic literature, though of a rather different kind.
Miyazaki cites 19th-century Scottish poet Fiona McLeod as a key influence on the game, whose writing bore "a sense of sorrow and isolation" – elements that Miyazaki explains are "definitely relatable when you start experiencing the game".
Déraciné explores one of Miyazaki's early unfulfilled ambitions
And McLeod is not the only literary influence. It might come as a surprise given his recent output, but back before he created Dark Souls, Miyazaki harboured a desire to pursue a career creating classic Japanese manga aimed at girls.
"As you know, that's not something that has inspired any of my other games, like Bloodborne," he explains. "So I was looking for the right opportunity to bring that desire into a game project. And this felt like it could actually work.
"It's very unique and not the most mainstream thing I could do, but it feels like these things fitted into the project."
Unlike Bloodborne, Déraciné promises a little "joy and happiness"
Déraciné's plot casts you as an unseen faerie exploring a boarding school frozen in time. At the beginning of the game, the pupils are not aware of your existence, but as you progress through the story and discover ways to interact and communicate, Miyazaki hopes that players will feel "a sense of joy or happiness" that the pupils know you exist.
To be clear, I came away from the demo sensing that FromSoftware's trademark sense of sadness and isolation isn't hiding too deep beneath the surface, but you can certainly prepare for a rather cosier, more peaceful experience than Miyazaki's recent action epics.
"Take Bloodborne," concludes Miyazaki, as our time comes to an end. "Maybe not everyone fell in love with Yharnam at the very beginning, but in this case I would want everyone to feel like they will enjoy Déraciné's environment from the start."