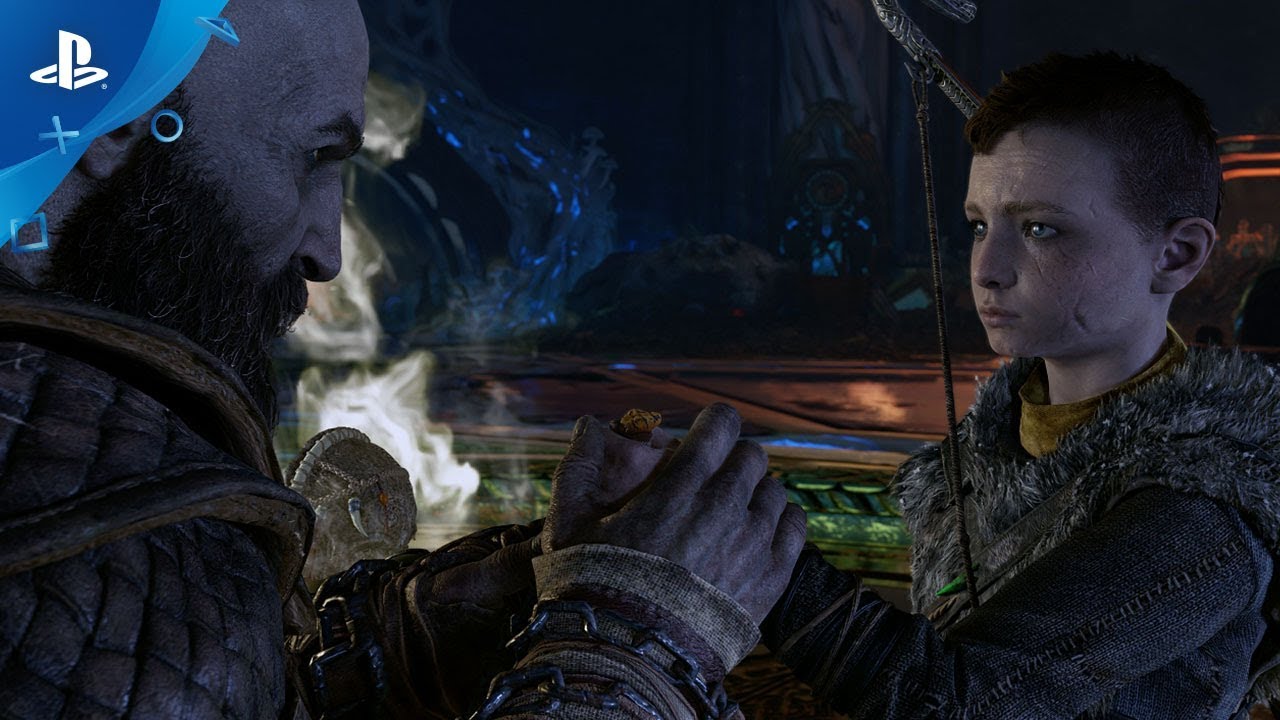 Santa Monica Studio celebrates Father's Day with a limited-run poster series and personal reflections from staff members.
"I know the truth isn't simple, but nothing is when it involves your child"
We hope that trailer leaves a lasting impact because today is Father's Day, a day with a very special meaning to the new beginning of God of War. At its heart, this is a story of a father and his son on an incredible adventure and a deeply personal quest together. Therein lies a connection for all of us between their story and the ones all of us have shared with our fathers, or for anyone who is a parent to a child.
To celebrate Father's Day, we commissioned a limited-run poster series to reflect on moments of adventure and lessons fathers and their children may have together, with a slight twist – how would Kratos and Atreus experience these moments in the Norse wildlands of God of War?
These five original posters were thoughtfully created by incredible artist Doaly. They are available now as a limited numbered print run of 75 each. Visit here to purchase; they'll go fast!
Finally, as we at Santa Monica Studio reflect on Father's Day and its true personal meaning to us for God of War, members of our studio at large wanted to share some of their fondest moments with their dads, or even as dads themselves. Thank you for letting us share with you.
Recently my wife read a 'Pettson and Findus' bedtime story in Swedish to our son. He spent the whole time whispering, "Hey papa…" and then explaining to me what was happening in English. Turns out, he was only sharing the parts he liked so now I need to do some Google translating to find out how it really ends.
When I was about 8 years old, a meteor shower was supposed to occur very early in the morning, around 2am. I was sad to miss it since I knew I couldn't stay up that late. Despite being exhausted from work, my dad made sure to wake me up so we could watch it together, he knew I loved science and nature. It'll forever be one of my cherished memories.
My dad writes funny little poems and limericks in all my birthday cards.
My dad taught me how to drive a stick shift by making me learn on the biggest hill he could find. We never fought a dragon before but that hill felt like a huge beast and together we beat it!
Me talking to my father (Victor Cepeda IV to Victor Cepeda III):
"I know how to do a fireball in Street Fighter and you don't, so I know more than you."
"Good, if you know more than me, it means my life has been successful."
My dad flew over for a one month visit. I don't get to see him as much anymore. When he arrived it struck me that he is an older man now, but the Moment he started talking, time was suspended. His heart and his smile are as young as when I was a boy. There are relationships and bonds that time never erodes, however far and apart we might be. I cherish every Moment we spend together as true friends. I hope he will be there for a long time.
After over six years of trying to start a family—with all the struggle and heartbreak we endured—when my son's adoption became final the flood of emotion that washed over me was not just a memorable moment, but one of the greatest days in my life, period.
The day my father took me to my first baseball game at Dodgers Stadium is seared into my memory. Stepping out from the concourse and seeing the bright green grass and how enormous everything looked… it was breathtaking. Last year, I got to share that same experience with my own son for the first time. The wonder in his eyes is something I'll always remember.
Perhaps following in daddy's footsteps, my son Harrison (3) just designed his first board game: Super Oval. It is now one of his favorite ways to spend time together, though the rules seem to include more turns for him than anyone else, and only he seems to fully understand the win conditions. He let me win once, but has an otherwise undefeated Super Oval record.
My dad and I used to, once a year, do a long back-packing trip into the Sierra Nevada's. We hike up Horse Creek Canyon trail and after several hours descend down deep into the canyons to a secret camp site my uncles made some years ago. We spent the next day's traversing the creek, jumping from rock to rock, and fishing. The last year that we made the trip, my dad and I had decided to go very far down stream and we ended at a massive waterfall. Alas, there was no way to climb down the 30 feet to continue our trek. So, we decided to sit on a rock cliff that was to the side of the waterfall and enjoy the vista and the sound of rushing water in silence. It was magical.
As a father, there are so many priceless Moments you build with your children – their first steps, first words, the first time you play video games together. Before I was in games, I was a professional musician, so for me, the most memorable Moments have been watching my kids perform. Each time they do, I have to choke back tears of pride and joy.
Though I did not get to interact with my father a lot, he nurtured my love of art, monsters, and games from a young age. Bringing home all the scrap paper he could find, along with pens from the factory he worked at. He spent all he had to get us a computer, and told us this was the future and to learn it. The sacrifices he made in life pushed me forward to where I am today.
My step dad was a force in art in another way. Introducing me to fantasy, DnD and design, and helping to push my imagination to new heights. He stepped into my life and helped to create a stable place to foster imagination and stability. He also helped support me through college to realize my dreams when my mom passed.
I owe everything to my father, stepfather and my friends for where I am now.
When my wife saw our God of War trailer for the first time and Kratos said to Atreus "Do not be sorry, be better" She immediately thought of me saying the same thing to my own daughter.
My father – our strong moments often pass silently; meeting eyes, an arm around shoulders, gazing out together at something and just being present. Our bond is loudest when quiet.
My son – when you were born and first opened your eyes and looked at me, I said softly that my entire life could be just for you. I have always wanted to be a great Father, and I hope that through your life – I will have been worthy of you.
Since I have been living in the USA, I don't get to see my dad as much these days. A while ago we had a chance to reconnect by climbing Mt Kilimanjaro! If God of War and my dad have taught me anything, it's that all fathers and sons should climb a mountain together, at least once!
My dad stayed home with me when I had the chicken pox in 4th grade and we played through Castlevania II: Simon's Quest together. My dad would talk through the puzzles with me to show how to use my brain to solve problems, and I admired him for being super cool and smart!
During E3 many years ago I was feverishly following all the news when my dad invited me to go fishing with him for the first time. While I was reluctant to pull myself away we spent the whole day on the water and now every time E3 comes back around long before I think of new games and announcements I think of the Chesapeake Bay.
Catching a foul ball with my boys and dad at Dodger Stadium (aka Blue Heaven)! Good times.
I made plans to go camping in June with some old friends when one of them reminded us that the weekend we agreed upon was Father's Day weekend. My immediate thought was "Aw, who cares? My dad has passed." Then I remembered my 14 month old baby and it struck me: "Wait…I am Dad."
I became a father near the end of this project, and it was such an emotional feeling that washed over me the moment I saw my daughter enter this world. Something I never felt before but knew from years of the love my parents had given me, I was now going to give to her. And in those late nights rocking her to sleep, she looking up at me with her smile holding my beard and I'm looking at her knowing I will go to the tallest peak in any realm to make her happy.
I remember long play sessions bossing my dad around in Final Fantasy 7 "guiding" him through the game. I was probably a terrible guide as I was barely able to comprehend the text and follow along, but I give 100% credit to that experience for sparking my passion to play games, and guiding me to a career that is more fulfilling than I could have imagined making them. I have my dad to thank for the path my life is taking.
Playing checkers – and later, chess – with my dad. He would never let me win; it made me earn that first king.
Usually, my dad is super stoic and tired after working long hours everyday to provide for the family. However, after my high school graduation and walking over to my family, my dad not only shook my hand (as he usually does) but gave me a big hug with his tears in his eyes – definitely becoming one of the most memorable moments with my father to this day.
My son was born during the development of God of War. He's 2 ½ now. When he was 7 months old, one morning I was doing push-ups next to him while he was on his belly in army-crawler mode. All the sudden he pops up on all fours to copy me and we did 2 push-ups together. I couldn't believe he was trying to show me his strength and determination like that, already, I'll never forget it.
After wrapping on God of War, we set out on our own epic road trip adventure with our two sons (2yr and 4yr). After several days on the road, my still-in-diapers two year old realized we would stop each time his older brother needed to use the restroom. He responded by self-potty-training and requesting we stop every 30 minutes. While it lengthened our journey considerably, I was so proud of my son for discovering and "gaming" his first system.
When I started on this project I didn't have any kids and didn't quite get the father / son relationship between Kratos and Atreus. Fast forward a few years to the second E3 showing, I was home, and my Son was watching the trailer and was completely absorbed. I understood Cory's vision then.
This is a birthday card one of my Sons gave to me. They crack me up