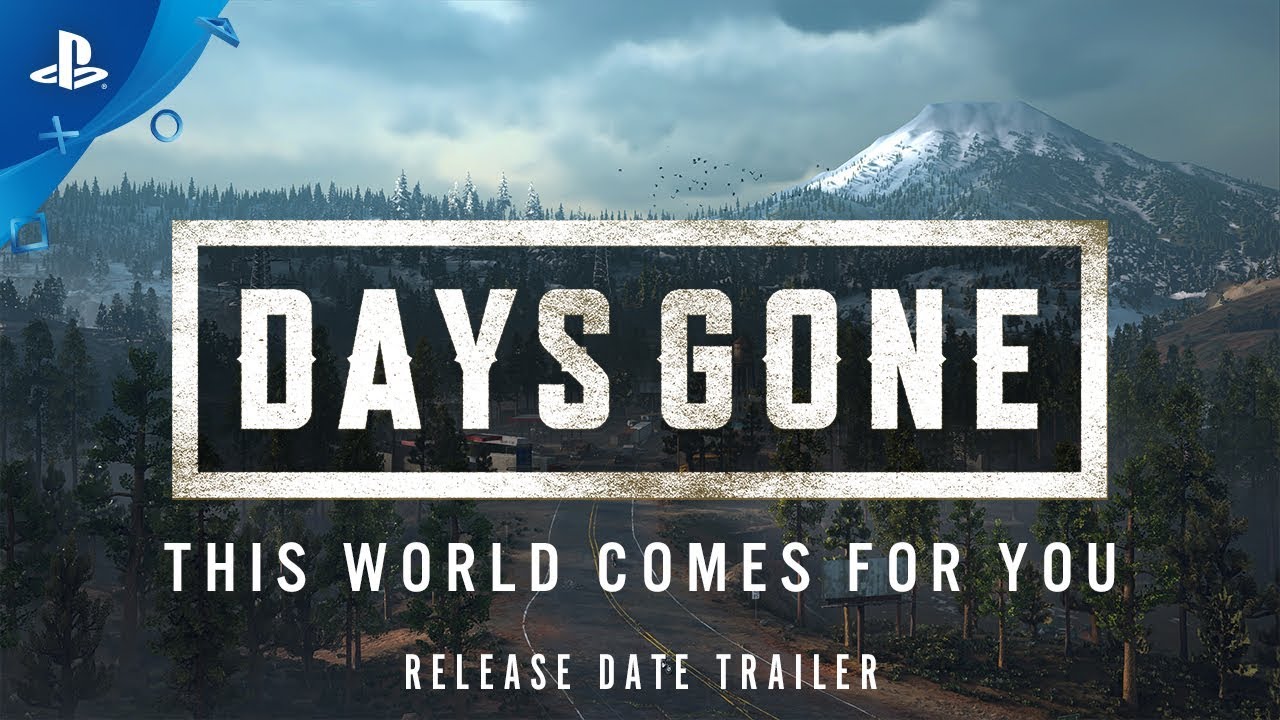 Bend Studio reveals new details about Days Gone, the open-world action game where the world comes for you.
Over the past month, we have been showing a ton of new gameplay from Days Gone – giving more insight into who Deacon is, the state world, and what it takes to survive within that world. We have also been reading your comments and have noticed a common question continues to emerge:
What is the release date for Days Gone?
To answer that question we created a brand new trailer. Watch it at the top of this post, if you haven't already.
In addition to revealing the release date, the trailer introduces two new animal threats: mountain lions, or cougars, and infected ravens – called Criers in our world. We see another ambush event as Marauders torch an old vehicle and roll it onto the highway trying to knock Deacon from his bike. And the video ends with Deacon running out of gas out in the middle of nowhere – a quiet moment, perhaps, but maybe the deadliest of all.
Most important, we introduce a new enemy human faction: Rest In Peace, or R.I.P., is a cult that worships the Freakers. Rippers, as they're known, dress like Freakers – and kill anyone who isn't a Ripper. While they're important to the story, Rippers are also an important part of the in-game Freaker ecology: when you get a chance to take down a Ripper camp, try bringing in a Swarm and see what happens – Rippers refuse to kill Freakers, and the results can be very entertaining.
Also, since we're starting to introduce more of the characters you'll meet in Days Gone, I want to formally introduce three characters you see in this trailer, two for the first time.
William "Boozer" Gray was introduced in our first reveal trailer back in 2016, riding with Deacon on the broken road and keeping Deacon from bashing in the head of a dead Freaker. From their cuts we know they are both members – or ex members – of the Mongrels MC. So they are more than just friends — they are brothers.
Boozer is played by the immensely talented Jim Pirri. For the role of Boozer, we needed a special actor who could help us tell the story. Boozer has to be tough, cynical, and a bad ass, but his friendship and brotherhood with Deacon has to come through as well. Jim has helped turn Boozer into a compelling and very human character.
Alkai Turner (pronounced "alk-eye") is the arms dealer at the Hotsprings survivor encampment, played by the talented Jonathan Joss.
Ada Tucker is a former prison matron who now runs the Hotsprings camp, played by the inimitable DeeDee Rescher.
These are just three of the dozens of characters you will meet throughout the Days Gone story – which we'll be talking more about as we get closer to launch.
Oh yeah – launch date. As promised and as revealed in our new trailer, we are excited to announce the release date for Days Gone:
February 22, 2019
Bend Studio are bringing Days Gone to E3 this year with even more new gameplay, so keep an eye on this space for more news and information about the game!
Countdown to E3 2018: All the Reveals
Reveal #1
Reveal #2
Reveal #3
Reveal #4
Reveal #5