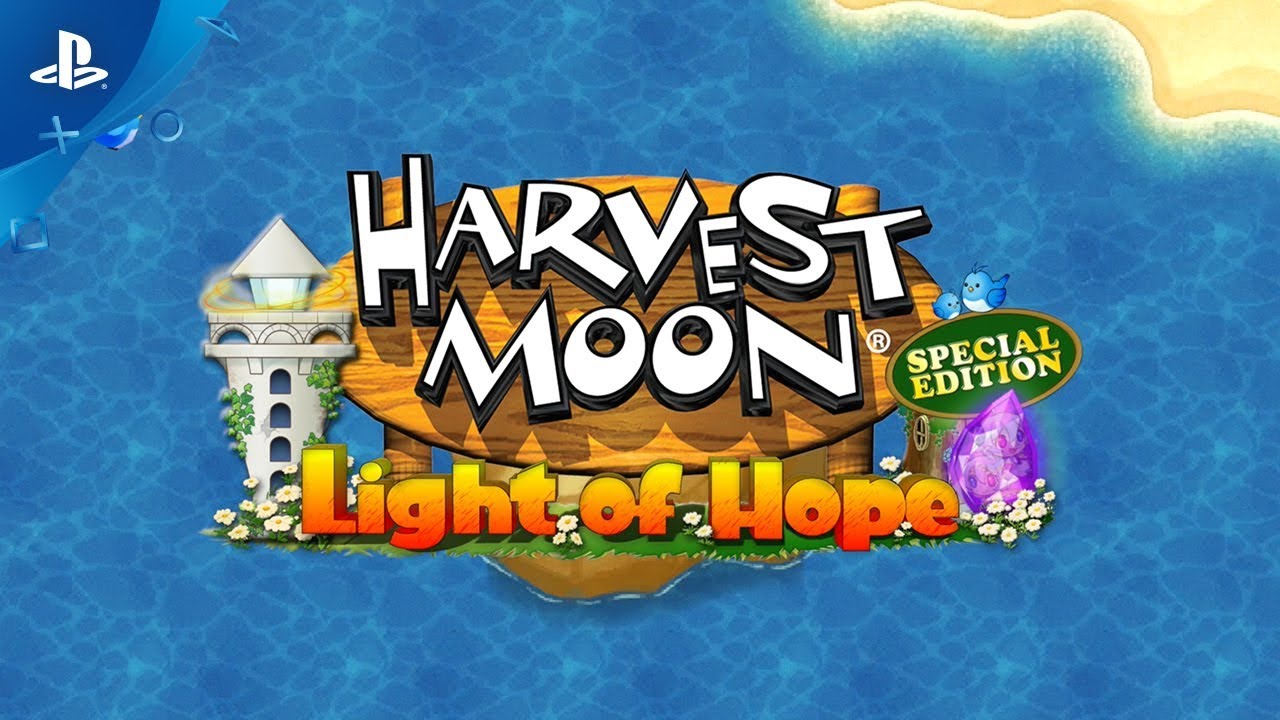 Celebrate the 20th anniversary of Harvest Moon with a new title that has roots in the past, but yields modern fruit.
Hello, PlayStation fans! My name is Taka Maekawa, and I am the producer of Harvest Moon: Light of Hope. It's been a while since we've had the opportunity to talk to PlayStation fans. After all, Harvest Moon: Hero of Leaf Valley on PSP was back in 2010, and Harvest Moon: A Wonderful Life Special Edition for PlayStation 2 was back in 2005. What a great time to return to PlayStation, as we're celebrating the 20th Anniversary of Harvest Moon with another Special Edition! We're so excited for the series to return to the Sony family with Harvest Moon: Light of Hope Special Edition for PlayStation 4.
Feeling the need to get away from the stress of the city, you decide to take a relaxing boat excursion, only to be swept away in a storm! When you wake up, you discover you've landed on an island that's been decimated by recent storms, and largely abandoned. Even the iconic island lighthouse has lost its magical glow. Will you stay, work the land, bring life and villagers back, and become the island's Light of Hope? With no time limit, players have the freedom to explore open-ended gameplay, while following storied character development and quest-driven progression. The pace at which you play Light of Hope is totally up to you!
One of the concepts I had for Harvest Moon: Light of Hope Special Edition was "A Harvest Moon game for everyone." My goal was to make this game enjoyable for both veteran and new players alike. I'm hoping the veteran Harvest Moon players will feel a nostalgic essence that will remind them of the first Harvest Moon game they ever played. At the same time, Light of Hope is also designed to be the perfect entry to the series for newcomers to be introduced to what makes Harvest Moon special.
Harvest Moon: Light of Hope Special Edition blends together classic gameplay from 20 years of Harvest Moon history with modern gameplay innovations which we've nicknamed Retro-Plus. We always keep a key idea in mind when developing a Harvest Moon game: "Hard work leads to great rewards!" But we always want to differentiate hard work from tedious tasks, which is why we've developed our intuitive tool system. No more digging in your bag for the right tool, equipping it, using it, and then having to repeat for each individual task you need to do. When you walk up to a plant, we know you want to water it; when you walk up to a stone, we get that you want to whack it. Your focus should be on the fun of farming, not on the task of figuring out whether you left your hammer in the toolbox. I remember having to run back and forth so often in Harvest Moon SNES, and I want gamers to skip that part!
Light of Hope Special Edition also brings a new depth to farming with crop mutations! By planting your crops and flowers in the right soil during the right season, you have the chance to unlock new types of crops. With the new Farming Friend system, you'll get an immediate heads-up-display of whether your crop is ready to mutate, or if it needs some extra TLC, like water or fertilizer to get it back on track to growing up to be a healthy crop! It's not a major addition, but we're very proud of our tool system and our mutation system, both of which have evolved over the last few games based on player feedback.
Exclusive to the console release of Light of Hope Special Edition is the new co-op mode! Hand a friend a controller, and they can join the fun by taking on the role of the Gem Sprite Soleil, caring for your animals, planting seeds, watering and harvesting crops, or even exploring all 100 floors of the mine! Oh, and did I mention there's a new character you can marry as well?
All of this arrives on the PlayStation 4 beginning May 29. Now's the perfect time to pre-order the digital bundle which includes both the game and Season Pass at a discount at PS Store for a limited time.
It is amazing that the series is still on going after 20 years, and this is because of everyone who has been supportive of Harvest Moon, whether you have played one game or many! Thank you very much, and I hope you'll enjoy Harvest Moon: Light of Hope Special Edition!
We look forward to seeing you in Beacon Town!