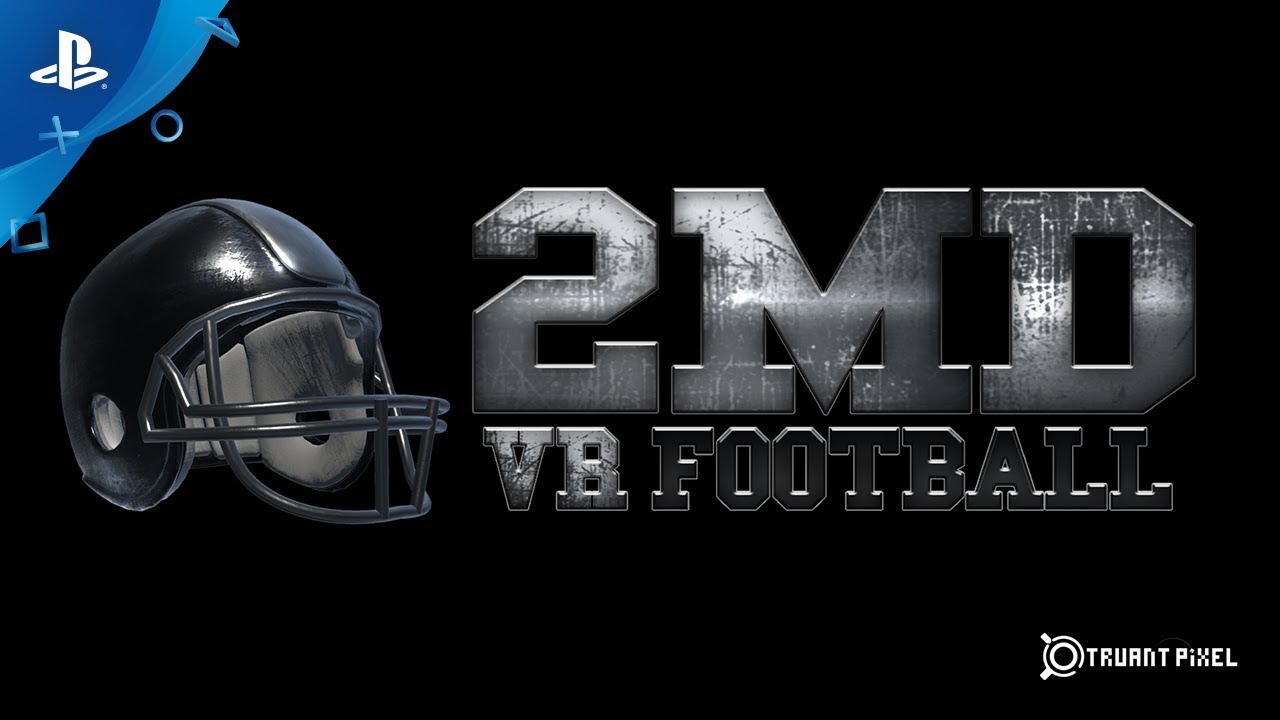 Become the virtual quarterback you were born to be.
Hi everyone, M from Truant Pixel here; I'm excited to finally reveal that 2MD: VR Football is coming to PlayStation VR this Spring!
2MD is a motion-controlled VR gridiron football game – it's a thrilling, two-minute drill arcade experience that encourages players to stand up and take on the role of a quarterback tasked with capturing victory in the final minutes of a championship game. The goals are simple: Draw the plays, call the shots, and throw, hand-off, or run the ball to take down opponents before the clock runs out!

We've built a unique, 1:1 throwing model which allows for natural form in VR. It's customizable for players of all sizes, for either standing or seated play, utilizing Move motion tracking to create an experience that is truly the first of its kind for PlayStation.
The idea for 2MD came about after we first experienced room-scale virtual reality: we were motivated to create an engaging, physically active experience that would best utilize the technology and the available space, even when the room to move around might be limited. Most important of all, the experience had to be fun in a way that was natural, quick to learn, but challenging to master; kind of like… throwing a ball.
From there, a proof of concept that was drafted – simple at first, inspired by two-minute drill arcade football games of old, with primitives sliding around a bare field, falling over each other to chase down a ball. Drafting plays in VR was subsequently birthed as a natural extension of using the interface to give the primitives on your "team" routes to run. It's really no exaggeration to say that, with this game, simple and addictive fun was at its core, with the rest of the title evolving from that. We had such a good time with the concept that we committed to turning it into a full-fledged, polished experience, and 2MD: VR Football was born.
2MD is unique to PS VR in several ways. In addition to realistic passing, you can also hand off the ball to a runner, or even run the ball yourself. Because you have freedom to design your own offensive plays (up to eight unique ones that can be dynamically 'flipped' for 16 total), you're in complete control of your strategy before taking the field. Once there, you can call audibles using either standard digital controls, or using speech recognition if you choose. You'll need a creative strategy, after all, because your opponents are also one-of-a-kind.

The defensive AI is deceptively simple at first, but quickly becomes complex as you progress through the seven-round heat. Defenders have unique behaviors that will vary from one play to the next and may act individually or respond as a group. As a result, no two plays will turn out the same. The defense will continue to get better at responding to your strategy, too, so be ready to change it up if you want to earn that championship ring.
In addition to building from the ground-up for PSVR, we've taken the time to add even more to round out the experience: We've enlisted the talents of professional voice actors like SungWon Cho (@prozdkp) as coach, Xander Mobus (of Persona 5 and Super Smash Bros) as our announcer, and David Wald (@davidwald_va) to voice some of our players. The PS VR release of 2MD also features music by up-and-coming Hip-hop artist K.Carter, whose fight song "Down the Field" plays during the championship game.

All this plus eight immersive stadiums (with unique touchdown celebrations and thousands of screaming fans), customizable teams, rapid-fire post-game bonus rounds that allow you to exponentially increase your score, and more. There's much more to 2MD than I can list here, and that really describes the game in a nutshell: simple to pick up, easy to get into, but with a deeper strategy and challenge beneath the surface for both casual and serious football fans alike.
Thanks for your time, and we can't wait to see everybody on the leaderboards soon!