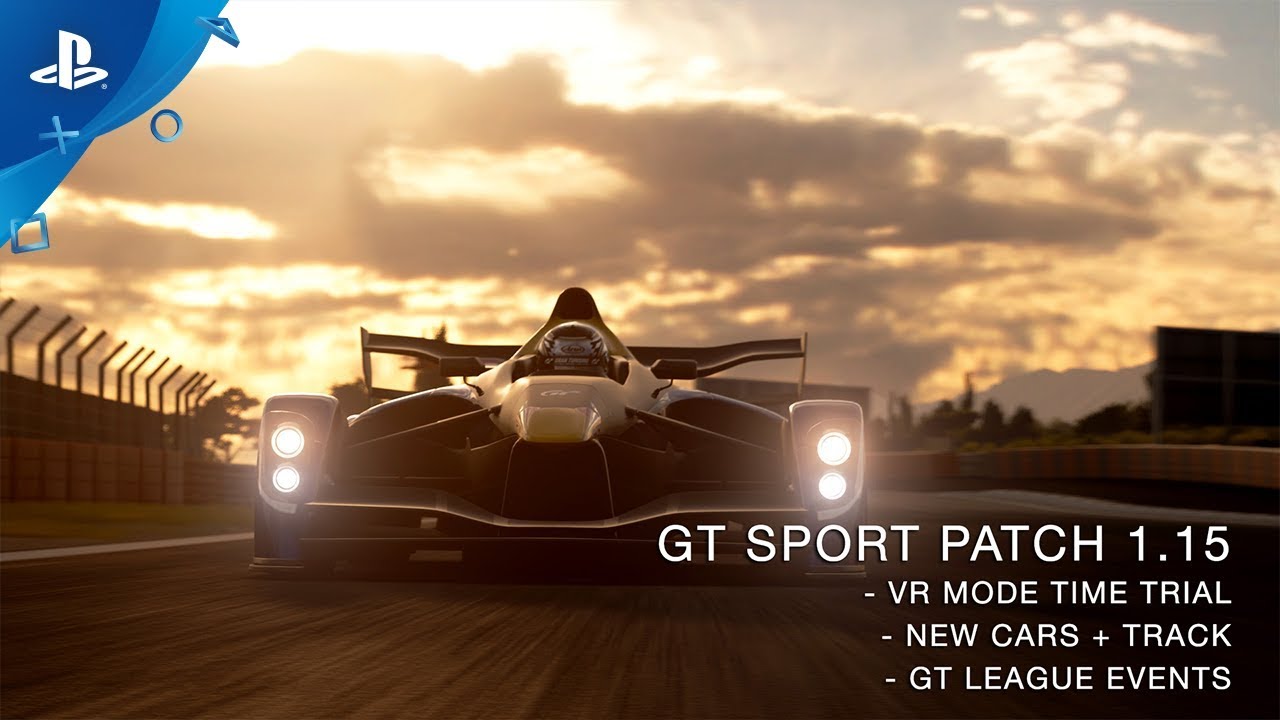 Plus new vehicles, new tracks, new GT League events, and Fanatec wheel support.
We're proud to reveal our March update for Gran Turismo Sport: Patch 1.15, available today. We've been paying close attention to your feedback, and have added an unmissable collection of new cars, events and a brand new VR Time Trial mode we hope you'll love. You'll be able to download and play from tonight, March 28th at 7:00pm Pacific.
As always, you can find the full patch notes at Gran-Turismo.com; and be sure to stay tuned to PlayStation.Blog for the first word on more upcoming GT content.
VR Time Trials
One of our most often received requests to date has been the expansion of GT Sport's thrilling VR mode. So, with the latest patch, PlayStation VR owners will soon, for the first time, have the chance to hit the track in a series of challenging time trials. This means you'll be able to utilize the full benefits of PS VR to perform your best lap time on the legendary Nurburgring and Suzuka race circuits.
New Vehicles
Rolling into Brand Central this month are 13 stunning new vehicles, from classic roadsters to modern supercar concepts. Take a look at the complete line-up:
Honda Raybrig Concept-GT
Lexus Au Tom's RC F
Nissan Motul Autech GT-R
Aston Martin DB11
BMW M3 Sport Evolution
Eckerts Rod & Custom Mach Forty
Ford GT40 Mark I
Gran Turismo Red Bull X2014 Standard
Gran Turismo Red Bull X2014 Junior
Lexus RC F GT3
Mazda RX-7 GT-X (FC)
Nissan Skyline GT-R V-Spec (R33)
Nissan GT-R Nismo
New Track
Next, we've added the world famous (and GT fan-favorite) Tsukuba Circuit, featuring a unique combination of tight hairpins and wide, sweeping corners to really test drivers' racing finesse.
GT League Events
Continuing to add to the GT League line-up, we've introduced three new events to test drivers of all skill levels, including:
Nissan GT-R Cup – Beginner League
Redbull X-Junior Series – Amateur League
All Japan GT Car Championships – Professional League
Fanatec Wheel Support
For all the Fanatec wheel users out there, we are really pleased to announce that we are adding official support in the update and will continue to improve its functionality in future updates.
Finally, we've also added a stunning new Cherry Blossom theme to Scapes Mode to help you get into the spring spirit, and an all-new MINI Museum to explore the complete history of the British automotive giant.
Remember: you can find all the latest info on upcoming GT Sport content here at PlayStation.Blog or on the official Gran Turismo website. Until next time, drivers, we'll see you out on the track.