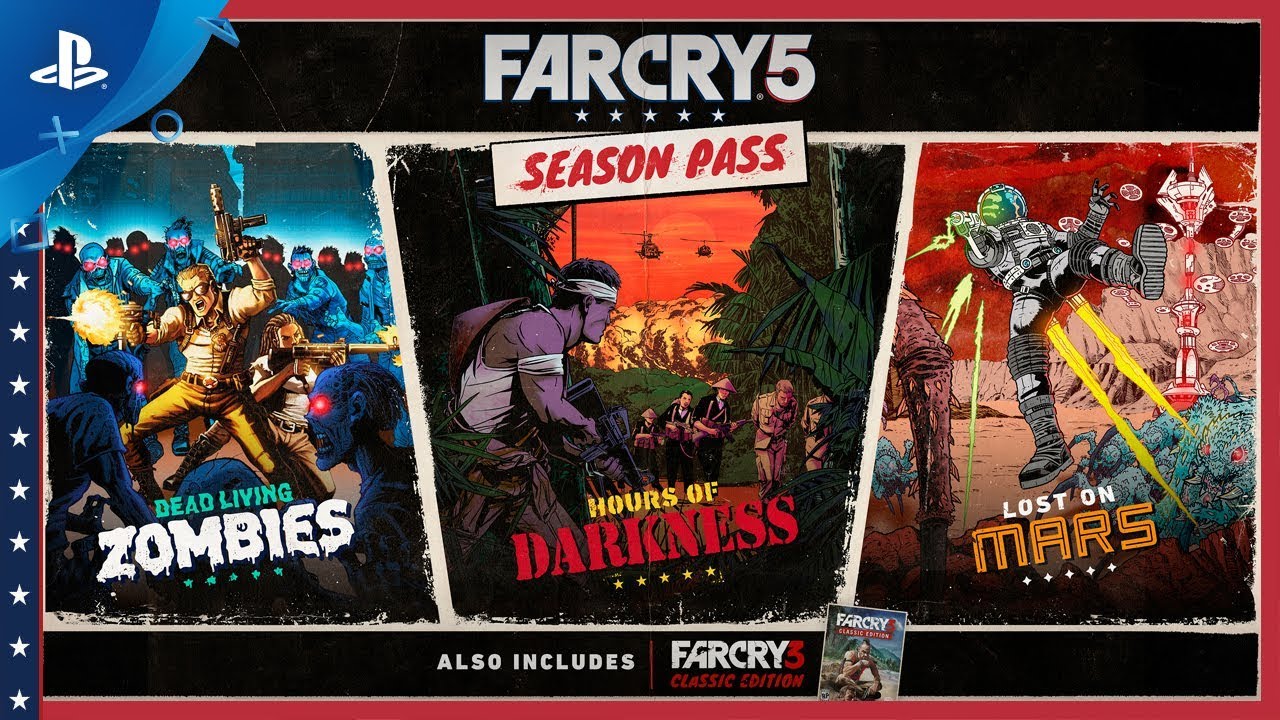 Associate Producer Philip Fournier talks us through the game's eyebrow-raising season pass content.
For Far Cry 5, Ubisoft Montreal are beefing up their post-launch support to deliver a lasting experience that will take the Far Cry franchise to places it's never been before.
Building on the philosophy that made Far Cry 3's Blood Dragon expansion such a roaring success, the team are aiming to deliver not one, but three huge expansions, while offering players the chance to create their own varied experiences in the ever-evolving Far Cry Arcade.
We caught up with Associate Producer Phil Fournier to find out more.
1. Different but connected
The three main DLC expansions, which will take players to wild new locations, time periods and even into space, won't be a direct continuation of events in Hope County, but they'll still have their own place in the Far Cry universe.
"The essence of Far Cry, for us, has always been to put players in a context or situation they're not really expecting and I think our three story expansions for Far Cry 5 are really a great statement to that effect," explains Fournier.
"All of the three DLCs really have their own identity – Mars, the Vietnam War, a post-apocalyptic, zombie scenario – but, at the same time, we found ways to tie them into the main Far Cry 5 narrative. You might find, or hear about characters you met in the main game in these strange new places – even on Mars! I can't elaborate too much on that, but let's just say there's a character in Far Cry 5 who believes we're being 'watched' and, you know, maybe they're right!"
2. More than just a 're-skin'
While some expansions are designed to simply elaborate on what already exists, Far Cry 5's DLC expansions will each constitute a deliberate deviation from what can be found in the mainline story.
"Each expansion feels like something new: you're going to be playing with different features and new toys in uniquely-realised open-world scenarios. We've really invested a lot of time and effort into that ensuring these were not simply 're-skins', but that that each represents its own distinct experience," elaborates Fournier.
"We had entirely different teams, like Ubisoft Shanghai, running the development from start to finish and they really did an awesome job of capturing the essence of Far Cry 5 in brand-new scenarios and environments that deliberately turn things on their head."
3. Everything connects back to Far Cry Arcade
A major new feature for Far Cry 5 will be Far Cry Arcade, a bold evolution of the series' popular Map Editor mode that encourages players to take familiar assets – not just from the main game, but from past titles and partner Ubisoft titles, like Assassin's Creed Black Flag – and build new levels themselves.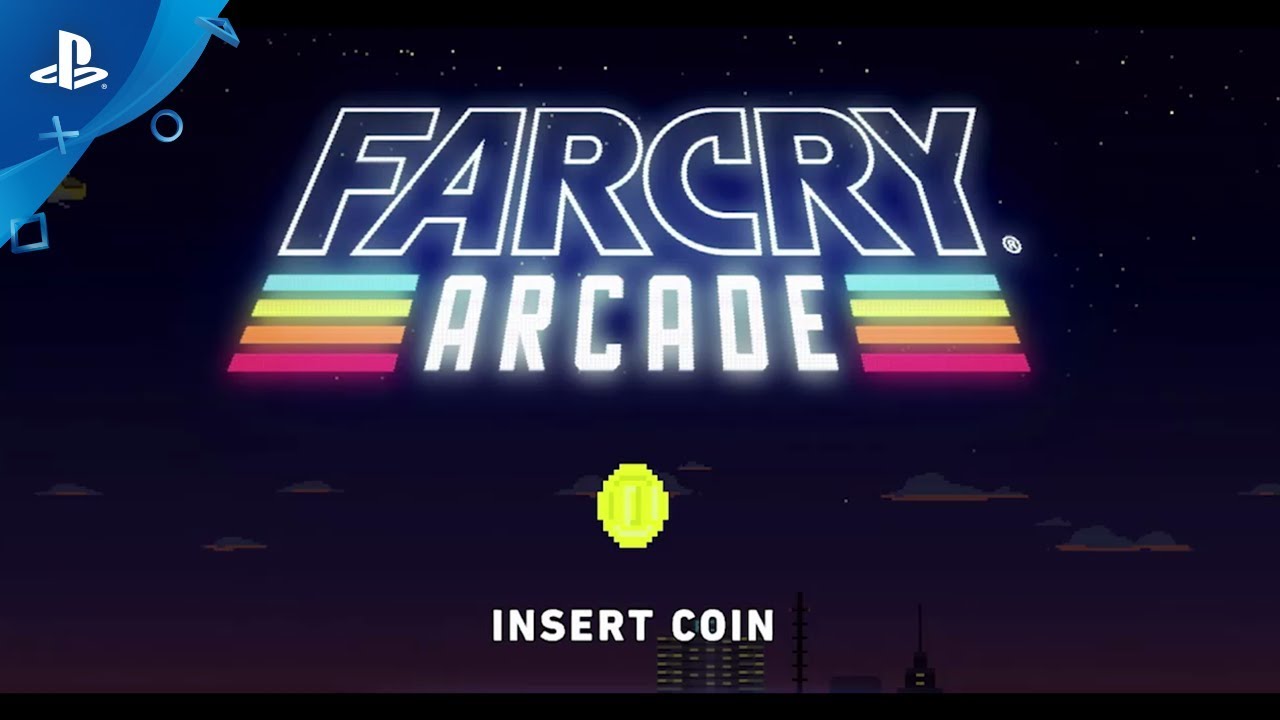 Aside from their own narrative-driven adventures, the three expansions will have something of their own to add to Far Cry Arcade. Fournier didn't want to give too much away, but he put it like this:
"We've got some surprises for people who are into Far Cry Arcade. There are going to be a lot of tie-ins between the DLC expansions and Far Cry Arcade: we can't wait to give players the tools to dream-up crazy new scenarios. What's more, if players want to create an environment that you can't find in any of our main games or the the expansions, it's really up to them: they can create something brand new."
4. Far Cry Arcade will keep the game keep evolving
The diverse sandbox of possibilities offered by Far Cry Arcade mode is designed to bring the players themselves into the creative experience and expand the world in unexpected ways. The team at Ubisoft Montreal are planning to support this in the long term…
"With the addition of Far Cry Arcade you can expect a lot more content dropping more regularly, so players can really get creative and get to build their own maps and game modes. You'll be creating your own rules in the Far Cry universe and there's really no limit to your imagination. I mean, you can create a map full of… bears, if you want, and stick Cheeseburger in the middle that and see what he does – maybe he'll make friends!
"If the mainline Far Cry 5 game is a cake – with all its layers – then Far Cry Arcade is our cookbook. We give you all of the tools and ingredients and then it's up to you, the player, to make your own scenarios, anecdotes and moments that you can share with rest of the community."
5. The experience is designed to be collaborative
One of the things the developer seems keen to achieve with Far Cry Arcade is to break down some of the walls between the professionals who build the games and the communities that interact with them.
The ambition is simple: let players be the builders for a change and let the developers do the playing. Fournier explains how this will work:
"Once the game releases there's gonna be a lot of maps, scenarios and missions created by various Ubisoft teams – Montreal, Toronto and others – and we're gonna plant the seed of what's possible with Far Cry Arcade. Then we're gonna step back and just let everybody else loose."
At the same time, the team are keen to avoid a free-for-all scenario where great maps and levels get buried, so you won't just be creating, you get to champion the levels you love.
"As you finish every map there's a rating system: if you liked it or maybe didn't like it so much, you can let the community know. We want to promote the ideas that are the most interesting, or crazy or innovative. We want to engage the community through Far Cry Arcade and I think it's a really great way to get a glimpse of what it takes to make a game – a complex game, like Far Cry.
"You can also expect our teams in Montreal and other offices to be running different live events to encourage the community to engage and create – in previous games we had things like Map Challenges, where we'd create a voting system to expose the work that players had done, allow people to vote for their favorites and then give out some swag."
The system promises to create masses of community-curated gameplay scenarios that allows players to not only share their own ideas, but to promote other talented creators around them. After five years of hard work, seeing just what wild ideas will be thrown up by this is one of things Fournier is most looking forward to:
"I'm really interested to see what the community comes up with here, to see their creations being shared online and to sit down and play them myself – hopefully at home on my couch, when I finally have some time off after the game ships on March 27th!"
Here's hoping Phil gets a well-earned break once the game is finally out in the wild! You can get all of the forthcoming season pass content, along with Far Cry Arcade and the story-driven mainline campaign with the Far Cry 5 Gold Edition, available now on PlayStation Store.