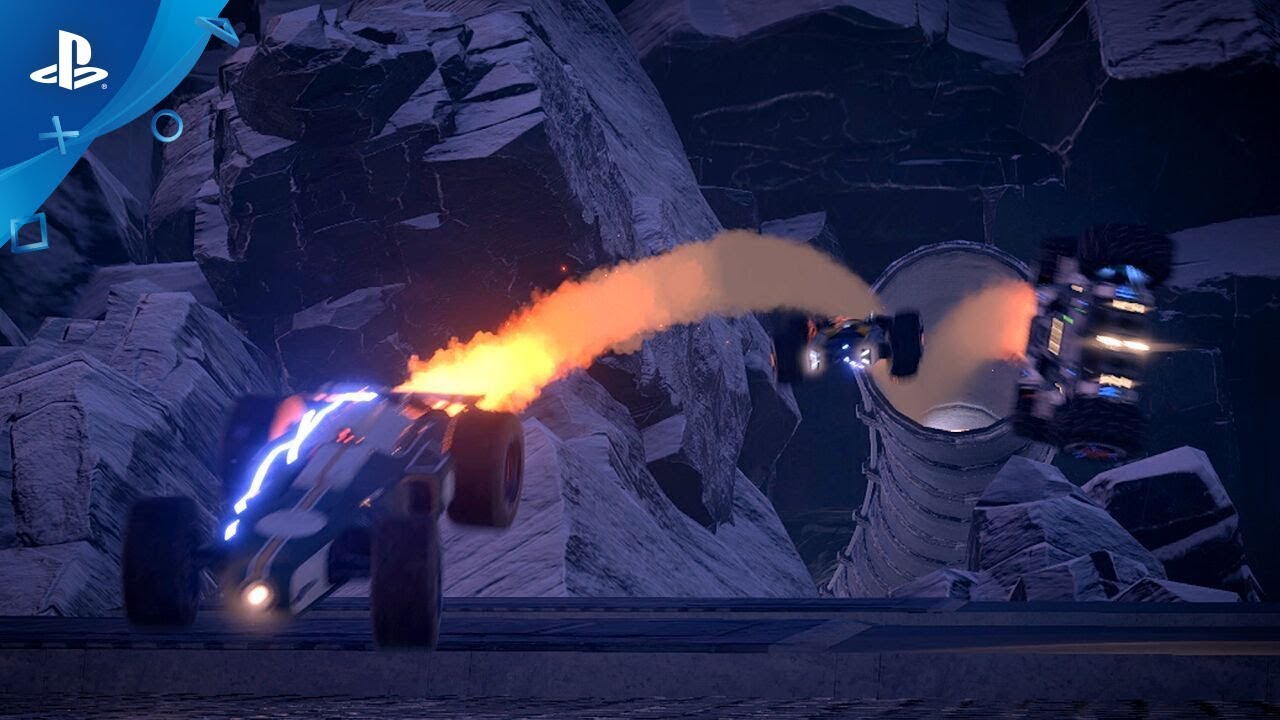 Eyes on the road... or, uh, the missiles on your six.
We've been hard at work on a new combat racing game that we think will reignite the love for the genre. It's fast, it's intense, it's chaotic and it's name is Grip. Those of you who know the source of it's inspiration will see immediately, and those who don't – well, we think you'll still be very excited for what's to come.
In the beginning…
Rollcage. Rollcage and RC: Stage 2 were games that took hold of your senses, flipped them upside down and smashed them through a brick wall. A racing game so intense, it changed the way I felt about regular racing games. Combat Racing was practically the only video game driving experience for me once Rollcage crashed onto my screen.
Rollcage broke new ground having wheel-based vehicles not only doing ludicrous speeds, but doing it while driving on walls, ceilings and both sides of the car – all while shooting each other. There truly was nothing like it. Even the graphics in many respects were ahead of its time, especially the effects.
What a game. What a crazy game and sequel. They are such great games that nostalgia inspired me to search for any news at all of an additional sequel in late 2014, which incidentally had me stumble upon Robert Baker's blog. Robert was a programmer on Rollcage and Stage 2, and was keeping very active in an online Rollcage community. It was clear that Rollcage still remained in Rob's mind, and perhaps he'd be willing to work on something new, inspired by our favourite games. Turns out, he did.
Caged Element was formed and we started work on Grip – a combat racer for the new generation. We've had a wealth of talent join us over the years – all of them being fans of our inspiration, and most of them having previous racing game experience. The latter comes in handy for sure, but when the cars in your game can drive on any surface and on either side, the challenge of creating interesting and balanced tracks is amplified. Thankfully, we're confident that when the game launches, players will appreciate the wealth of track designs we've come up with. And there's more to come after launch – all of them being free.
When you see Grip, it's quite obvious where it's inspiration came from, but it's also got its own distinct character; being more weighted, gritty and rugged. The cars are like really fast tanks – some larger, some smaller, but all beasts. Their unique design and abilities presented an almost insurmountable challenge in terms of physics programming, with a large chunk of our development being attributed to just that. Rob has handled essentially the entire physics load himself, and he hit new levels of coding wizardry to tame these beasts. When you're striving for realistic physics with a wheeled vehicle that can hit Mach 1 speeds, you're bound to run into some hurdles. But you'd be hard-pressed to find another game that has these kinds of speeds on wheels using realistic physics.
Speaking of wheels, the ones on Grip's cars are quite large — seven or eight feet tall, we reckon. The bodies in between those wheels range from military styled rigs, to sleek, high tech rides, to scrappy, pieced-together machines that growl at the competition. All of these cars can be customized with paint jobs, decals and parts. We want players to feel attached to their cars when they play.
Players can drive these on a variety of planets in a wealth of game modes, but we'll get into that (and more) during the rest of our drive up the road to launch later this year. We hope you'll take that road trip with us as we love to interact with the community we've built so far and want to grow it further into a big hub of bad-ass combat racers.
We are very excited to watch Grip take off on PS4, as well as harness all the power PS4 Pro has to offer. Get ready for one heck of a ride, 'cause combat racing is back.