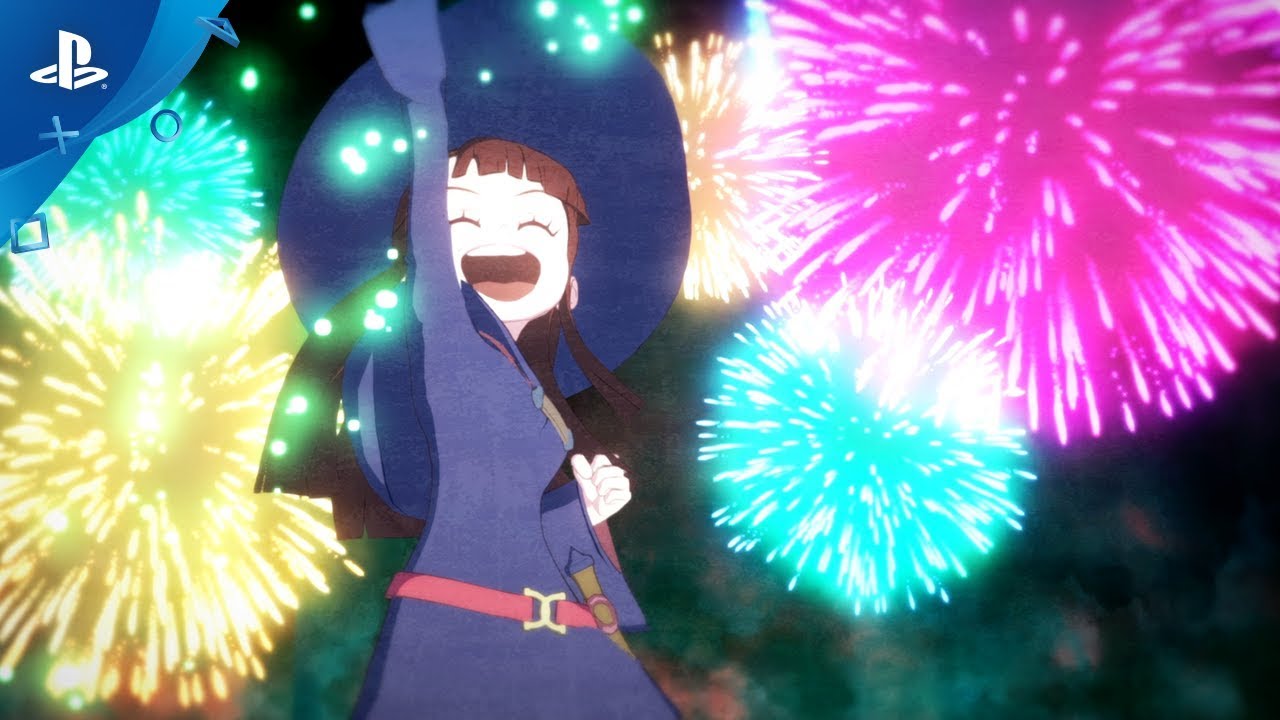 The hit anime series Little Witch Academia comes to life in this new side-scrolling action adventure.
Roll call, PlayStation Nation!
Randy here from Bandai Namco. Today, I'm thrilled to share that everyone's favorite little witches will be enchanting players this Spring, as Little Witch Academia: Chamber of Time releases on PS4 May 15th, 2018! Based on the popular anime series Little Witch Academia, join Atsuko Kagari and her friends in an all-new original story, as they work together to solve a mysterious occurrence at Luna Nova Witch Academy in this side-scrolling action adventure RPG. For those of you unfamiliar with the series or need a refresher, let me drop some knowledge.
Class is in Session!
Little Witch Academia is an anime series created by famed anime studio, Trigger, known for their work on Kill la Kill. The series follows Atsuko Kagari a.k.a Akko, an ordinary girl who enrolls into Luna Nova Academy after seeing a famous witch, Shiny Chariot, in action at a magic festival. From then on, it becomes her mission to enroll in the same school Shiny Chariot attended and become a great witch just like her. Here you follow her journey from ordinary girl to witch, making a variety of friends and going on adventures along the way. The series is currently streaming on the Netflix app on your PS4s in case you'd like to do your homework.
Assignment Time!
Now that you have some background, let's talk about what you'll be embarking on in Chamber of Time. As Luna Nova quickly approaches summer break, our loveable Akko finds herself getting in trouble (as usual). She ends up getting sentenced to clean the school's library by teacher, Anne Finnelan.
Upon putting a book away, she unlocks a strange chamber concealed behind one of the bookshelves and decides to investigate. The hidden chamber reveals a lounge that leads into a dungeon! After escaping the dungeon, a weird occurrence happens where the day repeats itself over and over again. It's up to Akko and her friends to solve the mystery and get things back to normal so they can finally start their vacation.
You'll build a party of three witches, choosing from fan favorites like Akko, Lotte, Sucy, Diana, and a few others as you explore dungeons and battle your way through various bosses. Then, you'll earn points and unlock new spells that you can use to customize each character, including Shiny Arc!
If that's not enough excitement for you, we have a real treat for the fans.
Don't be Tardy!
For fans of the series, one of the coolest features of this game is that it allows you to explore the halls of Luna Nova Academy! Watch as characters and areas from the series come to life! Walk, run, and sneak your way through classrooms, halls, and various areas with Akko.
Unlock game events as you visit teachers, talk to students, and eavesdrop on conversations! Live the life of a student and immersive yourself in the craft. Once you're done with classes, we have some extracurricular activities and rewards for you!
Come Aboard!
Exclusively for our PlayStation fans, we have a special treat for you! When you pre-order Little Witch Academia: Chamber of Time not only will you receive the beautiful Chamber of Time PS4 Theme, but you'll also receive the Magic Knight Grand Charion mini-game.
Jump onto the Grand Charion ship and shoot your way to the end where your magic ship transforms into a giant robot! Hone your skills and earn your high score!
See you in class!
We can't wait for you to get enchanted with Little Witch Academia: Chamber of Time on May 15th! Until then, in the words of Shiny Chariot "Just believe in yourself, that's your magic."