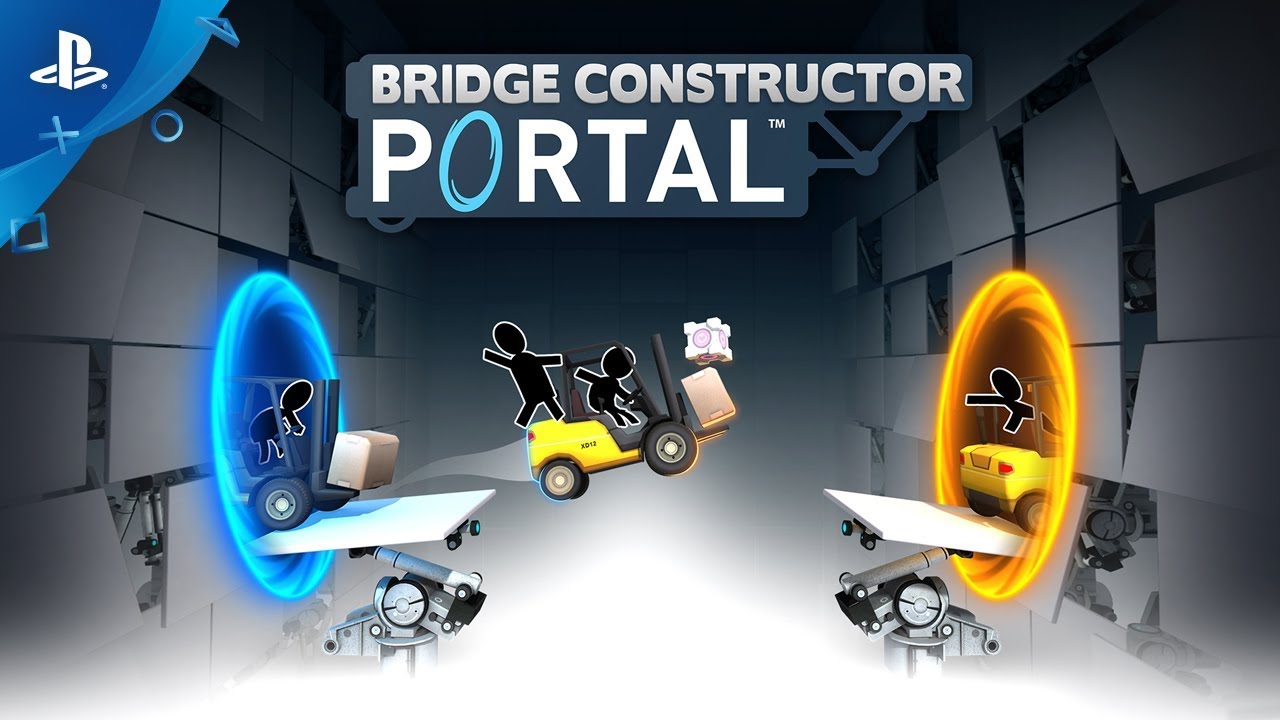 The mashup you didn't know you wanted launches today on PS4.
Hello everyone, I'm Matthias Hilke from ClockStone Software, we are the creators of the Bridge Constructor puzzle games. Together with our publisher Headup Games, we're very excited to expand the franchise next week by releasing Bridge Constructor Portal on PS4. It's a mash-up of two universes, the famous Portal universe (full of fun but dangerous Aperture Science technology) and the rather relaxing universe of Bridge Constructor.
After the collaboration with Valve was confirmed, it was pretty clear that bridge construction combined with the setting and mechanics of the Portal universe would become as unconventional as it could get. Thanks to the indoor scenario and the possibility to use numerous pairs of portals, vehicles could now be traveling through a level in all sorts of directions – back and forth from left to right, in a diagonal crisscross and even shooting up and down vertically. This alone leads to an exciting number of extravagant new level layouts, including spider web-style intersections or multi-storeyed bridges.
But this was only the beginning, as we were just about to open the fun box of Aperture Science test chamber technologies: Which mechanics would work in our game? What combinations would bring the most fun to the players? To find out, we prototyped almost all of them into some test levels and played around – it was just hilarious! So we found many exciting assortments and finally ended with 60 challenging levels which will be played under the demanding gaze of GLaDOS.
For example, by introducing Portal's Aerial Faith Plates (catapults) and the Repulsion Gel, players can send vehicles and cubes through the level flying and bouncing. Companion Cubes, High Energy Pellets and Propulsion Gel allowed us to furnish the game with an extra portion of Portal-style puzzle solving. Finally, our levels would not be real Aperture science test chambers without some serious hazards, so we added Laser Fields, Emancipation Grills, Acid Goo, and of course some lovely Sentry Turrets ("There you are.") to make sure that there was enough potential for an extra portion of entertaining destruction and mayhem.
The evolution from Bridge Constructor to Bridge Constructor Portal
After the success of the initial Bridge Constructor title in 2012, Headup Games and we always thought about possibilities to improve the series. First we created Bridge Constructor Playground, offering an easier sandbox-style approach with optional challenges like building with specific materials or with a limited budget. Bridge Constructor Medieval featured a little background story for the first time as well as roofs for protection against enemy fire and trap bridges that collapsed just in time, with the enemies on it.
With the "Slopemania" DLC for the original Bridge Constructor we managed to get away from just flat bridges, bringing more variety to the level design with sloped roads and much more complex and dynamic simulations. That DLC resulted in lots of great community videos, with jumping (and exploding) gas trucks and many hilarious attempts.
When we saw those videos, we wanted a game with considerably more action than the predecessors, so Bridge Constructor Stunts was conceived, featuring stunt parkour-style constructions and fast vehicles to perform daredevil jumps and loops. And, for the first time in the series, you were able to steer the vehicles yourself.
Eventually, during playtests with BC Stunts, where velocity and angle had become important game factors, the guys of Headup Games got the idea of combining Bridge Constructor with the Portal universe. As we all are huge Portal fans, we immediately felt it would be a great thing to combine the puzzle elements of both worlds into a fresh new construction game. So they approached Valve with the idea. They really liked it and helped us with great support – thanks again!
Bridge Constructor Portal launches today at PlayStation Store.