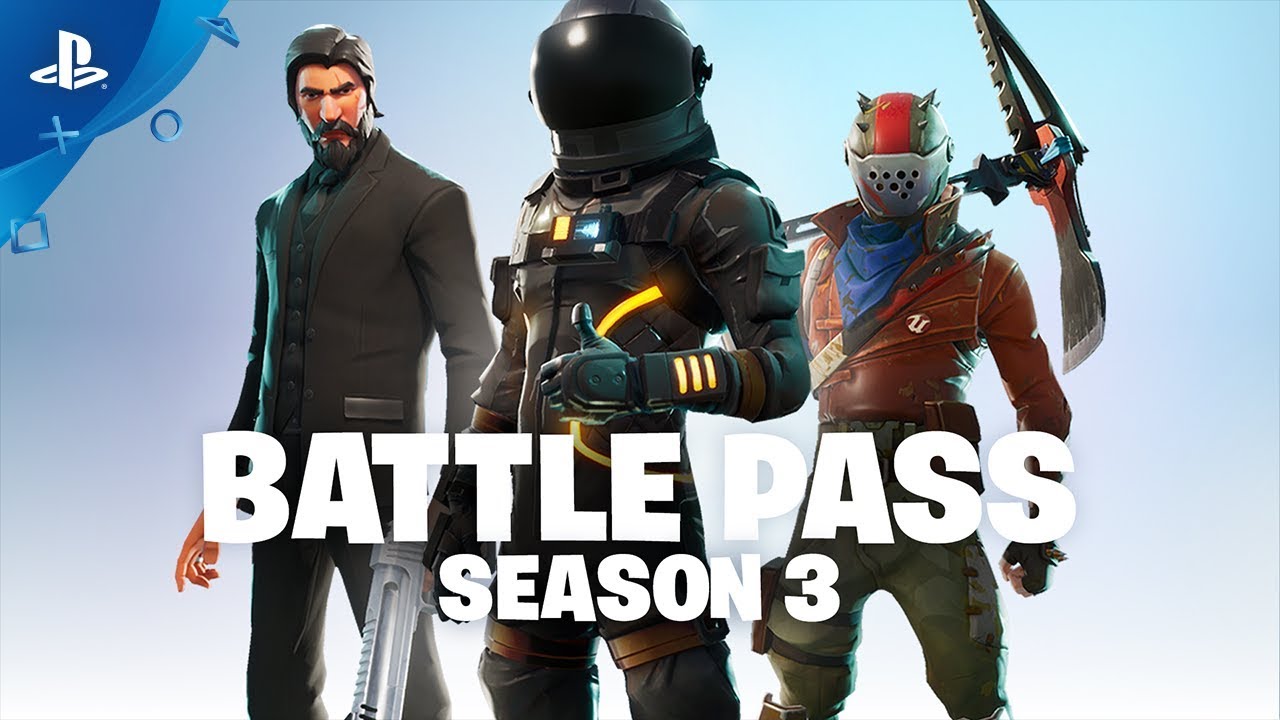 Season 3 kicks off today on PS4, adding new framerate options, better building and more.
We're kicking off Season 3 of Fortnite Battle Royale this week, and along with it our new Battle Pass! In addition to the Battle Pass, we have some awesome features coming in, a movement tool in Save the World, and improvements to how you build in Battle Royale!
Fortnite in 60 FPS!
The v.3.0.0 update brings a new 60 FPS mode for PS4 and PS4 Pro. You'll be able to pick up those Victory Royales with more clarity than ever before with buttery smooth framerates. If the highest-quality graphics are still your preference, you can toggle the 60 FPS mode at any time for improved visuals instead. We plan to continue work on the mode and improve it over time so definitely give us your feedback!
Better Building
Building is vital to your survival in Battle Royale, so we want to make it feel as good as possible. Find a tiresome tree in your way? No problem, now you can build right through it and continue on your way to a Victory Royale. Additionally, with the Turbo Build mode and Material Swapping you can keep building those stairs as you sprint 'n shoot and if you run out of wood the brick or metal (whatever is available) will swap right in!
Save the World Updates
Fans of our Save the World mode also get a slew of new content. Cruise around the storm in style with the brand-new Hoverboard, a new way to traverse the map. No need to use stamina as you surf to your quest objectives and complete them quicker than before. The v.3.0.0 update also brings in a new Lunar New Year questline with all new Heroes and weapons.
P.S. If you're feeling Heroic, I'd give a listen to the newly overhauled orchestral Save the World music. There may even be a little in Battle Royale as well ;)
New to the Battle Pass? It's a way to get exclusive loot by playing Fortnite, and then earn or buy tiers to unlock even more rewards!
When you buy the Season 3 Battle Pass, you'll instantly unlock a batch of great in-game rewards including the new Mission Specialist Outfit! As you play during the season, you unlock a series of reward tiers. 100 tiers, 100 rewards. The more you play, the more you'll unlock.
So what's different from the Season 2 Battle Pass? There are now 30 more tiers in Season 3 (100 total), and with more tiers comes more loot. Even though we added 30 tiers, you'll still be able to complete the Season 3 Battle Pass in the same amount of time as the Season 2 Battle Pass (typically 75-150 hours). Don't have the time? You can always purchase tiers for 150 V-Bucks each.
Finally, don't miss out on the new PlayStation Plus Celebration Pack that's free for PlayStation Plus members. This exclusive bundle gives you a new glider and a new outfit for use in Battle Royale. Be the envy of other players… right before you take them out.
See you in Fortnite!