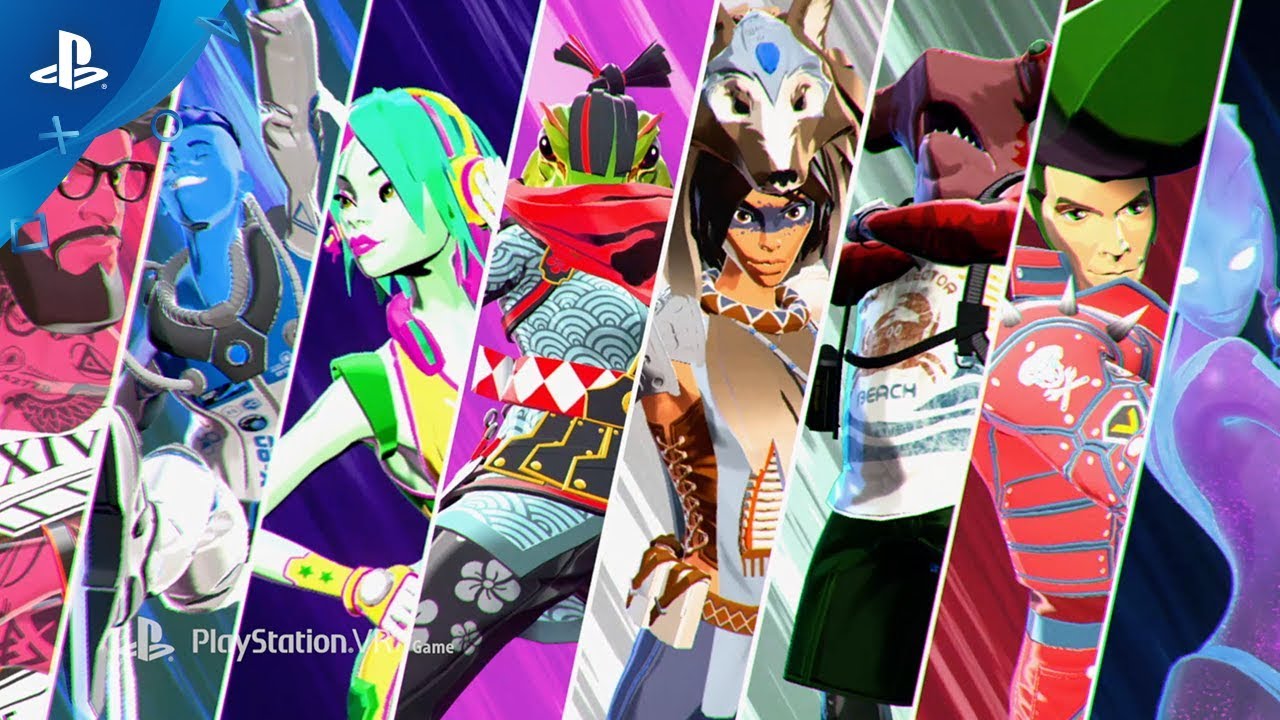 Ready, set, sprint! Challenge 21 colorful courses in this eight-player racer.
Ready, set, sprint with fast-paced 8-player racing across 21 colorful courses, launching worldwide for PSVR and Pro
Today, Survios is proud to launch our newest game for PlayStation VR: Sprint Vector, an intense multiplayer adrenaline platformer that sends you rocketing through 21 colorful spacepunk courses in the craziest parkour racing game ever.
While we're stoked for you all to strap on your vector blades and enter the crazy world of robot media tycoon Mr. Entertainment, we wanted to take a few moments to share the story of Sprint Vector and how Survios set out to conquer one of VR's biggest obstacles: locomotion.
At Survios, our VR projects all start with a simple question: what do we want to feel? And back in 2016, Sprint Vector started as an equally straightforward answer: speed. We believe that VR needs to be active in order to be fully immersive — so we set off to devise an active mechanic that would convey the sensation of extreme motion in VR while also subverting the nausea reflex.
The result was Fluid Locomotion, the smooth, natural mechanics system that comprises 99% of Sprint Vector's gameplay. Based on the swinging movement of your arms while running, Fluid Locomotion translates the length and consistency of your swings into rapid forward momentum in-game. All the while, your arm movements are enough to trick your brain into processing it as locomotion, allowing for a completely comfortable experience. Success!
Now we just had to build a game around the Fluid Locomotion mechanics. The concept of an over-the-top racing game took shape, but we wanted it to be more than just that. So we devised a whole new genre: adrenaline platforming, taking the frenetic navigation of a traditional platformer and ramping the speed up to ludicrous.
And when you achieve ludicrous speed, you have to make sure your in-game universe reflects it. It's hard not to have a blast racing across an Egyptian landscape that suddenly drops into alien ruins, or dodging corrosive sludge while hopping across tangled industrial pipes, or soaring over the frigid landscape of a Viking village turned ski resort. All the while, seven other players are vying to sabotage you with power-ups ranging from killer rockets to instant speeds boosts.
Sprint Vector is also fun because you can play it your way. Speedrunners and overachievers will gravitate toward the Global Leaderboards on competitive mode, where eight-player races across 12 unique courses fuel the need for speed. There's also private matchmaking and casual modes for a little friendly competition, and you can even fine-tune your skills and test yourself on 9 solo challenge courses, each with three different game modes. However you want to sprint, there's a vector for that!
With all this being said, we are beyond excited to welcome the PlayStation VR community to Sprint Vector! To show our appreciation, there are exclusive Sprint Vector PlayStation avatars and a theme for you to download, and an upcoming content patch will add free Championship Intergalactica Winter Games skins to your characters so you can add some international flavor to your favorite racer. We also invite all PlayStation gamers to join us in our official Discord server to interact with other players, set up matches, talk sprinting strategies, and enter to win exclusive prizes in weekly Sprint Vector challenges.
The intro music is firing up and Mr. Entertainment is preparing for his grand entrance, so we advise you to wrap up that warm-up routine: the Sprint Vector spotlight awaits! We'll see you on the starting line.