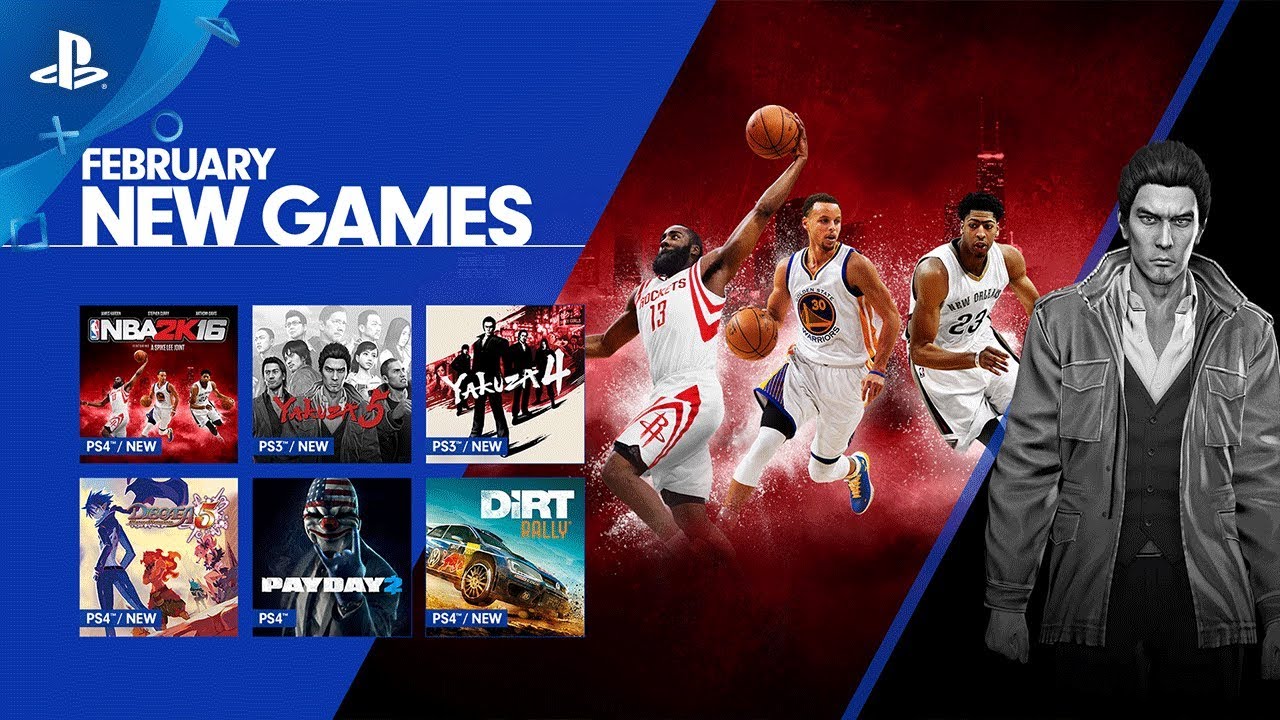 Read on for the full list of new titles coming to PlayStation's game-streaming service in February.
2018 is in full swing, and we've got an exciting batch of new titles debuting on PlayStation Now this month, ready to stream to your PS4 and PC. Joining the library of more than 600 games – including more than 130 PS4 games – is NBA 2K16, Yakuza 5, and many more.
Additionally, the new PS Now interface teased in last month's blog post has now been rolled out to all users. Improvements have been made to the app's navigation and load speed, interface design, navigation, and search features. We hope you enjoy the new look and feel!
New This Month
First up this month is NBA 2K16 for PS4, featuring cover athletes Stephen Curry, Anthony Davis, and James Harden. With an in-depth MyCAREER experience written, directed and produced by acclaimed filmmaker Spike Lee, NBA 2K16 lets you guide your MyPLAYER through the complete NBA journey, take control of an entire NBA franchise, and hone your skills through the many gameplay modes. Supports local play for up to 4 players via PS Now.
Now's your chance to dive head first into the underground world of the Japanese yakuza with both Yakuza 4 and Yakuza 5 playable in PS Now. Explore Tokyo with four playable characters in Yakuza 4, including the legendary dragon himself, Kazuma Kiryu, as he works to unravel a conspiracy that threatens the nightlife district of Kamurocho. Experience aspects of Japanese culture including karaoke, hostess clubs, and even pachinko.
In Yakuza 5, Kazuma Kiryu is pulled back into the yakuza conflict as a bloody war between the Tojo Clan and Omi Alliance is about to break out. TheYakuza 5 saga plays out across five major Japanese cities with five playable characters, including Tokyo, Osaka, Fukuoka, Nagoya, and Sapporo, taking you from taxi driving missions to hunting in the frozen wilds, to living in the harsh world of a pop idol. Brush up on your fighting skills, and prepare for Yakuza 6: The Song of Life launching on PlayStation 4.
Experience intense white-knuckle racing with DiRT Rally (PS4), flying at the edge of control across dirt, tarmac, snow, and ice and in all types of weather. DiRT Rally includes officially licensed World Rallycross content, allowing you to experience the breathless, high-speed thrills of some of the world's fastest off-road cars as you trade paint with other drivers at some of the series' best-loved circuits, in both singleplayer and high-intensity multiplayer races (PlayStation Plus not required for multiplayer via PlayStation Now).
Anime, strategy, and J-RPG fans will love Disgaea 5: Alliance of Vengeance (PS4). Killia, a loner, is drawn into forming a rebel army with a group of Overlords to oppose Demon Emperor Void Dark, and prevent him from taking over all of the Netherworlds. Travel across different Netherworlds to build your army in this tactical role-playing game. Don't forget to check out other Disgaea games already in PS Now as well.
This month we are also upgrading Payday 2 to the PS4 "Crimewave Edition." This action-packed 4-player co-op shooter has been extremely popular since it hit PS Now last year, and now it will look and play even better (if you were playing the original PS3 version, it will still appear in your Play History list so you can continue with your progress). Up to four friends co-operate on the hits and as the crew progresses the jobs become bigger, better and more rewarding. Along with earning more money and becoming a legendary criminal, use your funds to customize your character with new skill-sets that change the way you play and kit them out with their own guns and gear.
Here are all the new games available to stream on PS4 and PC starting today. We've got action, open-world, sports, racing, shooters, puzzle and indie games, fighting, unique Japanese imports, and more.
New PS4 Games
Anomaly 2 (PS4)
Backgammon Blitz (PS4)
Bombing Busters (PS4)
DiRT Rally (PS4)
Disgaea 5: Alliance of Vengeance (PS4)
Enigmatis: The Ghosts of Maple Creek (PS4)
Gal*Gun: Double Peace (PS4)
Grand Kingdom (PS4)
NBA 2K16 (PS4)
Professional Farmer 2017 (PS4)
Yakuza 4 (PS3)
Yakuza 5 (PS3)
PS3 to PS4 Updates
Brothers: A Tale of Two Sons
Guilty Gear Xrd Sign
Motorcycle Club
Payday 2: Crimewave Edition
Here are the most popular games on the service in January
Red Dead Redemption
Until Dawn
WWE 2K16
Mortal Kombat
The Elder Scrolls IV: Oblivion
Fallout: New Vegas
The Last of Us
Mafia II
Sid Meier's Civilization Revolution
Injustice: Gods Among Us
If you haven't given PlayStation Now a try yet, check out the seven-day free trial for PS4 and PC to experience the streaming service for yourself. PS Now provides unlimited on-demand access to a growing library of over 600 games, with new games added every month, and no game downloads required. PS4 save data in PS Now is also compatible with PS Plus cloud saves, so you can upload/download save files to and from your own console.
Stay tuned for more updates on PS Now, and happy gaming!