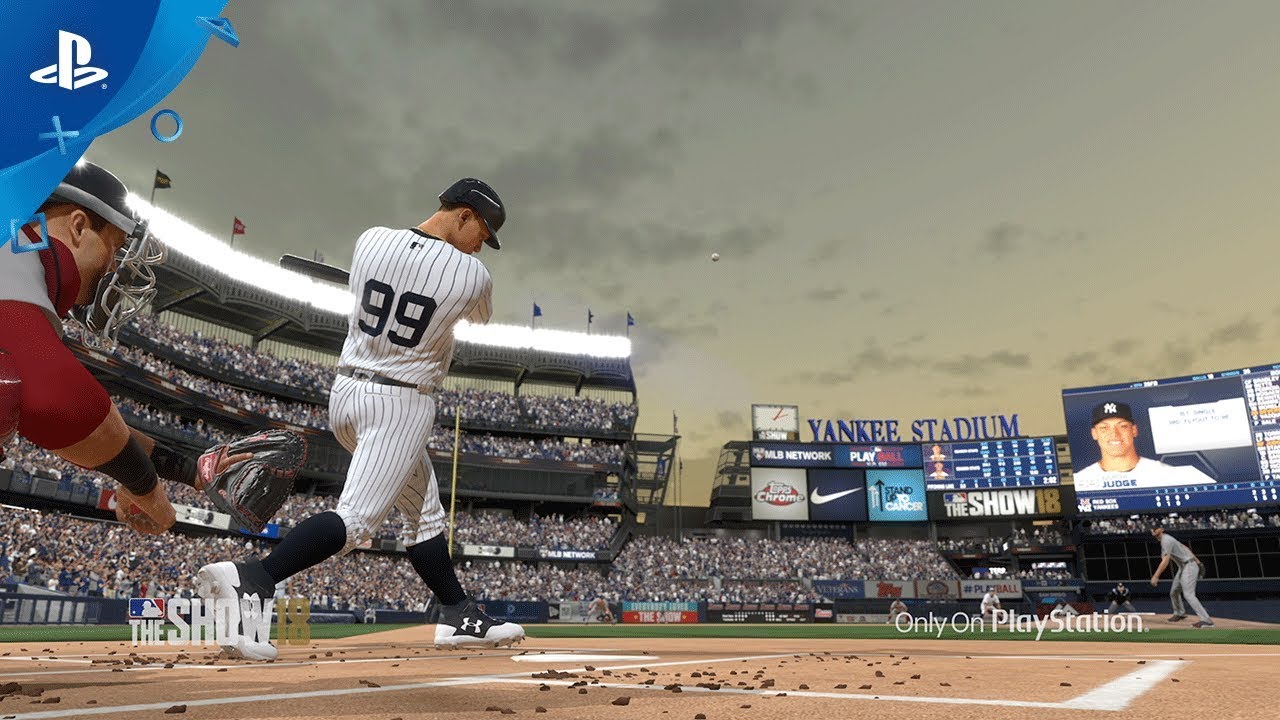 Latest video highlights revamped hitting engine, unique home run celebrations, and a new legend...
With less than two months until launch on March 27, we're excited to finally give you a first look at MLB The Show 18 gameplay.
The moment a great many devout baseball fans have been waiting for is finally here: Babe Ruth. He is arguably the greatest player ever and is one of the new Legends coming to MLB The Show 18. He's not alone; did you catch any of the other new Legends we teased in the trailer?
This year we're bringing back Road to The Show, Diamond Dynasty, Battle Royale, Conquest, and Franchise Mode, and will have a major gameplay engine tune up among other features.
Baseball is a game of details. At its core there's pitching, hitting, catching, throwing, and tagging. All of those areas of the game have received major development resources this year. Below are a few changes we've revealed in our trailer:
Expansion of Road to the Show
Dynamic crowds like Judge's Chambers
New unique home run celebrations
Revamped hitting engine with improved physics
Rewritten player tagging system
Over 1,000 new gameplay animations
More legends
Some of these changes we get the most excited about are the unflashy ones under the hood, the ones that seem like little adjustments but can make huge strides in terms of authenticity.
We've got a lot more to discuss — updates to major modes and a new feature the community's been demanding for years — and over the next 60 days we'll tell you all you need to know. Can you spot all the feature teases in the trailer?
2018 Twitch and GameStop Monday's Schedule
One of the most fulfilling moments in game development is when we get to show our faithful fans what we've been working on during the off season. Our goal is to make each year's game the best baseball video game on the market. Over the last three years we've started to tease our work-in-progress updates in a series of video blogs and Twitch livestreams.
We have a handful of streams planned before The Show 18 releases on March 23 for the First Pitch Weekend. The 2018 video blog and Twitch livestream schedule can be viewed below. All dates and stream topics are tentative and are subject to change at a moment's notice. Also, please note all of our livestreams start at 2PM Pacific!
When you pre-order, you receive a voucher good for 10 additional Standard Packs and 1 Legend card for The Show 18 when you pick-up or download the game from any retailer.
Pre-order at GameStop and receive an additional 5 Standard Packs and bring your total Standard Packs to 15. Lastly, if you pre-order on PS Store you'll get 5,000 stubs for MLB The Show 18 and instantly receive an exclusive Aaron Judge Rookie Flashback Card you can use immediately in your copy of MLB The Show 17.
MLB The Show 18 First Pitch Weekend Update
In addition to the pre-order items listed above, we've expanded early access to include Gamestop, PS Store, Target, Walmart, and Best Buy with our First Pitch Weekend in the US. For our Canadian fans, this offer is available at EB Games and Best Buy Canada. With this, you'll be able to pick up or download your copy on March 23, up to four full days before the regular release on March 27.
Here's a handy chart below for the pre-order goods:
Retailer
Pre-order Items
PS Store
Early Access starting March 23
10 Standard Packs
1 Legend Card
5,000 Stubs
Instant Reward | Aaron Judge Rookie Flashback Card for MLB The Show 17
GameStop / EB Games

Early Access starting March 23
10 Standard Packs
+ additional 5 Standard Packs
1 Legend Card

Target (US), Best Buy (US and Canada), Walmart (US)
Early Access starting March 23
10 Standard Packs
1 Legend Card
This year is an especially exciting year for us here at PlayStation — we're very excited to show even more of what we have in store for you in The Show 18! In the meantime, please make sure to watch The Show Nation, our Twitter, Facebook, and Instagram accounts between now and March 27 for the latest updates.