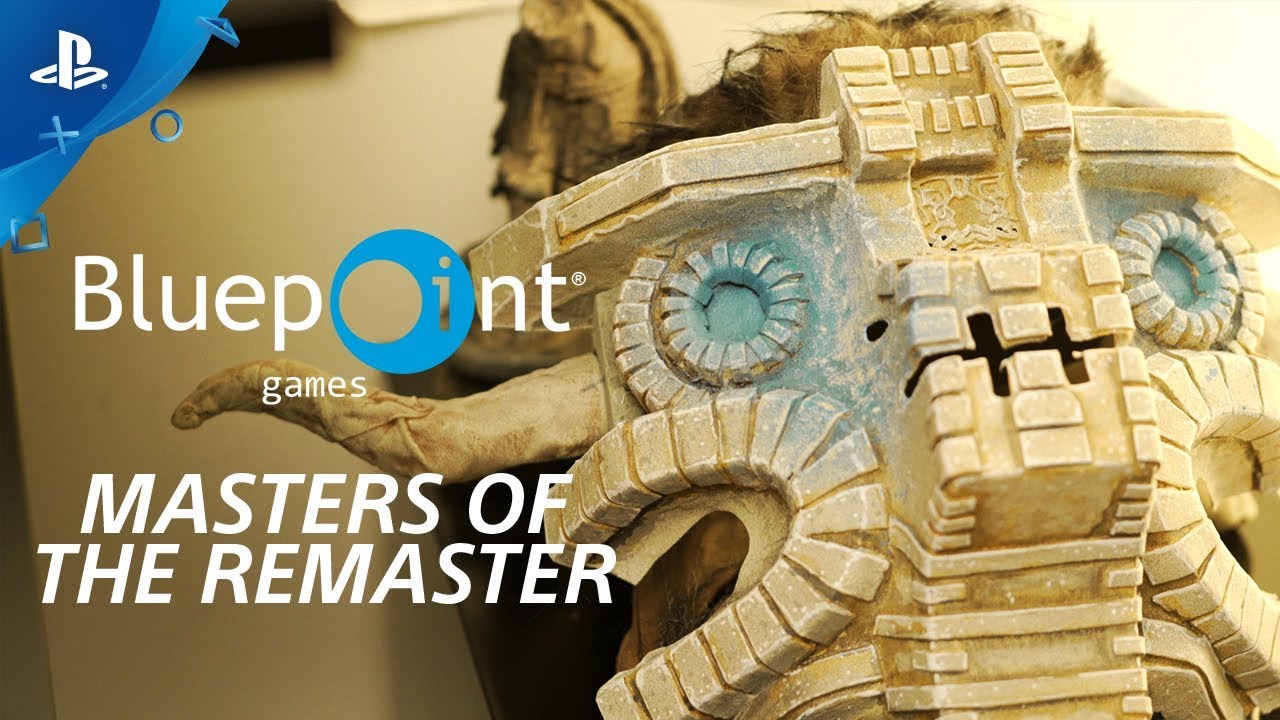 A rare look inside the studio behind some of the world's highest-quality rebuilds and remasters — including February 2018's Shadow of the Colossus.
Bluepoint Games is a studio known for their consistently excellent results in the realm of remastering, refurbishing, and remaking classic games.
So, you'd expect their headquarters to be bit flashier than the outwardly unremarkable building they share in Austin, Texas. Their unassuming workspace doubles as an analogy for the studio itself: a group more passionate about their work than fame and recognition.
Watch the video at the top of this post, captured during a recent trip to Bluepoint Games, for a rare peek inside the studio behind some of the industry's most well-regarded remasters.
Bluepoint has grown into a team of a few dozen employees, but it all began with two people. Marco Thrush, now president of the company, and Andy O'Neil, the studio's current vice-president. Marco and Andy built the still-in-operation Bluepoint Engine, and worked together to create Blast Factor, which launched alongside PlayStation Network in 2006.
Bluepoint is in a unique position: having led the remastering process for so many legendary titles, the studio has had lots of opportunities to poke around the inner workings of some of the most technically impressive experiences from their respective generations. I asked Peter Dalton, the technical director on PS4's Shadow of the Colossus, how he and the team took advantage of these opportunities.
"We've definitely learned from each of them," Peter explains. "From the original God of War series and bringing that to PS3, and seeing how they solved certain problems, to working with Naughty Dog's technology for Uncharted: The Nathan Drake Collection.
Bluepoint's art director, Mark Skelton, has similar respect for the artists whose work he's now responsible for recreating. "It's amazing what they did with what they had. There are so many tricks and so many unique, groundbreaking things that they did in that game that I've never seen since or before that."
When remastering a classic, it must be tempting to fix each and every mistake, oversight, or inconsistency you would find. But where does one draw the line? Skelton shares a geographical example from Shadow of the Colossus:
"So one of the areas is kind of wooded… I noticed — this is kind of funny — that it was a dual waterfall area. And the dual waterfalls had a U-shaped section that connected them, which to me made absolutely no sense. Where's the water coming from?
"Things like that we talked through and made sure that if we did make changes to it, that it didn't have huge ramifications, visually or playwise. So what we decided to do was connect it to another connection that was kind of a mountain waterfall, which fed that waterfall, which in turn fed those two.
"To me, changes like that were important. It makes more sense, and it was maybe just an oversight at the beginning of the first one. Stuff like that I don't have a problem changing. You know, stuff that makes people scratch their heads and go why?"
The more you talk to the people at Bluepoint, the more you realize that this obsessive attention to detail is core to the studio's ethos. Occupying a corner of the studio's floorplan is a custom rack of four huge TVs, each representing one of the market's most popular sets in a given price range. They wire PS4 dev kits to this rig to see the final product the way players will see it.
If there's one factor that clearly drives Bluepoint, it's the desire to do right by fans — to do justice to the legacy of each and every game they choose to rebuild or remaster.
"To us, making the game the way you remember it is the most important mission that we have, regardless of everything else," explains Randall Lowe, one of the testers on the original PS2 release of Shadow of the Colossus, and now a producer on the 2018 PS4 version. "We need to make sure that the game you're playing now feels like the thing that you played in the past. If we don't hit those notes, then we failed in what we were setting out to do."
Studio president Marco Thrush elaborates: "The games we work on, we hand-pick them — we usually have lots of choices, and we get to pick the ones we care most about or that we truly believe the player will enjoy most once they get rereleased. So we always give the best we possibly can on every single title we work on. I hope it shows in the end result."
Shadow of the Colossus launches February 6 on PS4, but in the meantime, you can learn how it runs on PS4 Pro, watch the game's opening sequence, read our hands-on impressions, watch an episode of PlayStation Underground recorded at Bluepoint Games, or peruse a series of other SotC videos over at our YouTube channel. Phew!