Bang! Zoom! Let's go to the moon with new control schemes, an updated UI, and more.
It's an exciting time at Squad's Mission Control facility as we are getting ready to launch Kerbal Space Program Enhanced Edition on PS4 on January 16. We've partnered with the talented and experienced team at BlitWorks to develop this new PS4 version from the ground up that includes a bunch of enhancements for performance, user interface, and all-new controller layouts to improve your experience playing the game.
Additionally, the previous version of KSP was only available on PS4 in America, but we're pleased to announce that PlayStation fans around the world can enjoy Kerbal Space Program Enhanced Edition!
The main challenge in bringing a game like KSP from PC to PS4 is making sure the game is just as fun to play with a controller as it is with a mouse and keyboard. So in addition to putting in a lot of essential work on optimization to improve the game's performance on PS4, we focused on finding the best way to map keyboard actions to a controller.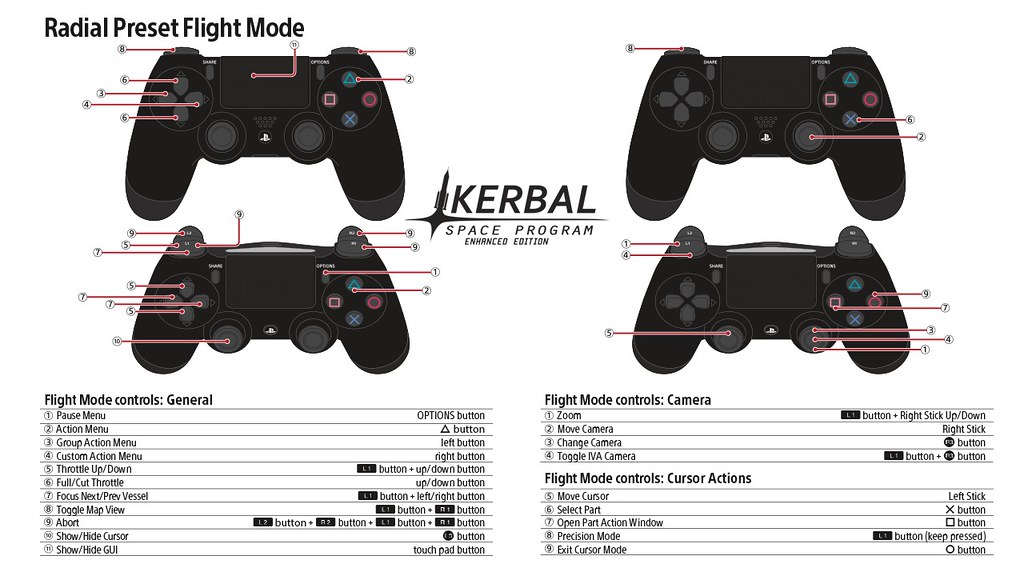 We made sure to do this in a way that feels natural and intuitive for PS4 players. These changes include updates to the UI that make the game easier to play from the couch, the addition of a new control scheme for the maneuver node controls, and three completely reworked controller presets that players will be able to switch between at any time during play. We know that one control scheme won't satisfy the preferences of every PS4 player, so KSP Enhanced Edition comes with three options:
Cursor
Returning KSP players on PS4 might have gotten used to the previous control scheme, so the Cursor preset keeps things familiar for veteran players while adding a few enhancements as well.
Radial
We also wanted to revamp the Cursor preset by making a lot of low-priority or low-usage commands available on radial menus, instead of requiring the player to do a lot of cursor-mode pointing and clicking. So the Radial preset uses a lot of actions of the Cursor preset while incorporating radial menus that speed up the access to different commands.
Simplified
We also created the Simplified preset, an entirely new control scheme designed to be easier to pick up and play with a controller. The UI was rewritten and we implemented region navigation and a "look-at" system that allows players to access all sub-menus and tweakables without the use of a cursor at all.
With this control scheme, the cursor has been replaced with a reticle in the middle of the screen; players can move the screen behind the reticle, rather than moving the reticle itself. We think PS4 players who are new to KSP will especially enjoy the Simplified preset.
For those of you familiar with KSP already, Kerbal Space Program Enhanced Edition is built from the 1.2.2 Loud and Clear release. This means it comes with plenty of extra features and goodness in addition to the overall improvements on PS4, including new communication network capabilities between the Kerbal Space Center and launched spacecraft, an overhaul to the SAS system that assists your flight stability, and much more.
Kerbal Space Program Enhanced Edition will be free for anyone who already owns the previous version of KSP on PS4. We're excited to see all of you PS4 players in orbit when Kerbal Space Program Enhanced Edition launches next Tuesday.
Happy launchings!