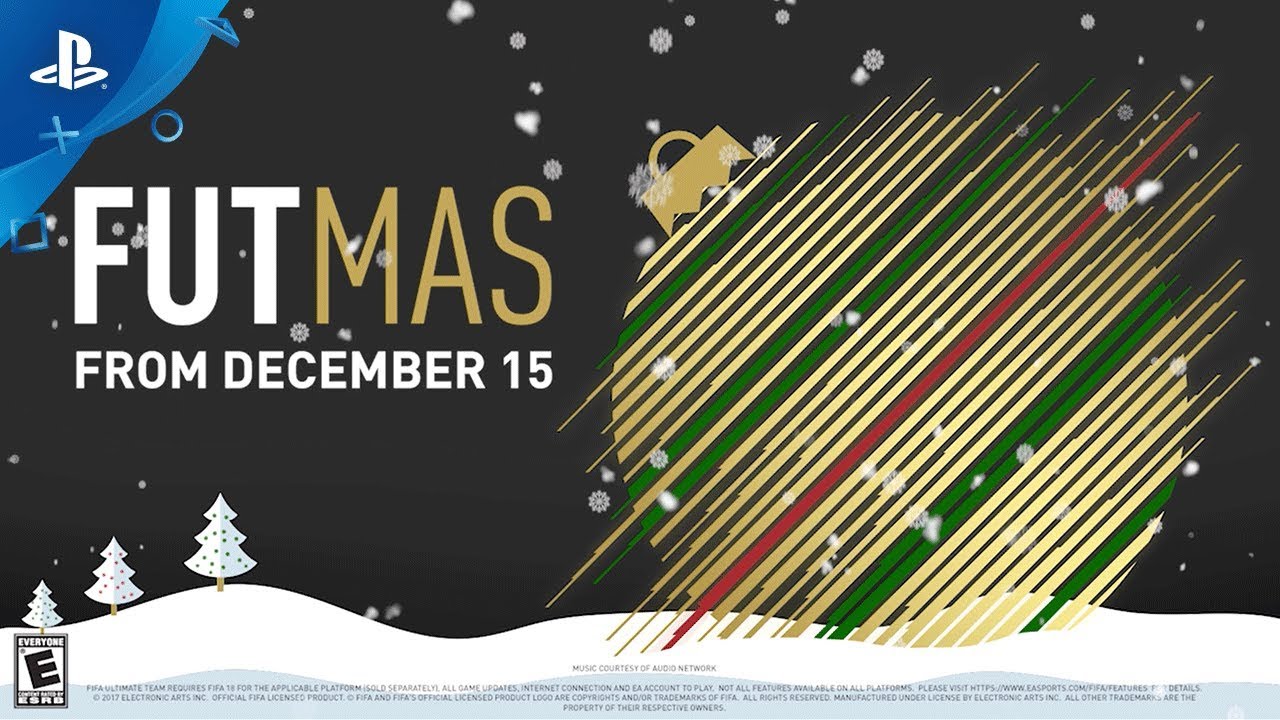 Here's a rundown of what you can expect in the festive FIFA 18 event.
The most wonderful time of the year in FIFA Ultimate Team (FUT) is back! Whether you have been naughty or nice, enjoy FUTmas this holiday season with a variety of SBCs, themed Weekly Objectives, special holiday offers, and much more.
Starting on Friday, December 15, log in to FIFA 18 Ultimate Team on PlayStation 4 to discover new FUT content, available for a limited time.
New and fan favorite Squad Building Challenges (SBCs) will be released throughout the event, including FUTmas Countdown SBCs. As part of the Countdown, three player challenges will be released every day from December 15 until December 24, only available for 24 hours.
Spread FUTmas cheer throughout the week by completing a variety of themed weekly objectives to unwrap great rewards. And check your FUTmas stockings throughout the week for exclusive, limited-time holiday offers sure to make you jolly.
Finally, don't miss another chance to get your FUT squad in the holiday spirit by picking up three unique FUTmas kits that can be earned using different methods–be sure to log in to FUT all week to find out how.
What is FUT?
FIFA Ultimate Team (FUT) is the most popular mode in FIFA, played by millions all over the world every day. FUT lets you build your dream FIFA squad from scratch and compete with it in a variety of single player and online modes.
How Do I Get Started in FUT?
When you go to the Ultimate Team tab in FIFA 18, you'll begin your FUT journey by receiving a starter pack containing enough player items to fill out your starting XI, followed by your choice of a loan player item that can only be used in a limited number of matches. To help customize your squad, you'll also choose from a selection of real-world home and away kits and club badges.
How Do I Improve My FUT Squad?
If your team isn't full of stars right out of the gate, Ultimate Team provides plenty of ways to improve it — some easy and quick, others that challenge you in exchange for better rewards. Completing a variety of in-game objectives*, as well as playing in matches, are the best ways to earn these rewards. Rewards can be FUT Coins, digital packs filled with player and consumable items, or a combination of both. Once you earn enough Coins, you can use them to buy more packs from the store or bid on players on the FUT transfer market.
REQUIRES FIFA 18 ON PLAYSTATION 4 (SOLD SEPARATELY), ALL GAME UPDATES, INTERNET CONNECTION, AND EA ACCOUNT TO PLAY. NOT ALL FEATURES AVAILABLE ON ALL PLATFORMS. PLEASE VISIT https://www.easports.com/fifa/features FOR DETAILS. © 2017 Electronic Arts Inc. EA, EA SPORTS, the EA SPORTS logo and Ultimate Team are trademarks of Electronic Arts Inc. Official FIFA licensed product. © FIFA and FIFA's Official Licensed Product Logo are copyrights and/or trademarks of FIFA. All rights reserved. Manufactured under license by Electronic Arts Inc. All other trademarks are the property of their respective owners.