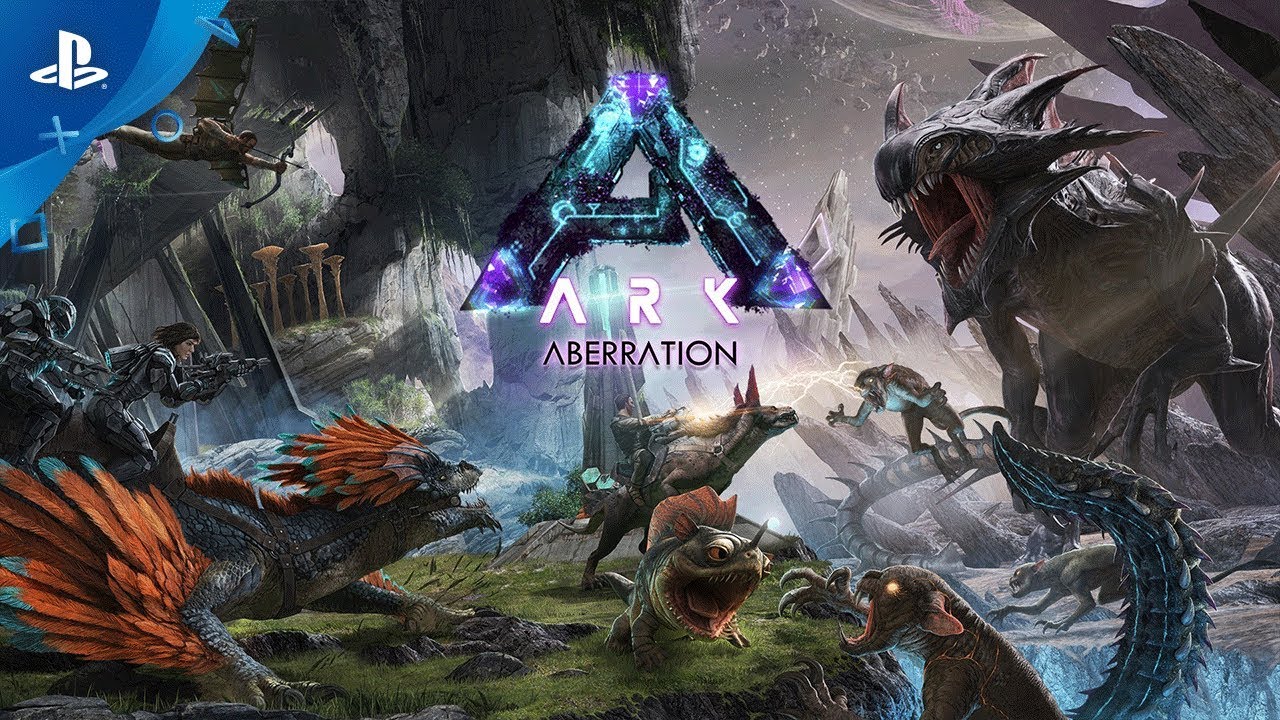 Studio Wildcard runs down the features in their second huge expansion.
Ark: Aberration is launching on PS4 today, and the Studio Wildcard team can't wait for you to experience the latest chapter of Ark's gameplay and lore. We have been hard at work building an entirely new world for you to explore and survive in, with fresh challenges and twists on Ark's core mechanics everywhere you look.
Much of Aberration is a cave world, but from the very beginning of the design phase we strove to create something that could never be described as "just a cave". Free-floating through space, this Ark has malfunctioned, and beneath the radiation-baked surface there are many new biomes full of plants and animals unlike anything you have seen yet.
The lush and vibrant Fertile Chamber is the beginning of your journey, where hostile sunlight filters through dense hanging plant-life into something tolerable and life-giving. Exploring the giant, ancient ruins of a technologically advanced civilization will lead you to the Biolum Chamber, home to glowing creatures, beautiful plants and stunning underground waterfalls. Along the way, you'll want to tame a "Lantern Pet" or two, who can protect you from some of the stranger and more aggressive lifeforms using their organic "Charge" emitting properties (you'll need it and have more ways to use it later).
Venturing deeper down into the Element Chamber, you'll learn more about the Ark's dark secrets and gain access to valuable resources – but watch out! Truly terrifying creatures inhabit the Element Chamber, such as chest-impregnating "Reaper" Queens and scores of swarming "Nameless", whose grotesque humanoid appearance is nothing short of unnerving and a little too familiar.
You'll need to get crafty with tons of new items to help you traverse the terrain, including ziplines, glide suits, and climbing picks, along with new weapons and outfits to keep you safe from hazards such as earthquakes, radiation zones, poison plants, noxious gas and an erratic day cycle. Make it through, however, and you'll discover a deep trench that is home to the Rock Drake – one of Ark's most unique and powerful creatures to date! Possessing the ability to climb nearly anything, glide long distances, and cloak itself and its riders at will, Rock Drakes are one of the keys to survival.
Aberration is Ark's second huge Expansion, and we're taking the lore further than ever before. What are the Arks? Why are we here? Where is all of this advanced technology coming from? What does it mean to be human, and where does the story go from here? Explorer Notes scattered around the Ark from old and new characters provide some answers, and the environment and end game bring it all to life.
As always, the Studio Wildcard team is never content with creating "just more of the same" content. Expect something new, different, and exciting at every turn, like the first time you woke up on the beaches of The Island or the desert of Scorched Earth. Whether you prefer to play solo, co-op or online PvP and PvE, if you play Ark, this Expansion is for YOU.
See you on the Ark, Survivors!