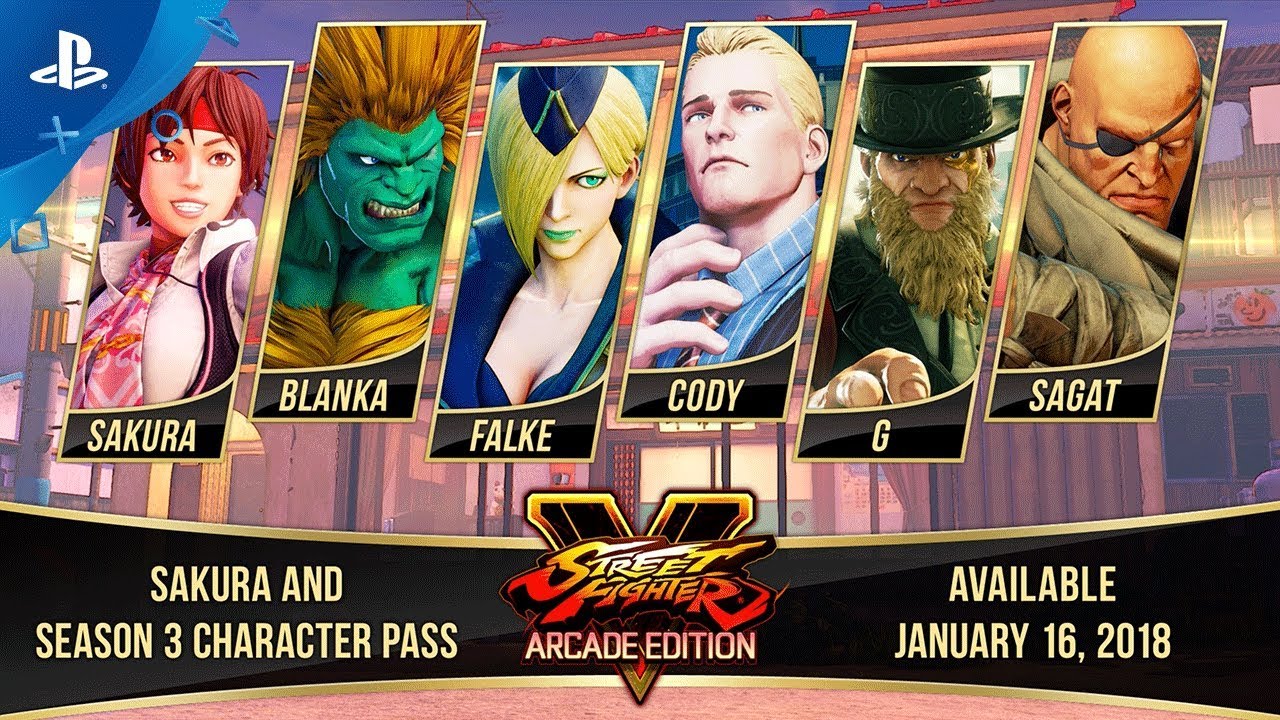 Straight from Capcom Cup 2017! Plus, a first look at Season 3 of Street Fighter V.
PlayStation Experience 2017 has come to an end, which means Capcom Cup 2017 has crowned a champion! Whether you visited our booth at PSX, attended any match at Capcom Cup, or were watching it all from your couch at home, thank you for the support as we bid 2017 farewell. It's been an incredible year for Street Fighter V as we brought Akuma back for Season 2 and introduced five brand new characters to the series, each with their own unique stories, designs, and playstyles. Season 3 will add all-new fighters to the roster, but we've also got four familiar faces that should make all Street Fighter fans excited for 2018!
In the past, we ended each year by showing silhouettes of the characters for the following year's Season, but this time, we revealed all six for Season 3 at once using the cinematic opening for Street Fighter V: Arcade Edition! Fan-favorites Sakura, Blanka, Cody, and Sagat will return in 2018 and will be joined by newcomers Falke and G – two mysterious fighters we can't wait to show you more of.
Coming up first is the exuberant youth herself, Sakura! Making her first appearance in Street Fighter Alpha 2, she has now graduated from high school and searches for a deeper meaning of life, all the while continuing to challenge her rival, Karin, and her idol, Ryu. This time, Sakura has a few new moves in addition to her signature emulation of Ryu's playstyle. Sakura will be available on January 16, 2018, the same day Street Fighter V: Arcade Edition comes out. If you purchase the Season 3 Character Pass, you'll receive not only Sakura, but her Battle Costume with colors 3-10 and Default Costume colors 3-10 unlocked! Season 3 Character Pass holders will automatically get Blanka, Falke, Cody, G, Sagat, and their Battle Costumes and colors when they're ready to join the fight in 2018. Beginning with Season 3, if you purchase each character individually with real money, you'll also get the same Battle Costume and colors as you would if you have the Character Pass.
We also announced the Street Fighter 30th Anniversary Collection, a tribute to how far the series has come after being introduced in 1987. This collection contains 12 iconic titles in the series that each have their place in Street Fighter history:
Street Fighter
Street Fighter II
Street Fighter II: Champion Edition
Street Fighter II: Hyper Fighting
Super Street Fighter II
Super Street Fighter II: Turbo
Street Fighter Alpha
Street Fighter Alpha 2
Street Fighter Alpha 3
Street Fighter III
Street Fighter III: 2nd Impact
Street Fighter III: 3rd Strike
If you have ever wanted to test your classic arcade skills against fighters around the world, Street Fighter II: Hyper Fighting, Super Street Fighter II: Turbo, Street Fighter Alpha 3, and Street Fighter III: 3rd Strike are all playable online! Each of these four titles will have their own global leaderboards to prove you really were unbeatable in your local arcade. Online play features new "rewind" technology that provides low-latency matches with the ability to adjust your own input latency!
Journey through the Interactive Timeline where you can browse all 30 years of Street Fighter and see how the series has evolved. The Museum contains stunning concept art, pitch documents, and little-known facts behind each game's release. You can also explore all your favorite character's bios and discover the story behind the fighter. Finally, sit back and let the nostalgic notes of memorable Street Fighter tracks flow through your ears as you imagine yourself watching each fight in person.
We're incredibly excited to bring you this collection so you can celebrate Street Fighter's 30th anniversary with us! We have much more to share, so here's to 2018! The Street Fighter 30th Anniversary Collection will be available for MSRP $39.99 in May 2018 on PlayStation 4.