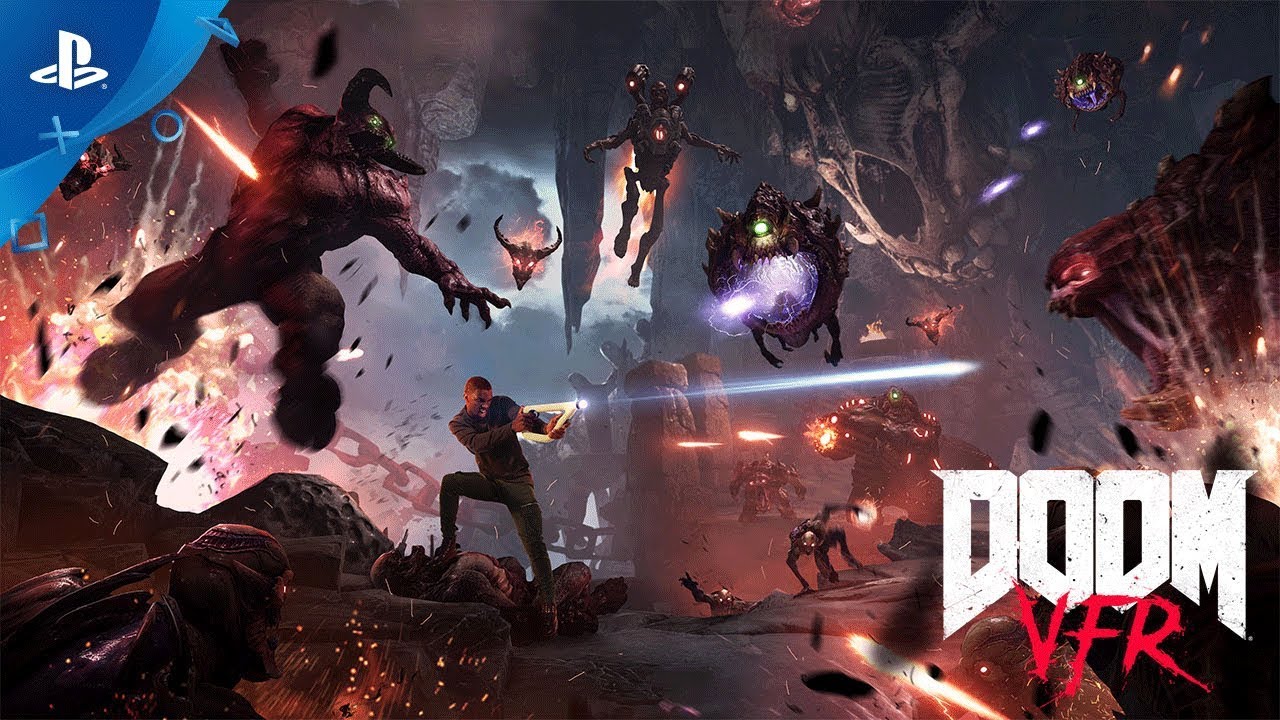 Take the battle against Hell itself into your own hands with the PlayStation VR Aim Controller, two PS Move controllers, or a DualShock 4.
Take the fight against the demons of hell into your own hands with Doom VFR and the PlayStation VR Aim controller. From the devastating BFG to the reliable Super Shotgun, feel the full weight and awesome power of your destructive arsenal like never before, in the most immersive Doom experience yet.
Futuristic weapons, hellish demons, nightmarish environments…
Set shortly after the demonic invasion on the UAC Martian Research facility, you find yourself as the last human survivor – until you die. Under a top-secret UAC operational contingency protocol, your consciousness is transferred into an artificial brain matrix enabling you to transfer between various bodies and machinery in the UAC base. This gives you the ability to teleport as a style of movement and also interact with your environment to overcome the demon hordes.
Doom VFR will launch you at breakneck speed into a virtual reality hell, as you battle to prevent a catastrophic failure within the UAC base. You are outnumbered, but never outgunned, with weapons such as the BFG, the Plasma Rifle, and the Heavy Assault Rifle at your disposal. You hold in your hands all the tools you'll need for massacring demons; from Imps to Revenants and Cyberdemons, in the most visceral, gory, and devilishly satisfying ways possible.
Movement is key
Lightning-fast movement, instinctive evasiveness and the ability to think on the fly are crucial skills for survival, and these are just as important in Doom VFR. The ability to use the PS VR Aim controller allows for unprecedented demon-slaying accuracy. The L2 button at the front of the controller allows you to slow down time and teleport (great for lining up that perfect Gauss Cannon shot), while the directional pad is reserved for dash buttons, enabling you to dart forward, backwards, left and right. Stagger an enemy and dash forward to get up close and personal — then explode them into a gory mist of gibs.
As you power your way through the UAC research facility, you'll encounter various weapon mods. Tied to the square button on the PS VR aim controller, gamers will be able to unleash additional fire modes for their guns to ensure those demons are sent back to the depths of hell in the most explosive way possible.
Additional ways to control
While the PlayStation VR aim controller puts the weaponry of Doom VFR firmly in your hands, it isn't the only way to play! The latest trailer below showcases the additional ways in which you can control Doom VFR. Not having a PS VR Aim controller doesn't limit you at all in the demon slaying carnage, as you can control and shoot entirely with a Dualshock 4 wireless controller or two PlayStation Move motion controllers, while surrounding yourself in virtual hell.
Doom VFR is out today for PlayStation VR.