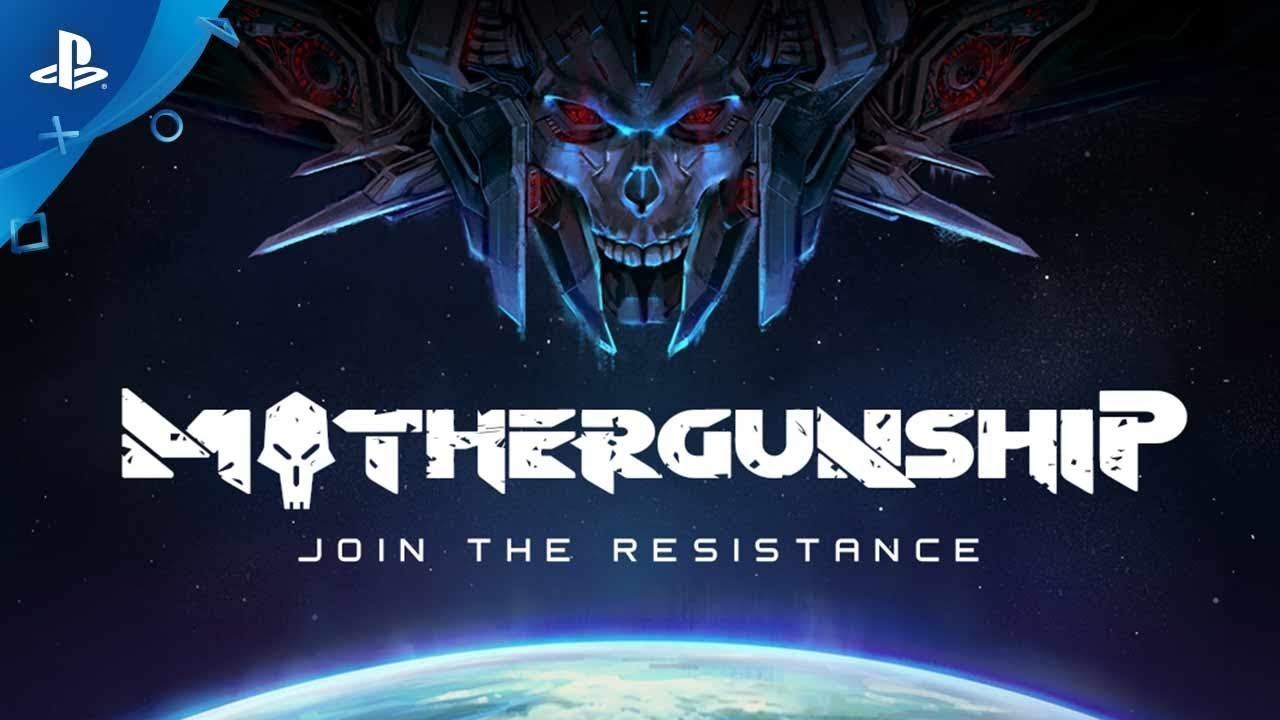 Play this insane bullet-hell FPS at PlayStation Experience next weekend.
Hello Playstation Fans! Joe Mirabello and George Mamakos here of Mothergunship, a bullet-hell FPS where you craft your own guns and face off against an invasion of robotic alien monstrosities.
First off, we're excited to announce Mothergunship will be at this year's PlayStation Experience in Anaheim, where we will be putting the game in front PlayStation fans for the first time! Those of you who are planning to attend can find the Mothergunship booth in Hall A, booth #102 and go hands-on with the game.
During the past months, the Mothergunship team has participated in several gaming showcases and the big questions on people's minds have been whether Mothergunship will include multiplayer action and how the gun crafting system will work.
Today, we would like to confirm that multiplayer will be included in Mothergunship when it will launch in 2018 on digital and retail stores. The game will offer an intense co-op action where players can join their friends online on the main campaign, jump into daily missions together, and compete with other pairs on the Leaderboards!
Apart from the co-op system, we would also like to talk a bit more in depth about crafting in Mothergunship. We've mentioned it briefly here in the past and we knew it was a fun system, but we weren't expecting quite the reaction that the community has had to the system. At every tradeshow this is the thing people bring friends over to tinker with and it quickly became clear that Mothergunship's flexible and empowering crafting system is its standout feature.
Mothergunship presents the player with a lot of enemies to fight, and those enemies have ludicrous amounts of firepower. Crafting in Mothergunship lets players dance toe to toe with that firepower with its modular system of barrels, splitters, and caps.
The player can snap these pieces together like building blocks to create powerful arrangements; letting them change obvious qualities like adding barrels or creating funny shaped weapons, but also letting them manipulate and tailor the very behaviors of the gun. Perhaps you want a shotgun rocket launcher? Perhaps you're more interested in a triple barreled laser? Maybe you want to make a gun that has barrels arranged in a heart shape, allowing you to profess your love to your Co-OP partner?. Well, more power to you; Mothergunship won't stop you.
Here are some of the recent favorite combinations the Mothergunship team has found.
We're calling this one "the window"
Making a grid-gun is an efficient way to make sure you can hit pretty much everything on screen at once.
Flamethrowers are always an interesting weapon. Slapping a "bounce cap" on them makes them instantly more glorious though.
All these creations don't come without some careful balance considerations, but here, too, we empower the player to enjoy Mothergunship their way. Every piece added to a gun has a shot cost associated with it. Building an enormously powerful gun is a completely legitimate way to play the game, but you might only be able to fire it once every few seconds… and your ability to respond to situations quickly is crucial for survival in Mothergunship. Fortunately, you can dual wield these contraptions, allowing you to tailor each gun for different circumstances.
Crafting is a toy within this game, and we encourage players to really dive in and experiment.We give the player the tools they need to construct the things they want to, and then we get out of the way and let them surprise themselves. We can't wait to be surprised too.
We're looking forward to seeing you in Anaheim!