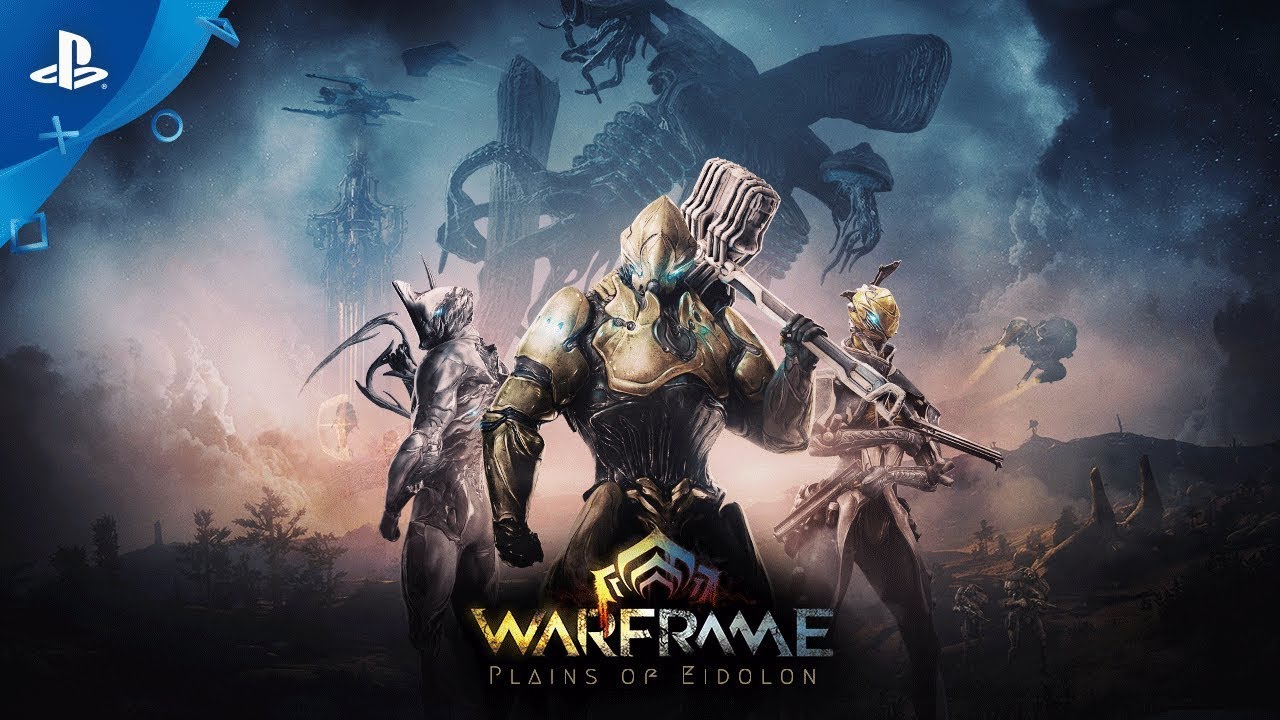 Digital Extremes' new open-zone expansion sends players into totally new territory.
When PlayStation 4 launched on November 15, 2013 in the US and Canada, Warframe was the first downloadable free-to-play game available. If you thought space ninjas were cool then and you downloaded our game, you either know how much has changed since that launch, or are wondering why you're still reading about Warframe four years later. Why, after nearly four years, is now a prime time to pick up Warframe? It's simple: Plains of Eidolon is our biggest, most ambitious update ever. And we think you will love it. It's also free…
So, just what is Plains of Eidolon? Let's do a little rewind first. At launch, Warframe was a small Beta game with just a few procedurally generated maps and a few Warframes. In the early days of Warframe, the developers would often describe it as the hyper sci-fi version of other established cooperative survival shooters. It was simple and modest, especially when compared to what it is now, but even so many were drawn to download it. In fact, after Netflix, it was the second most downloaded app on PS4. But it left a lot to be desired – both in content and direction.
During the next four years, Warframe grew. It has become a massive game, packed with thousands of hours of gameplay with MMO and action-RPG aspects, but without ever falling distinctly into either genre. This cooperative action game for 1-4 players (and 8 players in Trial missions) now offers 34 Warframes, each with their own unique aesthetic and Abilities, two significant cinematic quests (The Second Dream and The War Within), the addition of a new Parkour movement system, a new Melee combat system, a new Focus and Operator system, a fully reworked interface and Star Chart, a flight system called Archwing, a fully Remastered Earth tileset, dozens of new story quests, and a lot more.
If you have been playing Warframe over the years, either as a veteran or weekend warrior, you are familiar with traveling from your ship to planets and back to unlock and play missions. The procedurally-generated mission maps have a clear start and finish, with objectives that lead you through fixed and enclosed environments. Today, we're launching an open-space Landscape called Plains of Eidolon on PlayStation, which enables you, faithful Tenno, the chance to explore an open territory like never before in Warframe.
You can approach the environment any way you want. The Plains offer a continual asymmetrical day-night cycle with different activities in each timeframe. Want to hang out in the settlement town of Cetus with friends and visit the Ostron vendors? Craft your very own bone-crushing melee weapon (which we call a "Zaw")? Burst straight into combat against new Grineer enemy types by raiding base camps and ambushing roaming squads?
Or are you more the exploratory type? Would you prefer to adventure through the landscape, experiencing the verdant, rolling hills, lakes and rivers on your own time? This offers more relaxing activities, like mining for resources from rock deposits, or chilling with friends and fishing for, OK, we admit, otherworldly-looking fish in the lakes and rivers.
Or are you a proud veteran player, with the experience to take on the ultimate battle against the titanic Teralyst Eidolon, a giant monstrosity that requires a calculated blend of combat skills and systems to beat it?
Starting today, a new chapter begins with Plains of Eidolon on PS4. This massive, 2.5 X 2.5 kilometer territory is open, bristling with strange creatures, enemies, and surprises to explore, and it's all free. Come check it out. We'll see you in the Plains, Tenno!