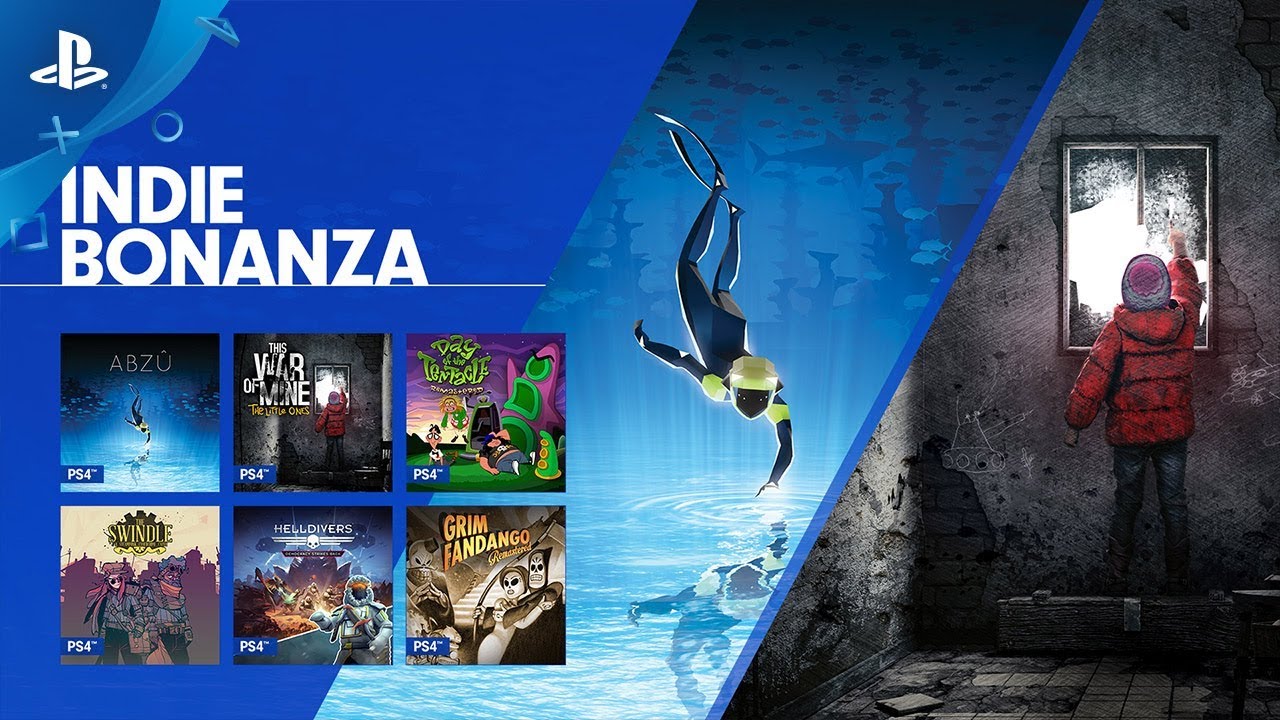 It's an indie bonanza on PS4's game-streaming service! Reminder: you can try for free with a seven-day trial.
Whether you're looking for a change of pace from all of the massive blockbusters launching this month, or missed these games the first time around, Indie Bonanza month on PlayStation Now has your gaming needs covered. We're launching 20 new PlayStation 4 indie games into the service today, including beautiful masterpieces like Abzu and thought-provoking adventures like This War of Mine: The Little Ones.
New This Month
From some of the artistic minds behind Journey and Flower (both of which are also available on PS Now) comes Abzu, a beautiful underwater adventure set in a vibrant ocean world full of hundreds of colorful species and ancient secrets hidden in the mysterious depths.
This War of Mine: The Little Ones is a gritty and engaging experience inspired by real-life events. Set in the middle of a war, make unforgiving and emotionally repercussive life-or-death decisions for a group of civilians trying to survive.
Joining Grim Fandango Remastered is the classic Day of the Tentacle Remastered, a mind-bending, time travel, cartoon puzzle adventure game. Enjoy the unique steampunk cybercrime caper about breaking into buildings, hacking security, and stealing cash in The Swindle. In the side-scrolling shooter The Final Station, survive the threat to humanity by riding the rails, finding fuel, facing infected hordes, and saving other survivors.
Play as Hope, a woman trying to escape a totalitarian state by hacking an elaborate surveillance network and traversing an intricate web of danger and deception in Republique. For something a little more fast paced, try Ziggurat, a colorful dungeon-crawling first person rogue-like RPG shooter. Or become Aragami, a vengeful spirit with the power to control shadows, taking out enemies with supernatural abilities and brutal stealth attacks.
Other unique indie titles new to PS Now this month include The Deer God, Nom Nom Galaxy, Stikbold! A Dodgeball Adventure, Forestry 2017, Electronic Super Joy, and many more. Of course PS Now is already home to a fantastic selection of indie games for PS4 and PS3, including such games as Helldivers, Broken Age, Journey, Dead Nation: Apocalypse, The Vanishing of Ethan Carter, Flower, Resogun, The Unfinished Swan, and interactive adventures from Telltale Games like The Walking Dead, The Wolf Among Us, Tales from the Borderlands, and Game of Thrones.
Have you been enjoying Fallout 3 and Fallout New Vegas, which were added to the PS Now library in September? Well, I have a surprise: next month we have another handful of great titles coming from Bethesda, including Elder Scrolls IV: Oblivion!
Here's the full list of new PS4 games launching on PS Now this month:
ABZU
This War of Mine: The Little Ones
Day of the Tentacle Remastered
The Swindle
The Final Station
Ziggurat
Aragami
Republique
Stikbold! A Dodgeball Adventure
The Bug Butcher
The Deer God
Forestry 2017 – The Simulation
One Upon Light
Nom Nom Galaxy
Lovely Planet
Electronic Super Joy
Space Hulk
Rogue Stormers
NOVA-111
Poncho
Here are the most popular games on the service in October:
Red Dead Redemption
Fallout New Vegas
Mortal Kombat
Dead Island Definitive Edition
WWE 2K16
Mafia II
Fallout 3
Injustice: Gods Among Us
Sid Meier's Civilization Revolution
The Last of Us
If you haven't given PS Now a try yet, the seven-day free trial for PlayStation 4 and Windows PC is the perfect way to experience the streaming service for yourself. PS Now provides unlimited on-demand access to a growing library of over 500 PS4 and PS3 games, with new games added every month, and no game downloads required. PS4 save data in PS Now is even compatible with PlayStation Plus cloud saves, so you can upload/download save files to and from your own console. And remember, you don't need PS Plus to enjoy online multiplayer on PS Now.