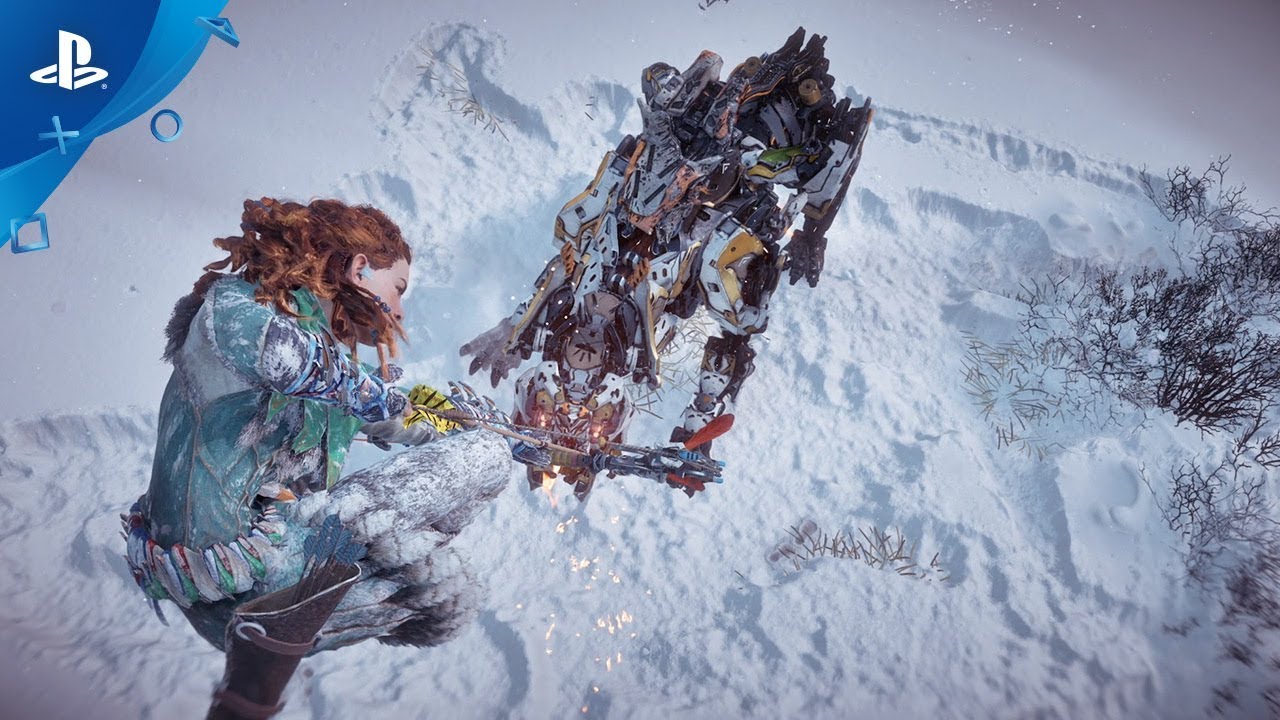 The secrets of one of Guerrilla's most dangerous new machines revealed
Horizon Zero Dawn: The Frozen Wilds is an expansion for Horizon Zero Dawn that adds an additional chapter to Aloy's journey. Taking place in the icy wastelands to the north, it includes a brand new environment to explore, a new mystery to uncover, and dangerous new machines to hunt. Among the latter is the wolflike 'Scorcher', a fast and tenacious machine with a damage output close to that of the Thunderjaw.
We asked four members of the Horizon Zero Dawn: The Frozen Wilds development team – Principal Designer Dennis Zopfi, Lead Animator Richard Oud, Lead FX Artist Marijn Giesbertz and Audio Lead Bastian Seelbach –to provide details on the creation of the Scorcher, as well as tips and tactics for dealing with the machine and its ferocious attacks. Watch the video above for their insights.
It can take months to develop a single machine from concept to final in-game creature. The process usually begins with a concept art and ideation phase, where the developers figure out the most important questions: What does this machine look like? Why does it look the way it does, what is its personality and purpose? How does it move, and how does it behave when angry or alerted?
Some Guerrilla artists have engineering backgrounds, which means they don't stop at just the look or feel of the machines. They work out how their designs could interact with the laws of physics, and how locomotion is determined or constrained by limbs and appendages. Their efforts, combined with many other disciplines like animation, AI, and Visual FX, ultimately make it possible for a machine like the Scorcher to leap off the concept board and into the Cut, to challenge Aloy on her adventures.
Horizon Zero Dawn: The Frozen Wilds launches on November 7, but you can pre-order a copy from the PlayStation Store today to receive an exclusive PlayStation 4 avatar. To stay up to date on the latest developments surrounding Horizon Zero Dawn and Horizon Zero Dawn: The Frozen Wilds, keep an eye on the PlayStation Blog and remember to follow Guerrilla on Twitter and Facebook.
Make sure to come back tomorrow morning, when we'll reveal the creation process behind Horizon Zero Dawn's most enigmatic tribe. At the same time on Friday, new characters, environments and enemies will be shown off in the first The Frozen Wilds play through video!