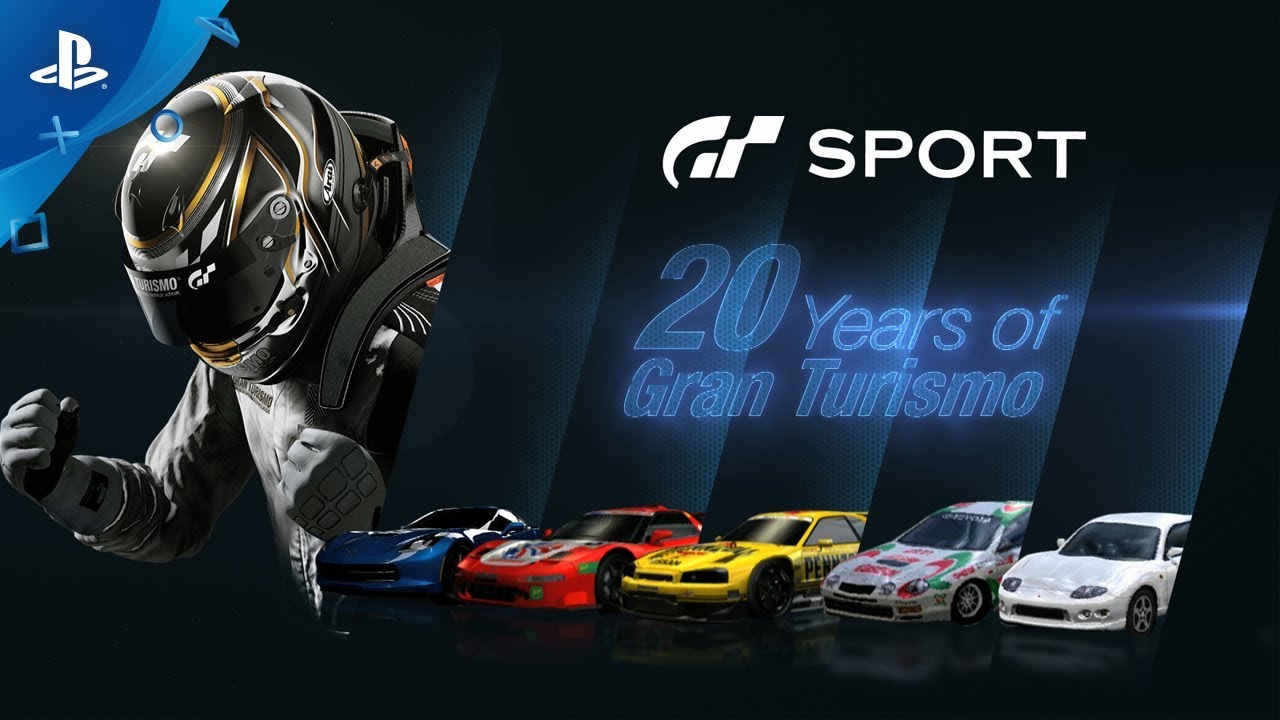 With GT Sport on the stating grid, find out how the iconic racing series was born.
Kazunori Yamauchi wasn't meant to be making Gran Turismo. When he began his work on PlayStation's landmark racing game, little did he know that he was breaking ground on a series that would stand right alongside PlayStation, right up to the latest entry in the series, Gran Turismo Sport.
Back in 1993, over a year before PlayStation was launched in Japan, Yamauchi was a producer for Sony Music Entertainment's small videogame development team. And one day he met a young business planner called Shuhei Yoshida, who had just joined the PlayStation development team led by Ken Kutaragi.
"I remember I was very impressed with his knowledge, passion and drive to learn how to make games with real-time 3D graphics technology," says Yoshida, who heads Sony Interactive Entertainment's Worldwide Studios today.
Yoshida was tasked with helping to form the software line-up for SIE's first console, and he found Yamauchi a great source of help. "He had a lot of ideas and made input into the design of PlayStation and the original PlayStation controller," Yoshida says. "I remember he even offered to playtest prototype PlayStation controllers using students of his father's school."
Why Yamauchi wanted to make a game for PlayStation
Yamauchi was very interested in the hardware capabilities of the PlayStation console. Having cut his teeth making 2D games for the 16bit era, he saw a chance to make something in which he'd been interested for many years.
"I first took interest in realtime 3D when I was around the third year in junior high school, probably around 1983," he says. "At the time, personal computers were brand-new and my hobby was to make games on them. It was really just wireframe graphics, but that was the time when I first really took an interest in 3D graphics."
What he really wanted to do was to make a realistic driving simulator. "But back then it was a radical concept and it was hard to convince executives to give it a go," he says, so he pitched 100 game ideas of all kinds of different genres.
Why Yamauchi-san made Motor Toon Grand Prix
He was right. The executives didn't take him up on the driving simulator, but Yamauchi had a plan. "What I did was to start a project in the racing game genre that was easier to understand for the executives," he says. "We secured the budget for creating Motor Toon Grand Prix and we pushed the project forward, but in the background we'd actually already started the development of Gran Turismo."
But that didn't mean Motor Toon Grand Prix was half-baked. Releasing in mid-December 1994, two weeks after PlayStation's Japanese launch, it was a colorful karting game but its cartoon stylings were powered by sophisticated 3D graphics and physics. It soon gained a strong following and, predictably, there were calls for a sequel.
"I was able to secure the trust of the executives to create games on my own, and that's when I presented the Gran Turismo project to them and development officially started."
Building the Gran Turismo team
"I remember how he approached coders working on 3D graphics and car physics engines who had regularly written articles in a specialized magazine, and convinced them to join his team to build his dream project," remembers Yoshida, who ended up joining the Gran Turismo team as studio manager and co-producer. "He had a charm and charisma to make people believe that he and the team can accomplish an impossible-looking task at that time."
Gran Turismo wouldn't be released in Japan until December 1997. In total, it took Yamauchi and his team five years to complete, a development span that at the time was almost unheard of.
In the beginning, the team was only five-strong, including Yamauchi, and even at the end of development, less than 20 were working on it. "That made it so that the responsibility of each team member was very big and the workload was very big as well. So it took a long time to develop," he says.
"I always found him and his team members sleeping under the desks when I came to the office in the morning," remembers Yoshida.
"The atmosphere was sort of like a college club room," says Yamauchi. "I would wake up in the morning and there would be a leg in front of my head."
Why Gran Turismo felt so real
Gran Turismo's car physics were extraordinary. The way tyres rode the camber of a road and bumped over curbs was a level of simulation that hadn't been achieved before, certainly not on a home console. And each of the cars in its huge 140-strong roster handled differently and would change as you tweaked or added new components, such as spoilers and suspension.
"The system was able to accept detailed parameters in order to make the simulation," says Yamauchi. "For certain cars in the game we had very detailed data, the design data and also the measured data from the cars, so we could model them in very high detail. Unfortunately, that wasn't always available. Some manufacturers were not willing to part with that level of data, so in those cases we had to make educated guesses. But usually it wasn't far off, accurate enough that we get the proper character of each of the cars."
But while its simulation was finely detailed, Gran Turismo was also friendly to new players. While Yoshida didn't have a great deal of creative involvement in the game, he was able to offer his view as a non-car enthusiast to help tune the physics engine for people like him.
"I remember in a playtesting session during the tuning of the title, Kazunori watched 20 or so play testers crashing into the wall when they were not able to apply the break early enough before going into the tight corner," he says. "Kazunori was like, 'OK, I see it, we will make the handling easier for the regular players!'"
Just how real is 'The real racing simulator'?
"For myself, driving a real car is not supposed to be hard; it's often easier than driving inside a simulator," says Yamauchi. "People are able to naturally know to counter-steer when the car is sliding, so I've always had this conviction that if I can get the physics to be very accurate then the driving in the game would not be difficult, because in reality it's not that hard to drive cars."
During development, Yamauchi learned to drive racing cars. But it wasn't until he fully learned to drive well that he fully realized that Gran Turismo's physics had managed to capture the feeling of race driving. Today he's an accomplished race driver with various events under his belt, including regular placements in the annual 24 Hours of Nürburgring race.
While Yamauchi has focused heavily on Gran Turismo's balance of realism and accessibility, he's also proud of the subtle things. "The other thing that's really very important is the light," he says. "When somebody asks me at a restaurant what type of work do I do, sometimes my answer is that I work with light. That's something I give a lot of attention to."
The way the first Gran Turismo captured the ambience of different places and times of the day was stunning, but you might also remember how realistic the cars looked. It's certainly something that struck Yoshida. "I remember one morning when I came into the office, Kazunori and several of the team members were in one corner of the office, and he said to me, 'Yoshida-san, take a look at this!' On a programmer's screen was a car rotating in the menu, with the light reflecting realistically on its surface as the car rotated. I had seen nothing like that moving in realtime in my life, we were all blown away by the potential."
It was all showcased in a spellbinding replay mode which played when a race was completed and used dramatic camera angles to follow your gleaming car's progress.
Adding RPG elements to a racer
Gran Turismo was not all about technology. It also managed to present a whole new way to race cars by introducing mechanics from a completely different game genre: the RPG.
As you race in Gran Turismo Mode you win money and use it to buy faster cars or invest in new components for your existing cars, from suspension and tyres to superchargers and spoilers. It gave racing a compulsive new dimension when you earned enough to buy the machine that would get you through the next tournament, or fitted a component that helped your favorite ride shave a couple of seconds off your best lap time.
Where the inspiration come from? "I think back in the 80s I was a big PC gamer," Yamauchi says. "There were a lot of really good role-playing games out in the US and also in Europe, games like Wizardry and Ultima. PC game culture is something I grew up with, so I didn't have much experience with console games or arcade games."
Launching Gran Turismo
Gran Turismo was hotly anticipated from the moment it was first revealed. "When game footage of Gran Turismo was secretly inserted in a mash-up trailer of upcoming PlayStation titles at E3 1997, people were eager to know what that unbelievably realistic looking racing game was," says Yoshida.
But for Yamauchi and his team, its launch felt strange. That day, December 23, 1997, he went to major game retailers, Yodobashi Camera and BIC Camera, and saw the long lines of people waiting to buy copies. "I just kind of watched in disbelief as people bought our game," he says. "I think at the time, there was no room left to feel accomplishment. We were happy, but we just couldn't believe it. Because we worked on the first Gran Turismo for a very long time, it really felt like the game belonged to the team. We held on to it and held on to it, and nurtured it until the very last possible moment. That's when the Gran Turismo that was our very own suddenly wasn't ours anymore."
With Gran Turismo's success, Yoshida helped Yamauchi form his own studio, Polyphony Digital, and they soon went into development on a sequel, featuring far more cars and tracks, and which came out almost exactly two years later. The series had truly kicked off, and it went on to set new standards for racing games over and over again.
Gran Turismo has developed greatly since its launch 20 years ago. But right up to its latest incarnation, Gran Turismo Sport, it has maintained its core values to the letter: that blend of realism and fun, its lifelike looks, and a love of cars and of racing itself that's proved so infectious that it has inspired a new generation of racing drivers.