The full, currently announced lineup of 60+ games coming to PS4's virtual reality platform through late 2017 and early 2018.
PlayStation VR launched exactly one year ago today, and it's already delivered well over 100 unique experiences, ranging from the delightful to the horrifying and just about everything in between. As we celebrate PS VR's first birthday, we wanted to give you a peek behind the curtain. Below, you'll find a list of all the games currently announced to be coming to the platform through the end of the year (and into early 2018).
With virtual reality, you have to put on the headset and feel what it's like to get the full experience. Head to your local retailer and strap on a PS VR headset, then come back here and let us know what you think in the comments.
Thank you for an excellent first year of PlayStation VR; we can't wait for you to experience what's next.
Coming in 2017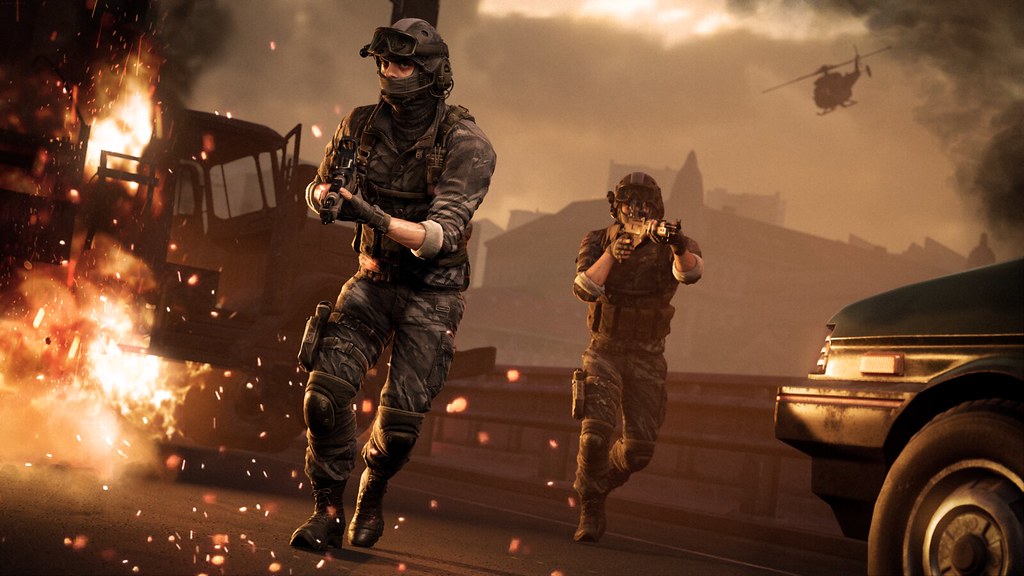 SIE WWS
Supermassive Games (Tumble VR, Until Dawn: Rush of Blood) is creating an intense first-person shooter for single player or online two-player co-op*. The setting is a fictional Eastern European city, and after the president is assassinated, teamwork will be essential for you to survive. Bravo Team will make you feel like you're in an action movie.
* Active PS Plus membership required.
---
Doom VFR
Bethesda
id Software's classic franchise levels up to give players a fully immersive experience. You're the last known survivor of a demon attack on a Martian research facility. Well, you're the last human survivor… and you'll have plenty of opportunity to meet some of the other survivors. Can you take back control of the outpost and send the beasties back to… uh, H-E-double-hockey-sticks?
---
SIE WWS
Each release in the Gran Turismo series becomes the new benchmark in realistic auto-racing games, and that bar is about to be raised — big time. With PS VR, you'll feel like you're in the driver's seat, increasing the immersion to new heights. Learn more here.
---
Megaton Rainfall
Pentadimensional
Ever dreamed of being an indestructible superhero with the ability to fly at supersonic speeds? Ever fantasized about saving Earth from an alien invasion? Well, it's time to wake up and get to it. Take on the attacking aliens — who can morph into various forms, including buildings — and evolve your superpowers. But be careful… you may leave more than a little mess behind while you're defending humanity.
---
Polyarc Games
One of E3 2017's brightest stars was Quill, a young mouse who awakens an ancient magic and sets off on an epic journey to save her uncle. The world of Moss is a gorgeous expanse filled with myth and magic, but there's little time to savor the view. You'll need to explore your surroundings and literally manipulate the world as you do whatever you can to assist Quill on her adventure.
---
SIE WWS
In this immersive real-time strategy game, you play the God of Destruction. You ultimately seek world domination… but first you'll need to find, feed, and breed monsters who'll do your bidding. Invade human bases, fortify your defenses and carefully build your beastly ecosystem, and soon you may conquer all!
---
Cyan
From the creators of Myst comes a science-fiction adventure filled with mystery, intrigue, and discovery. You find yourself transported off Earth to an alien world…but one that's populated with pieces of Earth from various locations and times. Don't spend too much time admiring the beautiful landscapes, though, because you need to find a way back home.
---
Q-Games
It's well-known that zombies are always on the hunt for human flesh… but that's only because they don't know how to cook a juicy burger and whip up a frosty shake on their own. As a fearless food-truck cook, you'll need to use your kitchen magic to save the world from disaster and distract the incoming zombie horde with nutritious noms.
---
SIE WWS
Stifled is a unique horror game where you can only reveal your surroundings by creating sound waves–either by throwing nearby objects or speaking into the headset's built-in mic. Keep in mind, however, that any noise you make may also reveal your location to the grotesque creatures that are lurking in the darkness…
---
Bethesda
One of the most popular and ambitious open-world action RPGs ever made will now be even more immersive, thanks to a reimagining in PS VR. You're the Dragonborn, and you'll need to master swords and spells to survive the many threats you'll encounter. Skyrim VR includes the critically acclaimed core game as well as the official add-ons: Dawnguard, Hearthfire and Dragonborn, as well as multiple controller options.
---
SIE WWS
The premise is the stuff of nightmares: You're a patient in the Sanatorium and suffering from amnesia, so your main goal is to unearth your memories–to discover who you are and why you're there. However, you'll also reveal a conspiracy at the facility that complicates your efforts to get your life back. Multiple endings up The Inpatient's replayability, too.
---
Other Upcoming 2017 Titles
Anamorphine
Ark Park
Brain Voyagers
Chernobyl
CoolpaintVR
CubeWorks
Discovery
DragonBlast VR
Dream Angling
Drunkn Bar Fight
DWVR
End Space
Everest VR
Fishing Master
Flatline: Experience the Other Side
Ghosts in the Toybox
Hex Tunnel
Honor & Duty
Hopalong: The Badlands
Justice League VR
Light Tracer
Monster of the Deep: Final Fantasy XV
Nothin' But Net
Prana
Quar Infernal Machines
Radial-G: Racing Revolved
RadianVR
Rec Room
Run Dorothy Run
Sculptrvr
Serious Soccer
Shooty Fruitie
Snow Fortress
Stardrone VR
Super Amazeballs
The Rabbit Hole
The Solus Project
Virtual Engagement Confronting Fears
VirtuGO
VR Apocalypse
Coming in 2018
Golem
Highwire Games
Golem, a PS VR exclusive, places you in a storybook world where you see through the eyes of and take control over stone creatures in order to discover the connection between your family and the mysterious Endless City you're in. Along the way, you'll find hidden treasure and valuable artifacts, while honing your melee skills to battle the Silent Watch, a band of hostile golems.
---
The American Dream
Samurai Punk Pty Ltd.
The American Dream is billed as a satirical VR trip through a 1950's World's Fair where guns are a part of the daily routine, including flipping burgers on the grill and assembling them for customers at your job; opening a can for a drink; and even watering plants, weeding and landscaping around your beautiful home; and other activities.
---
Torn
Aspyr
Torn, a mystery inspired by such classics as The Twilight Zone, is set in the Vermont forest where you discover a house full of secrets. What you find in there are numerous experiments, inventions, gear and documentation that reveal a lot about the doctor who lived there–however they're also remnants of a man who's been missing for 64 years.
---
White Lotus interactive
Right out of the gate, this first-person puzzle-adventure title tells you that you're dead. Guess you're off to a bad start, right? From there, you go at your own pace in an entertaining trek through the afterlife, with the story revealed mostly through poetry. It promises to be a unique game suitable for new and veteran VR adventurers alike.
---
Other 2018 Titles
Alvo
Ariel
Blasters of the Universe
Chainman
Cold Iron
Dead Secret
Dragonflight VR
Drone Fighters
Dungeon Chess
End of the Beginning
Knockout League
Penn & Teller VR: Frankly Unfair, Unkind, Unnecessary and Underhanded (including Desert Bus)
Pixel Ripped 1989