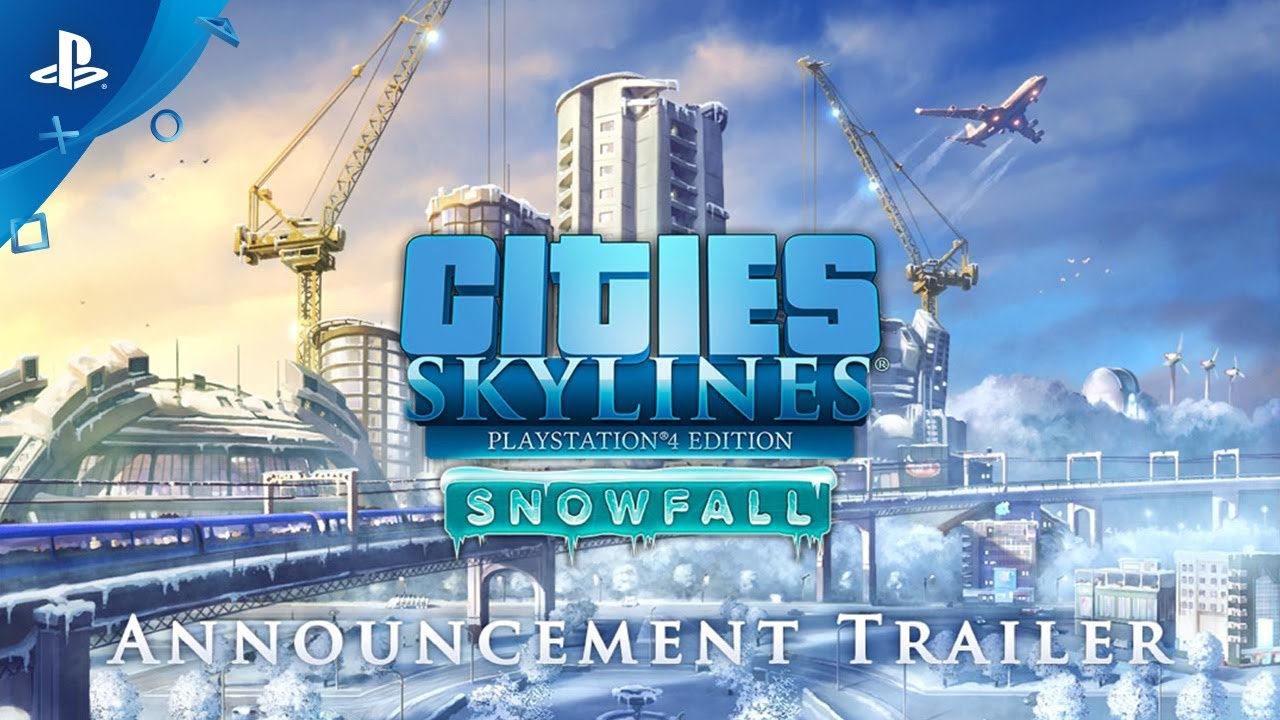 Paradox Interactive's hit city-builder gets new features on PS4, kicking off with the new 'Snowfall' DLC.
Hi, Mayor-Players! We have some pretty cool news to tell you today. It's so cool, in fact, that it's making all of your residents unreasonably cold and driving up electricity demands across town as everyone cranks up their heaters. Today, the Paradox team and I are excited to let you know that the weather-centric "Snowfall" expansion is coming to Cities: Skylines – PlayStation 4 Edition! Not only that, but Snowfall is just the first of many — we're announcing an entire season (not just Winter) of DLC for our city-builder, all coming to your town in the near future.
Since the launch of Cities: Skylines in August, we've been hearing a lot from PlayStation fans. Everyone has had great things to say, but one thing we've heard often is a desire to expand the core experience with some of the other features that Cities players have come to expect from the game. From the stylish street-level architecture of the Art Deco Pack to the high-flying blimps of Mass Transit, there's enough customization and new features coming to the PlayStation 4 Edition to make your town as attractive, efficient, or completely-on-fire as you've ever wanted.
If you've already tried out Cities: Skylines but you've been hungry for more, we're going to offer a Season Pass that includes seven pieces of DLC. Or, if you've been waiting for the right time to run for the Mayor's Office, we're also introducing the Cities: Skylines – Premium Edition, which will come with the base game (and After Dark) plus all the content from the Season Pass as it becomes available.
The season kicks off with Snowfall, which will add a weather system to the game, plus Winter-themed towns where you'll need to plow the streets and pipe in heating to keep your residents warm at night. Oh, and streetcars — a personal favorite of ours at Paradox!
Following that, the Season Pass will include seven additions in total, each optimized to run on PS4, with features ready to add to your town using a controller. You'll get:
Snowfall (full expansion)
Natural Disasters (full expansion)
Mass Transit (full expansion)
High Tech Buildings (content creator pack)
Art Deco (content creator pack)
Relaxation Station (radio station DLC)
Rock City Radio (radio station DLC)
Snowfall, the Season Pass, and the Premium Edition are all coming on November 14. We can't wait for PlayStation players to discover all that Cities: Skylines has to offer!