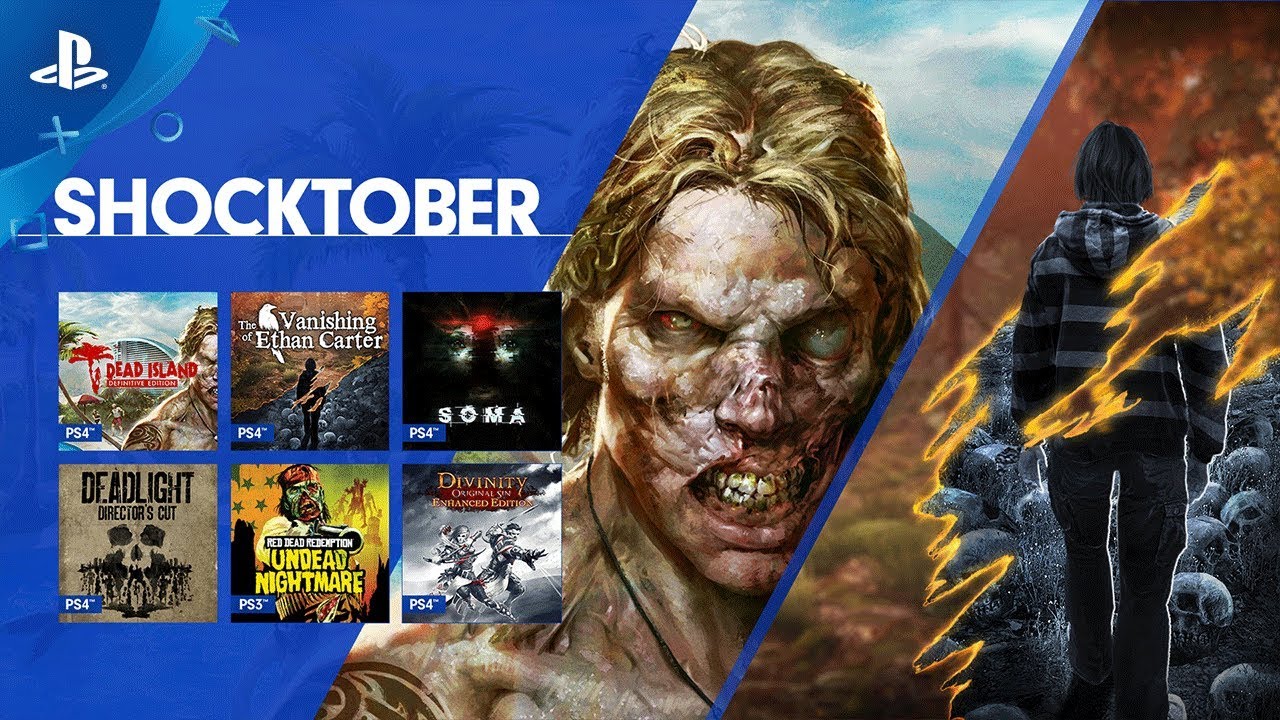 Dead Island: Definitive Edition, SOMA, The Vanishing of Ethan Carter and more join the lineup.
It's that time of year again! Celebrate Halloween all month long with PlayStation Now by streaming these fantastic horror and action games to your PS4 and Windows PC.
Welcome to the Zombie Apocalypse experience of a lifetime with Dead Island: Definitive Edition on PS4. Your objective is to survive an epic zombie outbreak on the tropical island of Banoi. With an open world to explore and many missions to complete, Dead Island features more zombies than you can shake a stick at, or in this case swing an axe.
Experience the critically acclaimed The Vanishing of Ethan Carter, a first person mystery game about an occult-minded detective who receives a disturbing letter from a missing boy. Arriving at the Ethan's home, you discover he has disappeared in the wake of a brutal murder. With unique immersive storytelling and a focus on atmosphere and mood, there's nothing quite like it.
The radio is dead, food is running out, and the machines have started to think they are people. Discover the world of the critically acclaimed SOMA, where danger lurks in every corner: corrupted humans, twisted creatures, insane robots, and even an inscrutable omnipresent A.I. Just remember there's no fighting back, either you outsmart your enemies or you get ready to run.
Role-playing fans will love Divinity: Original Sin Enhanced Edition, the award-winning fantasy RPG that blends deep customization and dynamic turn-based combat with witty humor, a deep, engaging story, and 100 hours of quests and storyline. Supports local split-screen and online coop.
Deadlight Director's Cut is a tense indie side-scroller set in 1986 after an apocalyptic zombie outbreak has brought humanity to its knees. Play as Randall Wayne, a father desperately searching the ravaged streets of Seattle for his family. Fight your way through using scarce resources, or sneak past undetected utilizing the environment to your advantage.
Other PS Now games perfect for playing this October include Red Dead Redemption: Undead Nightmare, The Last of Us and the TLOU Left Behind DLC, The Walking Dead from Telltalle Games, Resident Evil 4, 5 and 6, Silent Hill HD Collection, The Darkness 1 and 2, Dead Nation, Costume Quest 2, Dead Rising 2, F.E.A.R., Siren: Blood Curse, Rage, and many more. Checkout the "Frightfully Fun Games" category within PS Now for more.
This month we've also got new RPGs, indie games, RTS football with Orcs and monsters, murder mysteries, and much more. Here are all the PS4 games now available to stream on PS4 and Windows PC starting today.
Dead Island Definitive Edition
The Vanishing of Ethan Carter
SOMA
Deadlight: Director's Cut
Divinity: Original Sin (Enhanced Edition)
Blood Bowl 2
The Swapper
Toukiden: Kiwami
The Witch and the Hundred Knight: Revival Edition
Akiba's Trip: Undead and Undressed
Lone Survivor: The Director's Cut
Overlord: Fellowship of Evil
Tokyo Twilight Ghost Hunters: Daybreak Edition
Whispering Willows
Extreme Exorcism
Styx: Master of Shadows
Technomancer
Agatha Christie – The ABC Murders
Here are the 10 most popular games on the service last month.
Red Dead Redemption
Fallout: New Vegas
Fallout 3
Mortal Kombat
WWE 2K16
Mafia II
Injustice: Gods Among Us
LEGO Batman 3 Beyond Gotham
The Last of Us
Rage
If you haven't given PS Now a try yet, the seven-day free trial for PS4 and Windows PC is the perfect way to experience the streaming service for yourself. PS Now provides unlimited on-demand access to a growing library of over 500 PS4 and PS3 games, with new games added every month, and no game downloads required. PS4 save data in PS Now is even compatible with PS Plus cloud saves, so you can upload/download save files to/from your own console.