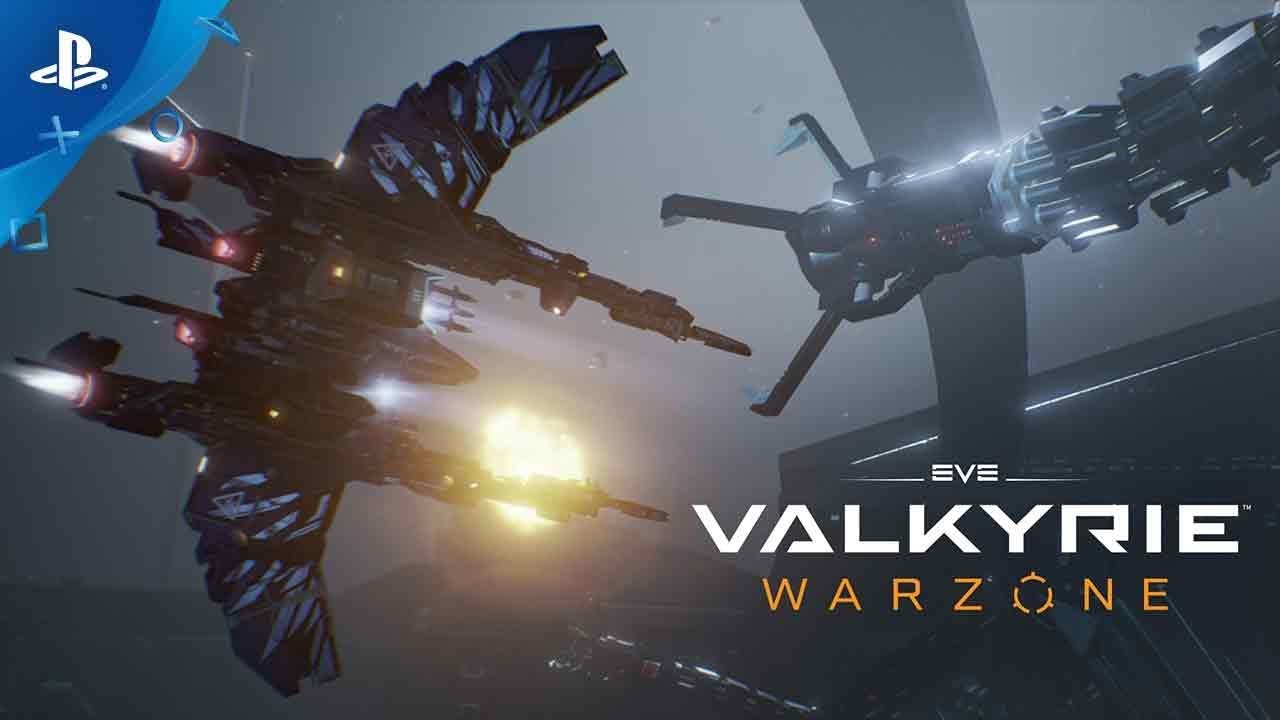 New game, new price, new reality. Play the expanded and upgraded title with or without PS VR.
News incoming, pilots! The time has come for even more of you to gear up, lock on and join in our ultimate first-person spaceship shooter. We here at the CCP Newcastle studio are thrilled to announce that EVE: Valkyrie – Warzone is available today, meaning that intense cross-reality space dogfighting is happening right now! Fearsome and distinctive spaceships, fresh and fearless new pilots — we reckon that's going to be an amazing combo and we can't wait to see you in action.
Launch into the Warzone
EVE: Valkyrie was born in virtual reality and is now reborn for everyone. Originally, Valkyrie pilots were required to access the game with VR equipment only, but the new Warzone expansion opens up the world of the Valkyrie to all PlayStation 4 and PC players, with no VR requirement.
For those who are new to EVE: Valkyrie, purchasing EVE: Valkyrie – Warzone includes all the content that has already been created and released over the past 18 months. This includes all five of the EVE: Valkyrie updates (Carrier Assault, Joint Strike, Gatecrash, Wormholes and Groundrush) and of course, the Warzone expansion.
This puts the impressive new roster of next-generation ships, the variety of exciting maps, and multiple game modes firmly in the grasp of all veteran and prospective spaceship combat enthusiasts!
With the introduction of Warzone, it's a great time for all pilots to get involved. For those of you who are new to Valkyrie, you'd better suit up and get some hours in darting between the frozen asteroids and navigating treacherous subterranean tunnels. Life in New Eden rarely stands still.
Next free update already in development
As if all of that wasn't enough to whet a space pirate's appetite, we are already hard at work creating more amazing features. We want to continue providing fresh, high-quality content for EVE: Valkyrie regularly, and that means the Warzone expansion is us just getting started.
So, what does that mean for you? Coming hot on the heels of the expansion, there will be another free update for EVE: Valkyrie – Warzone due to hit this winter. In the next free update we'll be including Custom Matches which will allow you to set up your own game lobbies and private rooms, picking from a range of options to create your very own Warzones!
No game update would be complete without a new battleground to compete in, and we've got an incredible new map in development right now. This new location in the New Eden universe will once again push our unique space combat gameplay in some new and interesting directions. We'll have more to share on that soon.
Spaceship DNA
At CCP Games, we have been creating and bringing spaceships of all shapes and sizes to life for 15 years. Everything from Drones, Carriers and mining Frigates to Battleships, Dreadnaughts and Titans, we've built it all! Designing awesome-looking space vessels along with all the weaponry, modifications and technological features that excite and inspire players is in our DNA.
We take pride in constantly improving how we imbue our creations with diversity, unique roles, purpose and identity. We believe that this experience and expertise will be evident in the lovingly-crafted, battle-tested spaceships that the Warzone expansion provides.
If you want to fly those ships in online competitive multiplayer, and do battle across the gritty-but-glorious celestial arenas of EVE: Valkyrie, then you can be sure you've come to the right place.
Welcome to the Warzone, pilots. We look forward to seeing you out there in your shiny new customized ships, demonstrating your hard-earned skills. Lock and load!