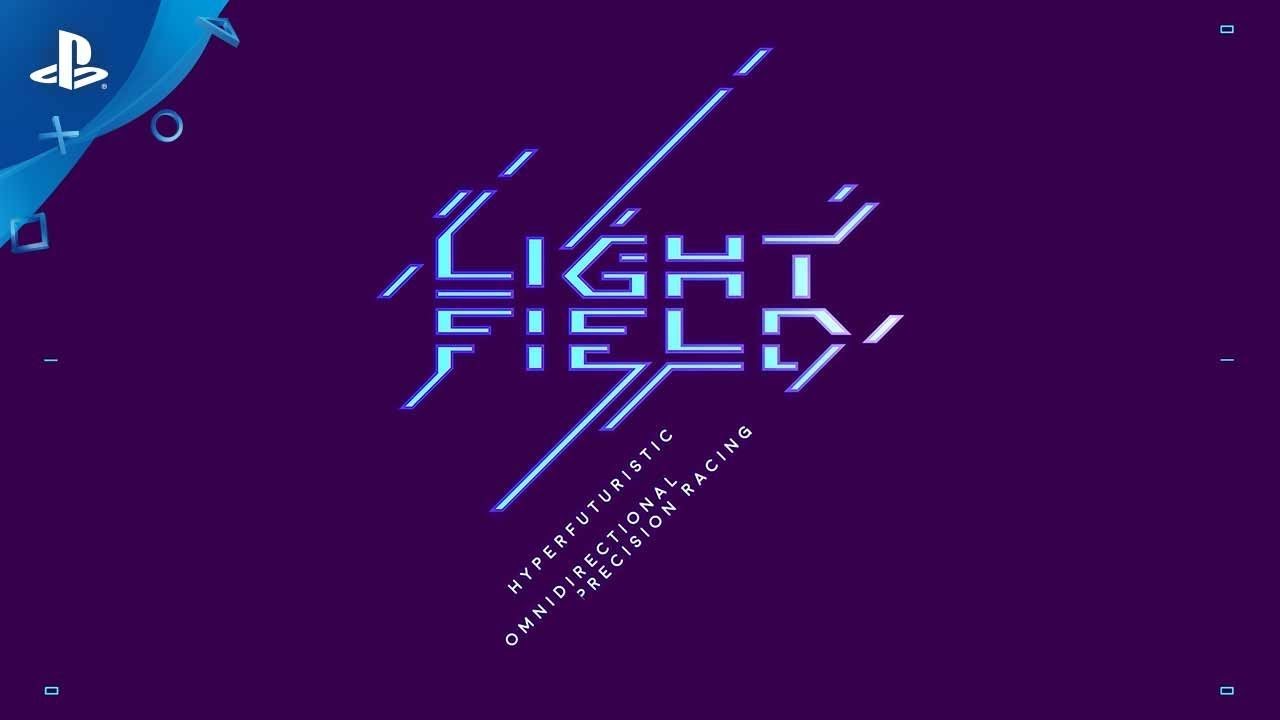 Eyes on the road! Er, wall. Uh, I mean ceiling.
Hi, this is Simon from Lost in the Garden, a small indie team from Vienna, Austria. Today we're very excited to finally share the news that our game Lightfield will land on PS4 September 26th. It's a sci-fi racing game with local and online multiplayer, and we can't wait to see and hear your reactions once it goes live!
We have put our hearts and souls into our first project, which we describe as a hyper futuristic racing game with a parkour twist. The key feature in Lightfield is that you can drive on any surface, including walls and ceilings. This makes gameplay very different to any other racing game out there.
The ability to fly/drive on any surface means that there isn't just one single fastest route through each track. Instead there is a plethora of different paths that allow you to express your own unique playing style. If you take a look at the screenshots here, each one of the fine white lines is a previous player's path!
This feature also means that designing the tracks and the environments is critical. In Lightfield, we don't constrain the players to only standard races on each track. Instead, you can wander off to simply explore the environments and use them as your hyperfuturistic playground.
When designing the levels and environments, we worked in tandem on the look and functional aspects. Julia, our technical artist and level designer, began to 'grey box' the levels at an early stage. This means that the tracks are first built out of simple grey boxes – hence the name! The goal is to achieve something playable extremely quickly, that can then be playtested and refined to ensure the layout is spot on. At the same time, Raimund, our art director, worked on the concept art that gives our worlds a natural and cohesive feel. This follows a holistic approach, where it is important to capture the look and feel of the tracks in order to shape the final visual experience.
The tracks and environments are the main characters in our game – besides the player of course! – and we'd like to introduce two of them today, one of which we haven't shown publicly so far.
The first track I'd like to showcase is in the debris zone. It features a mix of fractured mechanical structures and also organic matter including rocks and asteroids. You'll see a cave with glowing red bubbles and blue-green crystals – definitely an eyecatcher! – and green, twisted plant-like spirals bring a whole new gameplay element to the otherwise harshly broken and hard surfaces.
The second environment I'd like to highlight here is our water planet. Its surface is dominated by a vast ocean and there are large space station like structures that drill into the planet in large tunnels to harvest its resources. The super-structure that we are playing on is above one of those huge tunnels, and the track takes the player not only through the structure but also shoots them into one of the tunnels and back again.
Even though there is a small amount of text or description in the game, we hope that the tracks and environments each tell their own story, and that they create a hyperfuturistic and abstract atmosphere for the players.
It has been a very exciting endeavour for us four so far, and we are eagerly anticipating your feedback when you see the environments and then of course on September 26 when the game is finally released!