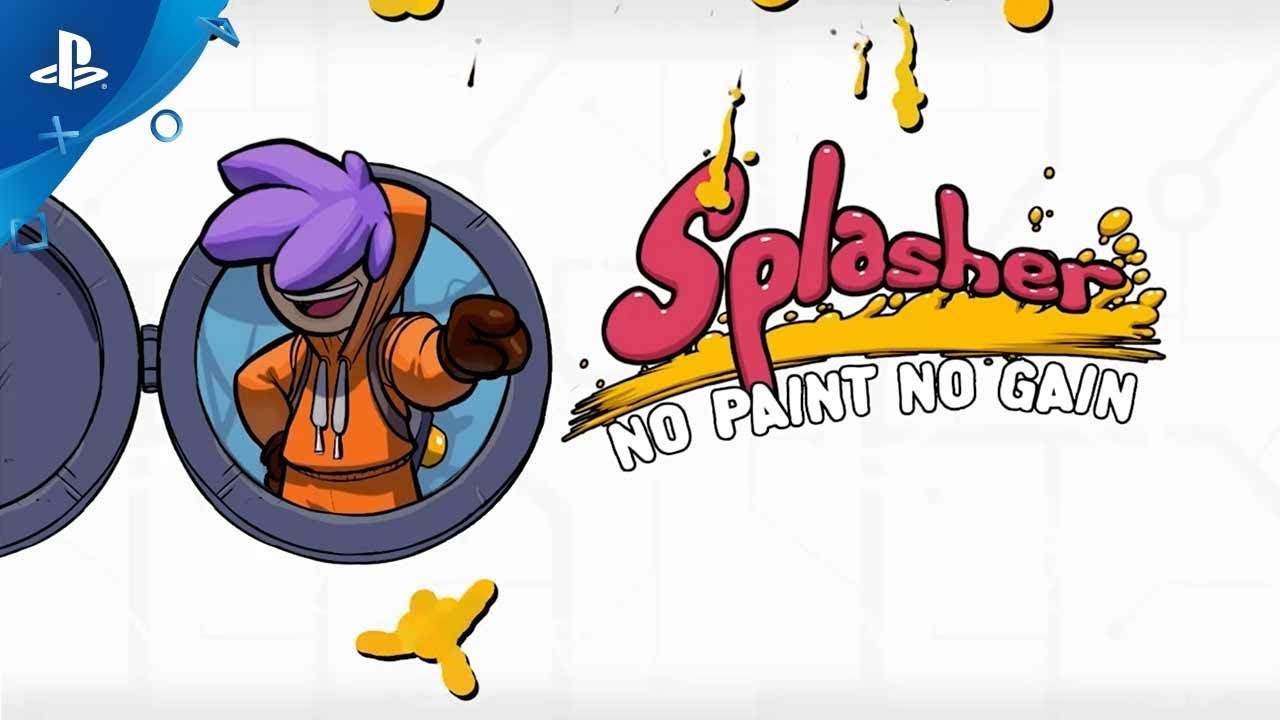 Use physics-defying inks to tear through hand-crafted levels in this frenetic 2D action-platformer.
You know when you say your boss is a paint in the neck? Well, at INKORP the boss does some truly villainous stuff… like changing employees into potato monsters. Who better to defeat him than a young hero "chosen by destiny"? In Splasher, you play this guy —>
Hi!
I'm Romain Claude, former Game Designer at Ubisoft Montpellier on Rayman Origins and Legends. Four years ago I left the big industry to go indie. Now here I am, announcing that my first game is coming to PS4.
It has been such a crazy obstacle course to make it happen. I can't tell you how proud I am of it!
So what's this all about?
Splasher is a fast-paced 2D platformer in which you play a purple haired dude who rises against the authority of a massive paint factory named INKORP. Armed with your loyal paint cannon, you'll face the many dangers of Inkorp in order to save your buddies from an ugly fate. Trust me, you don't want this happening to you:
As you splash your way through 22 levels, the cannon will grant you more and more gameplay abilities such as sticking to walls, bouncing high in the air or even throwing your dumb opponents into their own traps.
Your mission if you shall accept it: Put an end to the despicable projects of the weirdo CEO, a scientist known as "Le Docteur", and rescue all the Splashers buddies.
From salary dev to indie dev: Splasher was born
The concept of Splasher popped up while I was prototyping random stuff, back in 2013. Initially the idea was to reproduce some of my favorite gameplay mechanics for training purposes.
One day I created a surface painting system. Initially it was made to be… blood splatters. How creative, right? But I thought: why not turn this into something you can interact with? A real gameplay feature? So I started to think about paints with different physical properties depending on their color, and of course I remembered another well-known game and its clever 3D puzzles using paints. You know… starts with a 'P' and ends with 'rtal'. Well, I wanted those kinds of mechanics, but in a good ol' 2D action-platformer.
Boom! Splasher was born. Over the next three years I worked on the code and level design for the game, while my artist friend Richard Vatinel (aka Gromy, the other half of the Splashteam), crafted all of its graphics and animations.
No Paint No Gain!
So in Splasher you jump (of course), but most of all YOU FIRE LIQUID PROJECTILES EVERYWHEEEEERE!! Skillfully combining these different abilities is the key.
Water allows you to perform primary actions such as activate mechanisms with small treadmills, damage enemies and also collect "drop coins" by cleaning golden dirt. Note that the drop coins are important to free the Golden Splasher at the end of each level.
Trophy hunters, you know what to do ;)
Stickink makes you stick to surfaces so you can move along walls and ceilings. You can also use Stickink to trap an enemy in a glue ball, preventing it from moving or killing you.
Bouncink makes you bounce very high from any paintable surface, could it be the floor, a wall, or the ceiling. You can also fire Bouncink at enemies to push them into traps.
I designed each level to offer exciting situations, by paying close attention to both learning curves and difficulty spikes. My intention is to make you feel like you're able to flow from the beginning to the end of the game. However, this does not mean that the game is easy, it just means that regardless of the difficulty, the game needs to be fair because I'm just a nice guy who wants you to be happy (well, until you get close to the end…).
This game is an iron hand in a velvet glove.
You dig speedrunning? You'll be even more thrilled!
The game includes a Time Attack mode to challenge your skill in a level of your choice, plus multiple Speedrun modes that we have designed meticulously together with the leaders of a big French speedrun community called "N.E.S.": Nerd Entertainment System.
These guys know a lot about speedrunning and count among their ranks former Rayman and Volgarr the Viking world record holders (to name a few). We have worked closely together to optimize our levels with their pro tips, and we developed three speedrun modes, each one offering a different approach to speedrunning the game.
Oh and you know what happened this summer? One of our greatest french runners, Gyoo, even managed to bring the game to the last SGDQ. That was an awesome moment and a good opportunity to showcase what Splasher looks like in the hands of a talented player.
Splasher is coming to PS4 on September 26. Get ready to splash some butts!
Cheers,
Romain