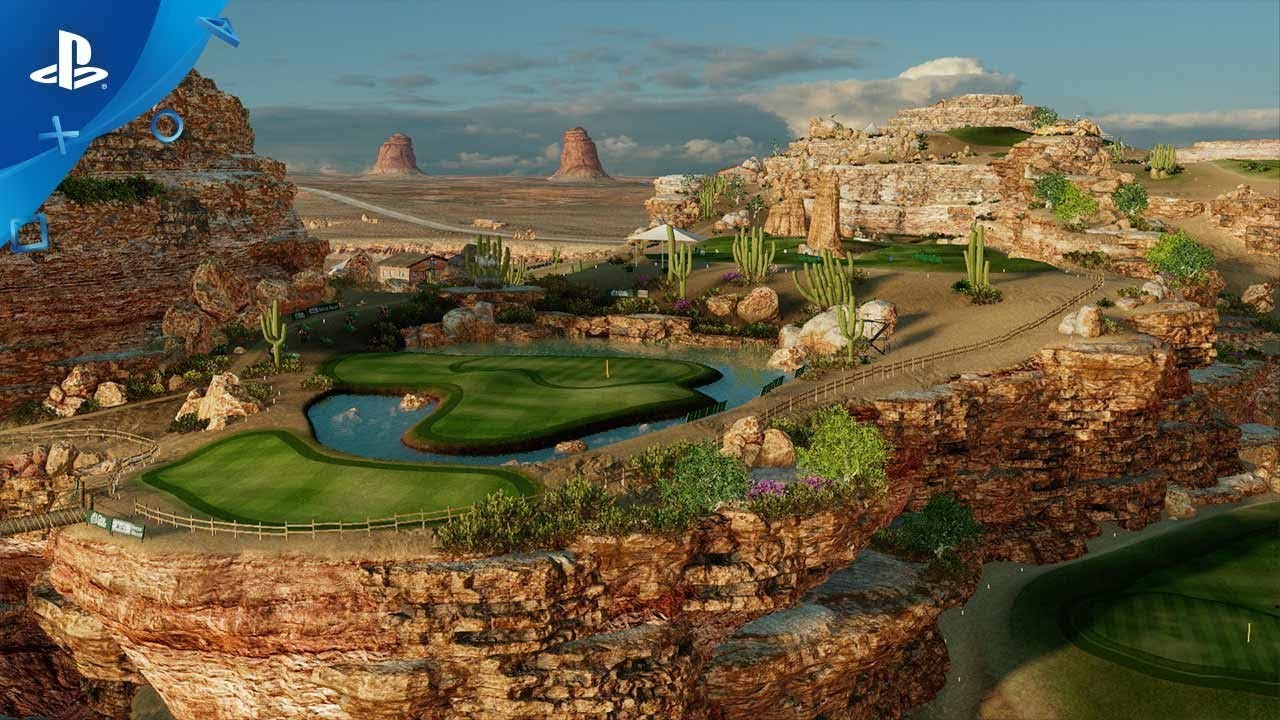 Prepare to conquer the links with these handy tips.
Almost 20 years since its first release in North America, the beloved Hot Shots franchise returns tomorrow with the launch of Everybody's Golf, boasting more challenges, character customization options, and game modes than ever before.
Clap Hanz and JAPAN Studio are super excited to launch Everybody's Golf for the PS4 system, and we wanted to give you a few tips to get you ready to take on the friends you meet on the course!
Practice Range
Before you jump into an online Turf War battle* and play for bragging rights with your buddies, we recommend you hop into Solo Stroke mode. In Solo Stroke play, you'll be able to play all of the courses without pestering friends trying to distract you from sinking your birdie putt!
Take your time, study the greens on each hole, perfect your backspin, approach shots and master the franchise's three-click shot mechanic so when you hop into the game's more challenging multiplayer modes, you'll have a leg up on the competition.
And don't forget: we've upped the ante this time around when it comes to putting. Previous games in the series only required you to click twice on the controller during putting, but Clap Hanz wanted to raise the stakes and intensity, so now you'll need to click three times to putt. Make sure you get some practice so you don't fold under the pressure!
Character and Equipment Upgrades
Once you're feeling more comfortable with your shot repertoire, we suggest you move on to Tournament mode* so you can upgrade your equipment and boost your character's attributes. As you progress through Challenges in this game mode, you will face rival characters and earn handsome rewards like better clubs, upgraded balls, more outfits, cheery spectators… everything you need to improve your game.
And don't miss out on Lucky Time! Lucky Time are side quests that occur randomly in Open Course mode and by completing these quests, you'll be rewarded with even more goodies!
Outside the Tee-Box Activities
With an open world that players are free to explore at their leisure, you'll connect with up to 50 players when you play online*. And if you hadn't already heard, Everybody's Golf has plenty of fun activities that you can participate in when you need a break from the links.
You'll unlock Fishing and Golf Carts as you improve your skill level and beat rival characters while progressing through the five available Open Courses. Once you've unlocked Fishing and Golf Carts, you can pick up your fishing gear at the counter by the pond and golf carts will magically appear by pressing the triangle button while walking the course. Treasure Hunting events, however, are randomly placed throughout Open Courses and all coins collected can be used at the shop!
Fashion Envy?
While Everybody's Golf characters are customizable from head to toe, we've created a tool so you can copy character designs from those avatars you meet on the course when you play online*. So, if you happen to meet some friends and you just have to have their look, try the Avatar Copy feature by selecting the options button on your DS4 to see a list of players in your course. Find a character you want to copy, and simply chose Copy Character. You can copy any character so long as the player has enabled the Copy Character option.
We're grateful to our beloved fans who've stuck with us for 20 years now and we invite a new audience of PS4 system owners to give Everybody's Golf a shot!
Looking forward to seeing you all on the course!
*Some online modes require PS Plus membership.