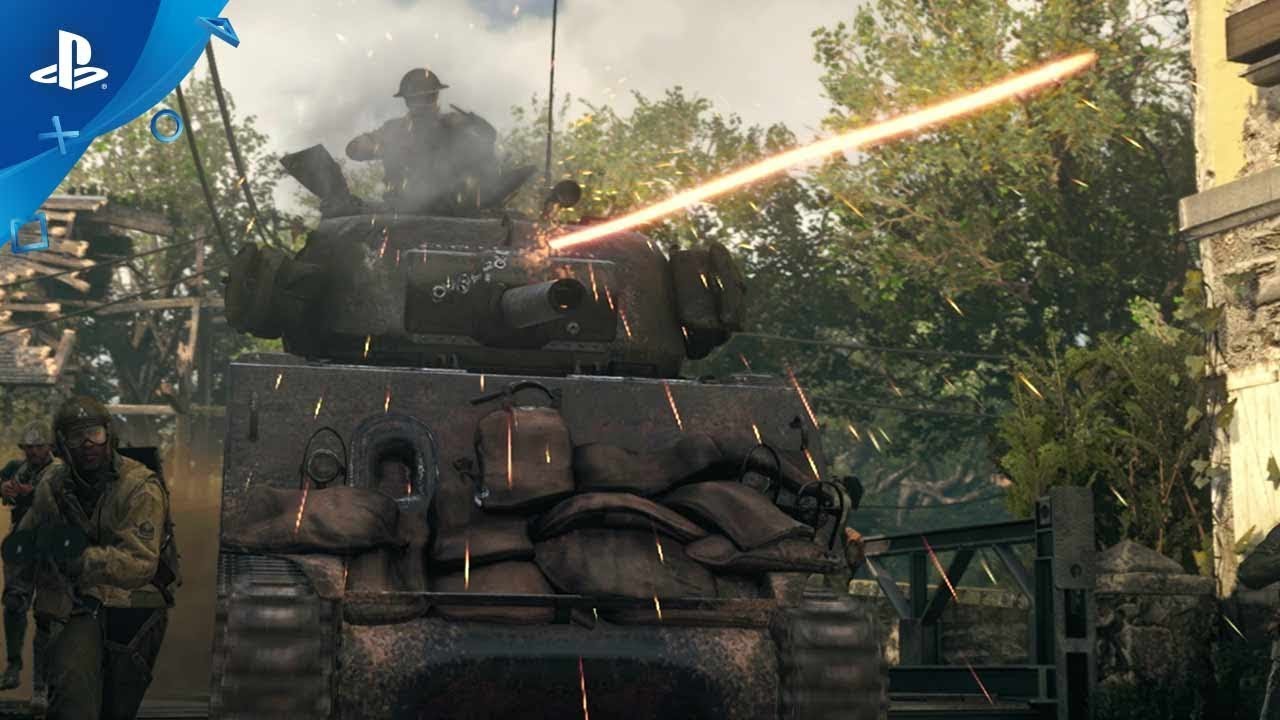 Pre-order COD WWII from PlayStation Store and start pre-loading the beta now.
The Call of Duty: WWII Private Multiplayer Beta is nearly here on PS4, and we've got all the intel you need to get in on the action when it deploys August 25.
SLEDGEHAMMER SPEAKS
Last week, Sledgehammer Games released a special message to let everyone know what to expect from the Private Multiplayer Beta, which is just a small part of the full multiplayer mode, and to thank everyone for taking part as this will help hone the final experience when the full game launches on November 3.
"We love the active dialog we have with the Call of Duty community, and value the exchange of ideas and constructive feedback we have with fans. Your feedback will help us finalize features, optimize gameplay balance, and refine the remaining development roadmap to launch. So please explore, rank up, and have fun. Share as much feedback as you can – everything helps. The development team will be playing non-stop, and we'll be monitoring performance and collecting valuable data around the clock."
HOW TO GET INTO THE PRIVATE MULTIPLAYER BETA
To gain access to the Call of Duty: WWII Private Multiplayer Beta, you need to pre-order the game at a participating retailer. Head over to www.callofduty.com/beta for more details. If you pre-order from the PlayStation Store, you can pre-load now to jump right into the action once the Beta starts on Aug 25 @ 10AM PT.
PRIVATE MULTIPLAYER BETA DATES
The Private Multiplayer Beta will be split into two weekends for PlayStation 4 players:
Weekend 1 starts at 10am Pacific / 5pm GMT on August 25 and will last until August 28 at 10am Pacific / 5pm GMT.
Weekend 2 starts on 10am Pacific / 5pm GMT on September 1, and will last until September 4 at 10am Pacific / 5pm GMT.
PRIVATE MULTIPLAYER BETA COMBAT PACK

Beta Players will also receive the Private Multiplayer Beta Combat Pack when the game launches on November 3. The pack includes a specially-themed Private Multiplayer Beta Helmet, Calling Card, and Emblem. Wear them with pride in multiplayer after launch and show the world that you were there from the start.
DIVISIONS PACK
Also, players who pre-order the game at select retailers will receive the Divisions Pack. This pack includes five Premium Gear Sets inspired by the five Divisions in Call of Duty: WWII multiplayer.
Infantry Division riflemen are always in the thick of it with finely-tuned rifles and impeccable marksmanship.
Well-equipped with incendiary rounds and tactical grenades, the Expeditionary Division's shotguns literally pack heat.
Airborne Division paratroopers endure extreme physical conditioning to outmaneuver opponents with their submachine guns.
Focused on stealth and target identification, Mountain Division snipers generate constant fear in the enemy and strike when least expected.
Armored Division soldiers are the best supplied in battle and hold down positions with their explosives and light machine guns.
MULTIPLAYER DETAILS
Now that you know how you can customize your player experience when the game launches, what will you be playing in the Private Multiplayer Beta?
There's a lot happening in the Private Multiplayer Beta starting this weekend. Let's dive right in!
MAPS
Players will experience a variety of iconic WWII locations throughout Europe, including a brand-new map that hasn't been seen before.
Ardennes Forest: Battle through the frigid snow-covered forest of the Ardennes during the Battle of the Bulge, the brutal final major offensive effort by the German army to punch through the Allied front lines. Engagements are fast and deadly in the dangerous, frozen woodland ruins. Stay alert in this medium size map fortified with emplaced MG42 machine guns waiting to annihilate enemy combatants.
Gibraltar: Battle through the fortified bastion and steep cliffs of Gibraltar, built as a strategic defense of the Mediterranean Sea and a major refueling and supply station for the Allied forces during WWII. Prepare for multilevel combat engagements and treacherous terrain in one of the most densely guarded and fought over places in Europe. Don't neglect the lower lane, and use the defense batteries there to pick off flankers.
Pointe du Hoc: Fight through a fortified network of German bunker complexes atop the cliffs at Pointe du Hoc, an important strategic target overlooking the beaches of Normandy. Engage in fast-paced, close-quarters combat in the trenches, or flank the enemy in a brutal fight to lock down the nearby farmhouse and bunkers for control of key access routes to the bluff.
WAR MODE
Additionally, players will be able to take part in Call of Duty: WWII's War Mode. This is an all-new game mode where players must work as a team to defeat the enemy. Allied and Axis forces clash in team-driven assault and defend missions for key strategic objectives.
Fight for control of a war-torn French village west of St. Lo, an important operation in the Allied push onward and out of the beachhead at Normandy. Allied and Axis forces battle for control of a strategic manor to secure a forward operating position. Bridge construction, ammo depot demolition and tank escorts are key strategic tasks in this do-or-die mission to dominate the enemy. Choose your equipment wisely – every decision can mean the difference between victory and defeat in this narrative-driven, objective-based multiplayer experience – a first for Call of Duty.
It should be clear by now that this Private Multiplayer Beta is busting at the seams. Be sure to follow Sledgehammer Games on Twitter for the latest updates, and you can leave feedback for the team there, or on the r/WWII subreddit. Every bit of information helps! It's two days until the Private Multiplayer Beta begins on PS4, and we look forward to joining you on the field of battle.
For more intel about Call of Duty: WWII, visit CallofDuty.com/WWII and follow @CallofDuty and @SHGames on Twitter.