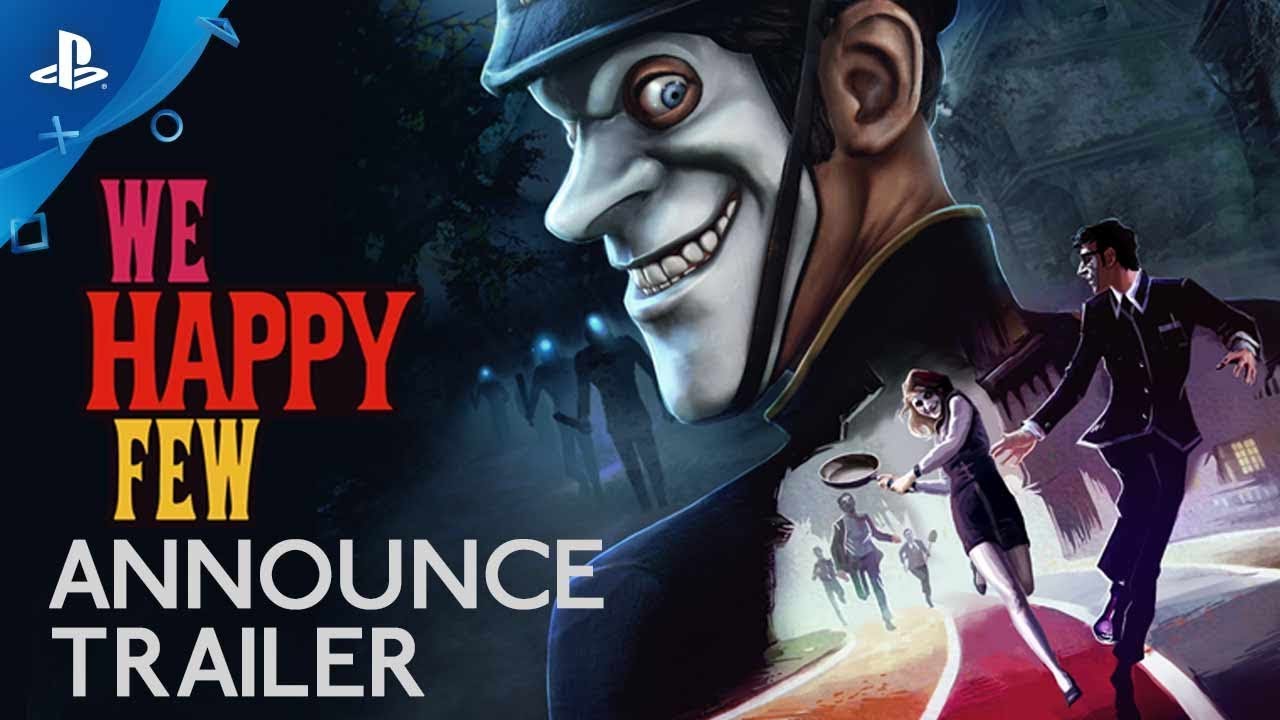 Pre-order at PlayStation Store to get a new PS4 Theme and the in-game Jolly Brolly parasol weapon.
Attention, everyone! We've got a Joyous announcement to make! We at Gearbox Publishing are partnering with Compulsion Games to bring We Happy Few to PlayStation 4 on April 13th!
We Happy Few is a first-person action/adventure game that takes place in Wellington Wells, a little English town in an alternate 1960s timeline. There, the citizens block out their traumatic memories of the town's past by taking "Joy," a literal happy pill.
Playing through the storylines of three distinct citizens with wildly different perspectives, you'll explore Wellington Wells, encounter intriguing characters, and uncover a few secrets along the way. Take advantage of each character's playstyle, whether by choosing to fight your way out of conflicts, sneak past unseen, or blend in with the townsfolk to avoid their suspicion. Just don't get caught off your Joy. Only Downers refuse to take their Joy, and you don't want people to think you're a Downer, do you?
We Happy Few's psychedelic, retro-futuristic world is procedurally generated, so you'll never experience the same gameplay twice. The world of Wellington Wells is populated by colorful, complex characters and rich questlines, making each playthrough a unique experience!
We Happy Few will be available for $59.99 on PlayStation 4 on April 13th, but you can pre-order to get 15% off the total price – plus the in-game Jolly Brolly parasol weapon – from now until launch. As an exclusive bonus, PS4 users will receive a We Happy Few PS4 dynamic theme made by Truant Pixel!
Those who seek further adventures in Wellington Wells can purchase the We Happy Few Deluxe Edition to access the DLC Season Pass! The Season Pass will consist of three pieces of additional game content, which will be released as they become available.
Superfans can pre-order the We Happy Few Collector's Set, a separate box set chock full of groovy goodies, including:
Replica Bobby Mask
The "You Look Smashing" 3-Tiered Lamp
Uncle Jack Alarm Clock
We Happy Few Soundtrack on Vinyl
And more!
The Collector's Set will run for $149.99, but quantities are limited, so act fast to get yours!
We're so thrilled to be partnering with Compulsion Games to publish We Happy Few, and we can't wait to share more information with you. Stay tuned!