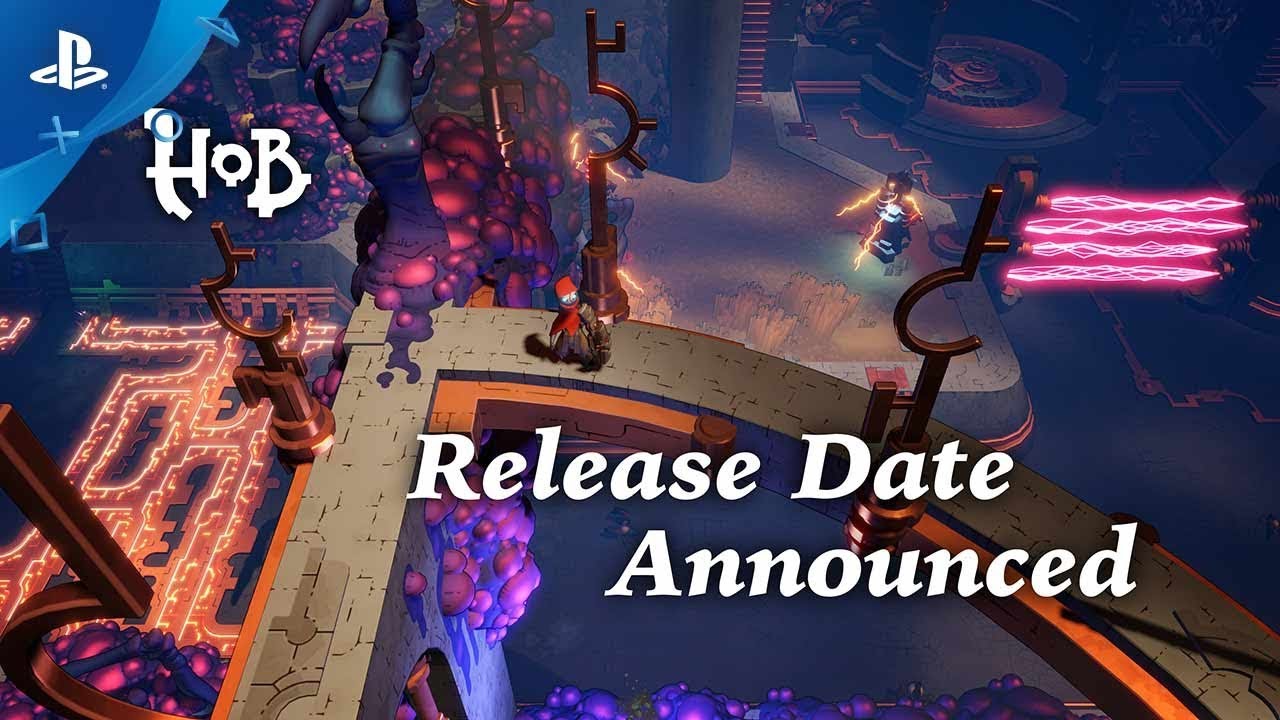 Plus, six things you probably didn't know about Runic's upcoming 3D platformer
Hi PlayStation Nation,
It's Wonder from Runic Games, here with a jam-packed update on Hob. Let's get straight to the big news in our new trailer: Hob launches on September 26! This is a big milestone –we know you've been waiting patiently for a release date.
Test Your Knowledge
We've released several gameplay videos, dev diaries and trailers, so you might feel like you know quite a bit about Hob. Let's test your knowledge! Here are six facts about Hob we bet you didn't know.
1. The sprites are plants
These cute little creatures that magically zip in and out of your life are actually sentient plants! Our lead Engineer, Marsh Lefler, gives you more clues in our dev diary, Meet the Sprites. Which makes us wonder, would a grouping of sprites be called a bouquet?
2. The world is a puzzle
You've seen some impressive in-game footage of land masses shooting out of the mechanical depths to fall and lock into place. But did you know the whole world of Hob is this way? Forests, dungeons, meadows, and areas we've kept super secret can only be accessed once you raise or activate those parts of the world. Want a hint about one of the (unannounced zones) you'll be discovering? Make sure you watch to the end of our release day trailer above, but we warn you… spoilers!
3. Are you really the first?
Along your journey, you'll collect sword shards in the world and be able to upgrade your weapon. But where you get them just might be more intriguing than how. Dotted throughout the world are the Fallen Soldiers – cloaked figures with a silhouette not unlike your own, kneeling beneath a patina of age and rust. Around you are the ruins of a civilization, so what happened to these Fallen Soldiers? And could you possibly be related? You'll have to play to uncover the mystery!
4. The world is true-neutral
From twitching purple claws of Rogue Life to the majestic stilt-horses wandering the plains, the world is teeming with life. Nothing, however, is inherently good or evil. Instead, all of the life forms are locked in a Darwinian struggle for the survival of their own species. Some creatures may try to eat you, others could become your friends. Where do you fit in?
5. Hob isn't his or her name
At the very beginning when we started development, we just called it "adventure game." Later, like most projects, we had an internal code name for the game, which was Hob. That name obviously stuck! But what's important is that "Hob" isn't his or her name; in fact, the Hero in Hob is gender-neutral. We want you to see yourself in the story!
6. Created by the Torchlight team
Hob is our third title, after Torchlight and Torchlight II. We know it's a big change from what our fan base is used to, but we are gamers ourselves who, like you, love playing a wide variety of games! Just like we put our own style and spin on the dungeon-crawler genre, we've put our own style and spin on the puzzle-platformer genre. We are immensely proud of Hob, and hope that if you loved our previous games, you'll love Hob as much as we do.
If you learned something new, tell us in the comments or on social media! And don't worry, we know that discovery is part of the joy of Hob, and we are keeping back plenty of surprises for when you play yourself.
Hob Pre-Order Incentive
If you love the world-shifting of Hob, you need our dynamic theme! Hob launches on September 26, and if you pre-order, you get 10% off the sale price of $19.99, as well as the world-shift theme. See the full theme, including music from Matt Uelmen, here!
Calling All Trophy Hunters!
What's better than collecting Trophies? Naming them! That's right, you have the chance to name one of the Trophies in Hob. If we pick your name idea, we will even put you in the credits! This is must-have bragging rights for any serious Trophy collector. We also have tons of other prizes including a free copy of the game and exclusive Hob swag. Here's a quick look at how the contest will work!
Ready to do some naming? Head to our blog post for more information and find out how to submit your entries!
I've played a lot of Hob since we started development, and I still fall in love with the experience each time I pick up the controller. In fact, I love it more now than I ever did. The artwork is gorgeous, the world sounds and music are immersive, and there are discoveries to make around every corner. Playing feels charming and meditative. We can't wait for you play it on September 26. Start your countdown clock … Fifty-six days to go!
With love,
Wonder & The Runic Team