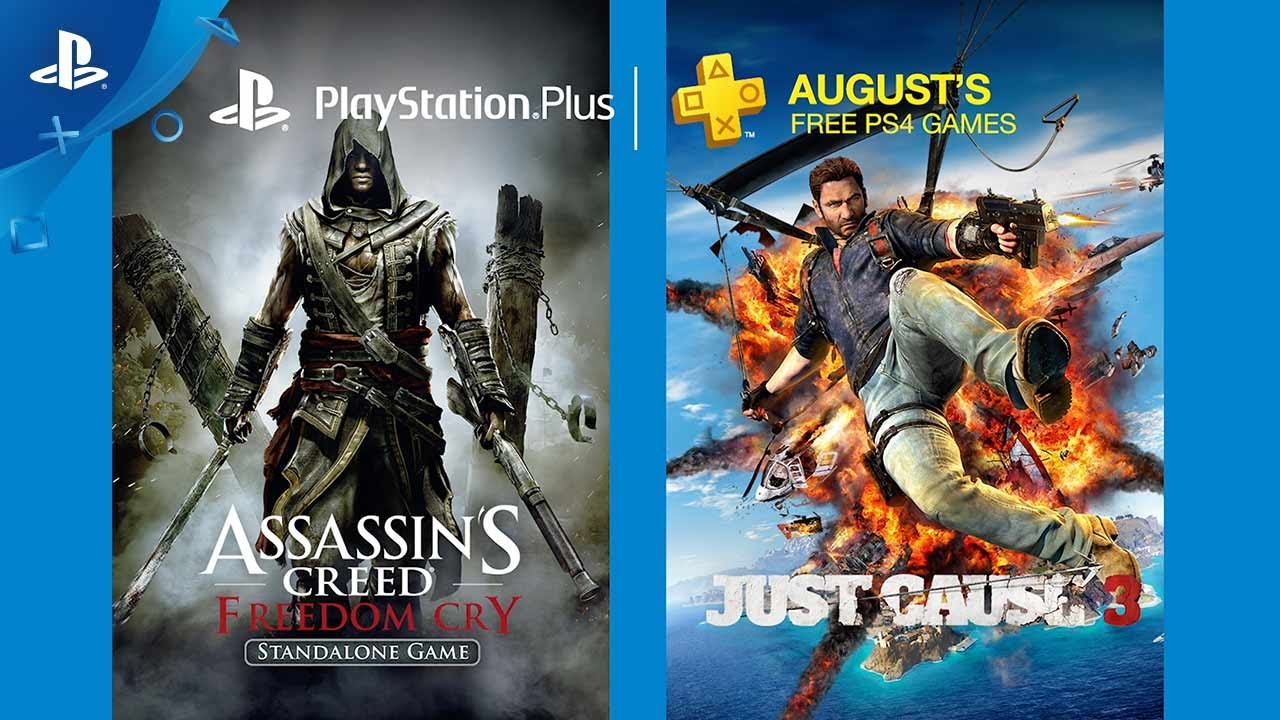 Just Cause 3 and Assassin's Creed: Freedom Cry lead next month's lineup.
Greetings PlayStation Nation and welcome to another PlayStation Plus Free Games Update.
But first, have you tried That's You! yet? All PlayStation Plus members can get this game as part of their membership. Set off on a journey of discovery with up to five of your friends and family, and find out what you really think about each other. Joining the fun is easy: just have your TV, PlayStation 4 and Android/iOS phone or tablet ready. That's You! is the perfect summertime party game, so download it for free today before this exclusive download offer ends!
Now, on to our other games this month.
First up, we have the excellent and chaotic Just Cause 3. Take Rico Rodriguez on a truly wild ride to liberate Medici from military dictatorship. Your greatest weapon is your ingenuity. And explosions.
Next we have Assassin's Creed Freedom Cry, a standalone adventure set after the events of Black Flag. Guide Adewale on an emotional story, using his skills as an assassin and his deep convictions to free oppressed people.
Full lineup:
Just Cause 3, PS4
Assassin's Creed: Freedom Cry, PS4
Super Motherload, PS3
Snakeball, PS3
Downwell, PS Vita (crossbuy with PS4)
Level 22, PS Vita
And those are your free games for August. But wait, there's more for PS Plus members.
PS Plus Summer Movies are here! Enjoy six weeks of 99¢ rentals – selected for you from this summer's hottest blockbusters. Starting us off with a bang, The Lego Batman Movie – handpicked for the whole family to enjoy. Check out the full schedule of movies below, then head over to PS Store each week to enjoy 99¢ rentals.
You can download the PlayStation Video app on Android or iOS devices and watch your movies on the go. Once rented, your unwatched movies stay in My Videos for up to 30 days. Hot right?
For Free-to-Play, Dreadnaught, launching in open beta on August 1st, will be offering a $20 PlayStation Plus pack starting August 15th. All PlayStation Plus members will also get the Ravenswood Plus Pack free.
There's lot of great stuff to look forward to, but if you want something immediate, this weekend only, PlayStation Plus members can play Doom for free starting tomorrow, Thursday the 27th until the 30th. Play all weekend long, then save 50% on the full game purchase in the PlayStation Store with a PlayStation Plus exclusive discount, which is available through August 3rd.
And there you have it! See you next month.