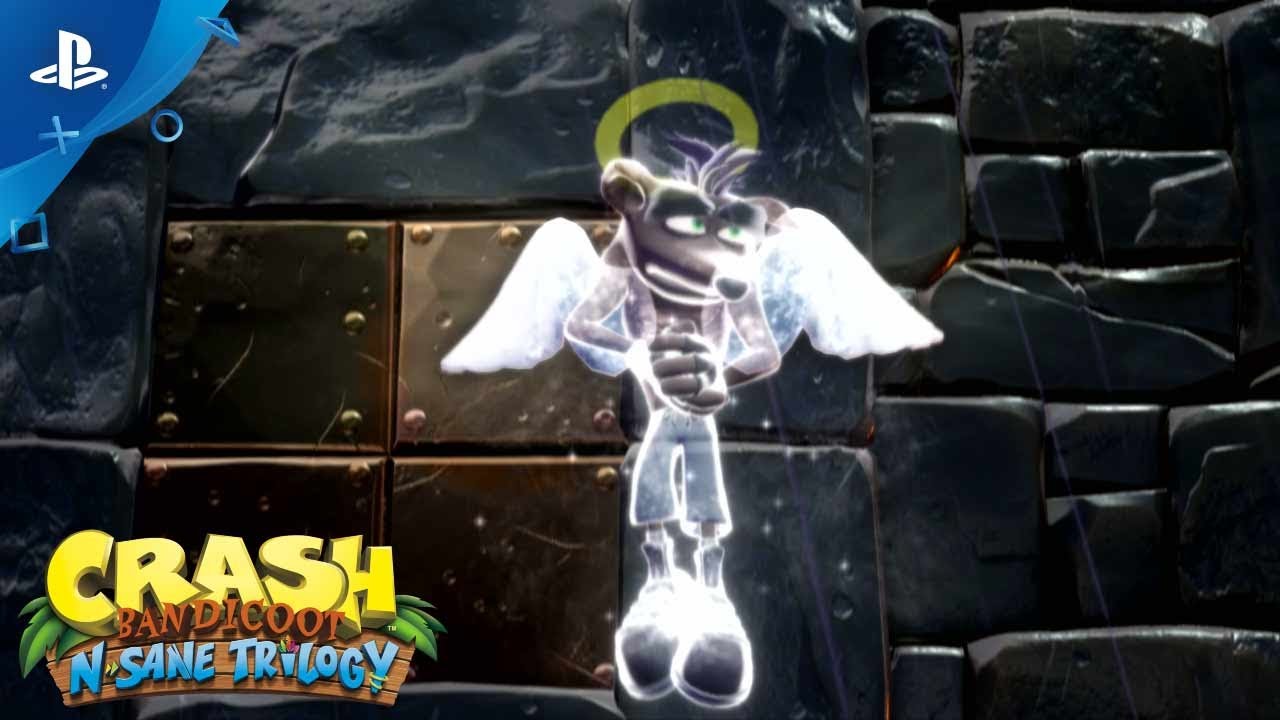 Play Stormy Ascent -- a level originally removed from Crash Bandicoot because it was too hard -- in the N. Sane Trilogy... today! Free through August 19.
Taylor Kurosaki, formerly one of the original members of the Crash Bandicoot team at Naughty Dog, joins the Crash Bandicoot N. Sane Trilogy Game Director, Dan Tanguay, from Vicarious Visions to talk about the notorious Stormy Ascent level. The previously unreleased Crash Bandicoot level, Stormy Ascent, is now coming to life in the Crash Bandicoot N. Sane Trilogy.
How did this level come to be?
Taylor Kurosaki: Early in production of the original Crash Bandicoot game, everyone at Naughty Dog often wore multiple hats. However, by year two we were somewhat specialized and I went from artist to game designer. I ended up designing and laying out ¾ of the levels in the original Crash Bandicoot. And Stormy Ascent was one of mine.
Dan Tanguay: The team here at Vicarious Visions knew the fans really wanted Stormy Ascent, and so did we! One of the best players on the design team had beat the first game and wanted a new challenge. So, we told him to try the original Stormy Ascent. It took him 60 lives to get through it – needless to say it was much more challenging than he had expected. However, he still fell in love with it and we decided to bring it life.
Tell us about making Stormy Ascent
Taylor: I was new to games and game design back then; I didn't have a great understanding of a difficulty curve. This level was so close to the end of the game and, you guessed it, it ended up being insanely difficult. As in, so difficult that it was hard for me, and I'm the guy who knew exactly how far Crash could jump, how late a player could take-off, and so on.
Dan: This is the "sister level" to Slippery Climb in the original Crash Bandicoot. It features the same assets but new challenges. It's also roughly four times longer than any other level in the original game. Getting through it is a feat of both skill and endurance! Taylor's right, it's considered to be not only one of the most difficult levels in the original Crash Bandicoot, but probably in the entire N. Sane Trilogy.
It was challenging to first master the level so that we could accurately remaster it. In particular, the timing of the level was challenging to get right. The hazards and platforms steadily increase in speed as you go along!
It never actually shipped, right?
Taylor: Yes. It was one of the last levels I finished during production, and as we prepared to deliver our Gold Master to Sony for manufacturing, the decision was made to cut it. It was playable, but just too damn difficult, and we ran out of time to make it easier. It remained on the disc as it was less risky just leaving it rather than trying to remove it. It was basically hidden, but it was there.
Dan: Fans found it though, using Gameshark.
Taylor: I think it's cool when fans find hidden things in games, this was no exception. I was glad it somewhat found the light of day, and I think it's an awesome level.
In 2017, games like Dark Souls and Bloodborne are all the rage. People like games that are difficult! We were so ahead of the curve! Now Stormy Ascent is alive as part of the Vicarious Visions-developed Crash Bandicoot N. Sane Trilogy. Go forth and enjoy!
Click here to download Stormy Ascent for the Crash Bandicoot N. Sane Trilogy for free through August 19, 2017.