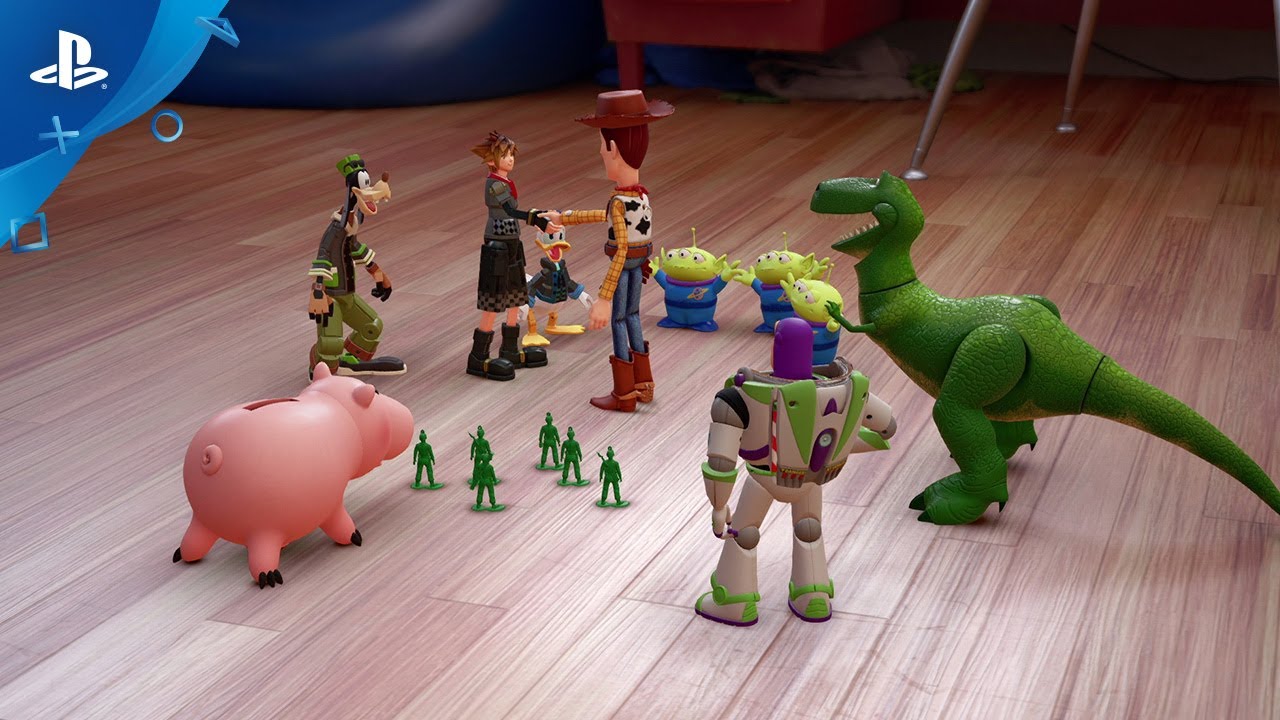 Just revealed at D23 in Anaheim, the long-awaited new entry in the Kingdom Hearts series takes our heroes to a Disney•Pixar world for the first time.
It's hard to decide which piece of amazing Kingdom Hearts III news from this weekend to celebrate first, but since I know what you're going to ask…
2018.
Kingdom Hearts III is coming in 2018.
For real.
Series Director Tetsuya Nomura revealed one of gaming's most desired and highly anticipated pieces of knowledge at the end of the most recent Kingdom Hearts III trailer that played to a packed auditorium during Disney's D23 Expo at the Anaheim Convention Center.
And that was the second biggest piece of news.
The main bombshell was that the world of Toy Story would appear in Kingdom Hearts III!
For those who haven't played before, Kingdom Hearts is an action RPG where the main hero—a Keyblade wielder named Sora—is joined by Donald Duck and Goofy as they travel across the Disney worlds to fight against the dark and spreading threat of the shadowy creatures known as the Heartless. So far, they've travelled to dozens of Disney worlds, and by the time Kingdom Hearts III comes out, more than 200+ Disney characters will have appeared in the franchise.
But the inclusion of Toy Story as one of those worlds is an extra special milestone, as it marked the very first time a Disney•Pixar title has appeared in the series' 15 year history!
In this new trailer, Sora, Donald and Goofy find themselves in a playful new world, and face skepticism from its inhabitants about their intentions. Fans of the series will find plenty more details to pore over. Watch the trailer and let us know what you think!
For fans new to Kingdom Hearts, or those who want to relive the adventure, 2017 has already seen the release of two High Definition Kingdom Hearts compilations on PS4 that will help whet your appetite until we're ready to reveal more Kingdom Hearts III news:
In the meantime, keep in mind the message from the trailer:
"Don't assume your dreams are just fantasy.
If you can imagine a world, believe in it…and dive in."
2018 will be here before we know it, and there's more exciting news about Kingdom Hearts III to come!