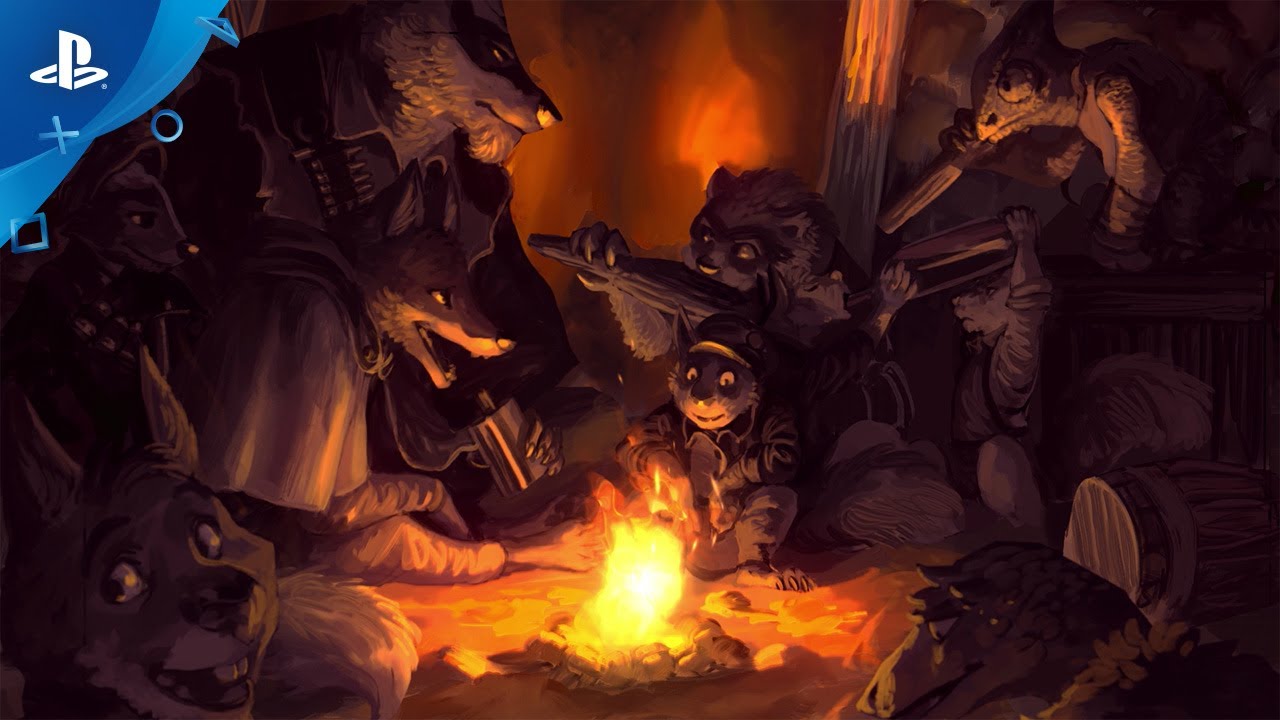 Watch the new trailer for Pocketwatch Games' new controller-focused RTS.
After a long wait, the War for Meat has nearly begun. Tooth and Tail, the Real-Time-Strategy game designed specifically for controllers, is coming to PS4 on September 12th, with pre-orders available starting July 18th.
I'm Andy Schatz — Creative Director of Pocketwatch Games — and along with the new trailer for Tooth and Tail, I want to show you some never-before-seen shots of the extensive single-player Story Mode.

Tooth and Tail | PlayStation.com
"A Modern Animal eats his meat", as they say in Vyeshal. Ever since the Blight, animals have taken to feeding upon each other through a ritual called the Harvest, when the Civilized choose members of the populace to be cooked and served at the feasting table.
Set in an era of industrial revolution, and filled with characters like the acorn-brewing Distillery Brothers and the thuggish chameleons of the Trench Gang, a story of political revolution and personal vengeance unravels.
Explore the Warrens as the flagbearers of the four factions: the Longcoats, the Commonfolk, the KSR, and the Civilized. Each character's campaign contains unique rules, settings, and strategies. And with procedurally generated maps, the Story Mode is endlessly replayable.
After you've gotten your feet wet in Story Mode (or sunk many hours into all four characters' arcs), maybe you'll have an appetite for multiplayer. Tooth and Tail's multiplayer has been tested with a three-year long private alpha, which has spawned a fan-run tournament scene, called Clash of Comrades. We patch the game frequently with balance changes and new features, and we plan to do so after launch as well.
The competitive mode in Tooth and Tail is called the Arena. Here, players can compete versus players of similar rank to vie for their place in the standings. In the Arena, every game matters.
Since matches only last 5 to 12 minutes, players feel more at ease experimenting with new strategies, or trying crazy stuff to catch their opponents off guard. As with single-player, all maps are procedurally generated, and players can customize their hidden army before the start of the match, so no two games are exactly alike!
Of course, if online competitive play is too intimidating, you can always play Split Screen with up to four players. Or if you've got a buddy that you like to play couch-co-op games with, you can play mixed Split Screen and Online in 2v2 matches as well.
Tooth and Tail will be available for pre-order on July 18th, with an extra 10% off for PS+ subscribers. See you on the battlefield September 12th!