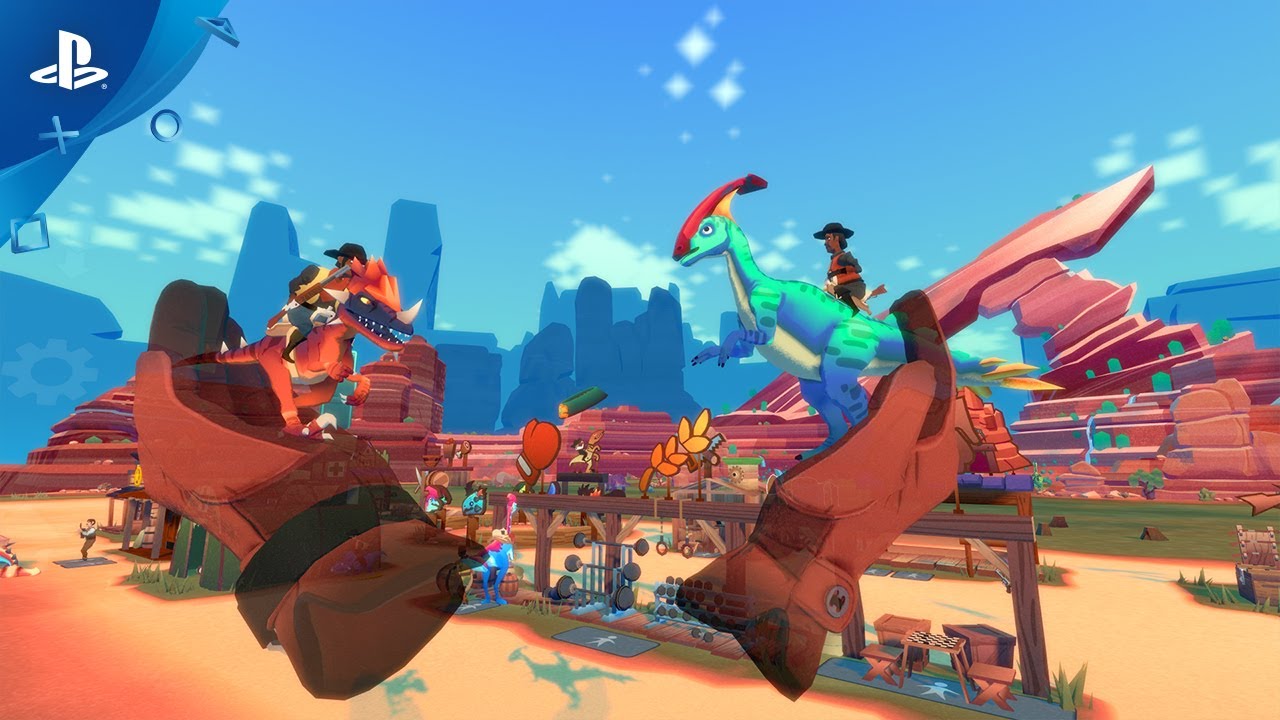 Manage a settlement and train dinos in the latest from the creators of Wayward Sky.
Uber Entertainment is proud to announce that Dino Frontier will be available on August 1 for PlayStation VR. You can buy the game digitally for $29.99. PlayStation Plus members can pre-order starting today with a 20% discount.
We announced Dino Frontier last December at PlayStation Experience. Since then, PlayStation gamers played updated demos at GDC in March and E3 in June. Now it's ready for gamers across the globe. It's been a thrilling ride and we couldn't be more excited.
Dino Frontier lets you build and manage a frontier settlement in a world where the Wild West and Jurassic collide. You assume the role of Big Mayor overlooking your settlement in tabletop-scale VR. You'll be directing Settlers to harvest food, chop lumber, train dinosaurs, and more!
We've strived to push the boundaries of VR interaction. There's no other game like Dino Frontier. Reaching down into a vibrant world to pick up tiny people is a magical experience.
We offer innovative camera controls that are both powerful and comfortable. You can zoom in, zoom out, pan, and rotate with ease. Clever interactions provide detailed information without overwhelming UI.
Of course Dino Frontier wouldn't be complete without dinosaurs! There are no horses or bison in this world. Instead you'll be training settlers to capture velociraptors, ankylosauri, the mighty Tyrannosaurus rex, and more.
In 2016 we released the critically acclaimed Wayward Sky as a launch title for PlayStation VR. With Dino Frontier we've built on our experience to make a second-generation VR game. Dino Frontier offers a core experience to satisfy players eager for deeper VR gameplay.
We can't wait for you to experience all the Jurassic frontier has to offer!