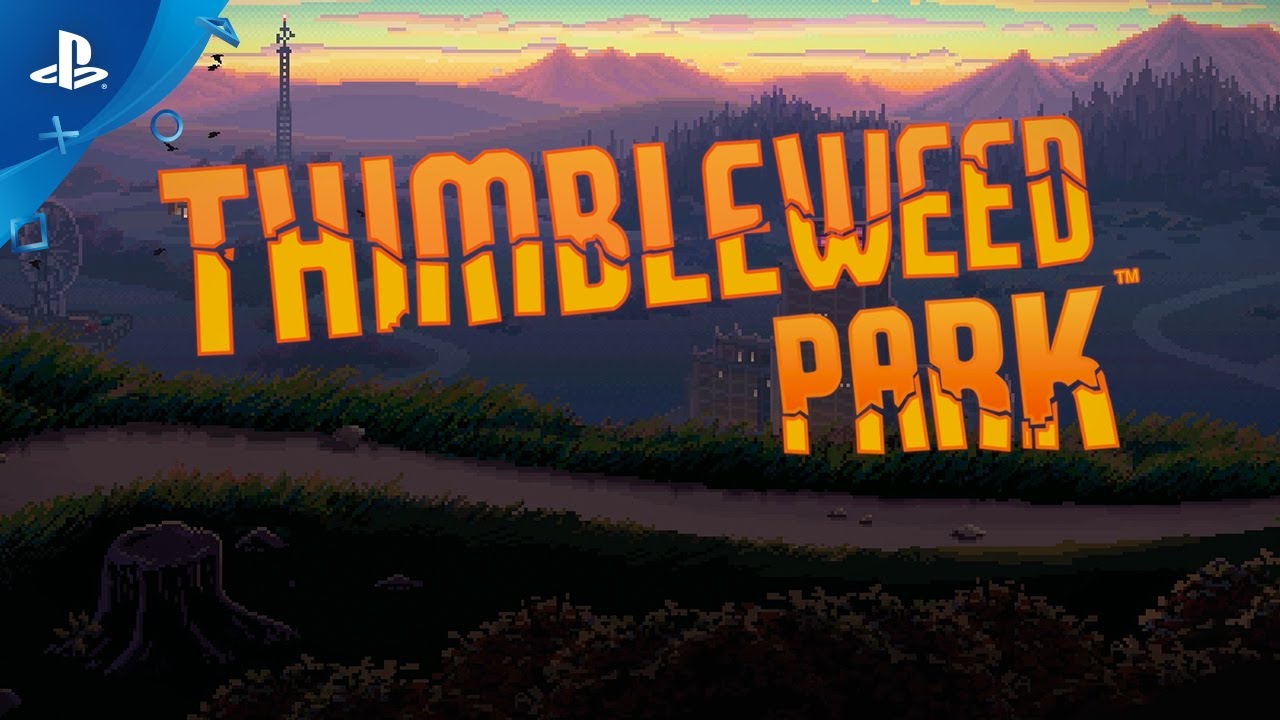 Veteran developers pay tribute to classic games and classic mysteries in this upcoming adventure.
Hello-a-reno. Ron Gilbert writing to you from the rainy city of Seattle. The entire Thimbleweed Park team is excited to announce that Thimbleweed Park will be coming to PS4 on August 22.
Thimbleweed Park is a new and modern classic point-and-click adventure game made by veteran Lucas Games people like myself, Gary Winnick, and David Fox — who created classic games like Monkey Island, Maniac Mansion, and Zak McKraken.
When we say "In a town like Thimbleweed Park, a dead body is the least of your problems," we mean it. Take a trip down a rabbit hole of murder and mystery inspired by some other modern classics — Twin Peaks, Stephen King, and the X-Files.
The game initially follows agents Ray and Reyes as they investigate a body found in the river just outside the town of Thimbleweed Park. Players can freely switch between the two of them and solve puzzles to try and find out who murdered the poor guy under the bridge.
But then things get weird.
There is something going on in Thimbleweed Park and it's much deeper than a murder. Agents Ray and Reyes are soon joined by Ransome (a clown), Delores (a wannabe game designer), and Franklin (a dead pillow salesman).
Then things get really weird.
Take control of Ransome, Delores, Franklin, Ray, and Reyes to explore each of their stories as they attempt to break into the old abandoned Pillow Factory. Take your time. Explore a massive world. Lose yourself in the mystery. Before the end, it's going to get even weirder.
Thimbleweed Park was Kickstarted late in 2014 by a group of passionate backers who love point-and-click adventure games as much as we do.
Ever since the initial launch on March 30, we've been hammered with questions about when it'll be coming to PlayStation. It's exciting to see that the interest in this game extends far beyond the die-hard adventure game fans who backed it and we're thrilled to bring Thimbleweed Park to a whole new audience with our PS4 launch on August 22.
We chronicled the two years of development with a development blog we updated several times a week, taking readers through the grueling process of making a game.
For example, you may be wondering how exactly a point and click adventure works on a console, without a mouse. Never fear — we spent a lot of time perfecting the console controls, without losing any of the classic feel that made the adventure games of the 80s and 90s so charming.
So why did Agents Ray and Reyes really come to town? Will Delores get to follow her dreams and make video games? Will Franklin ever get to say goodbye to his daughter? What about Ransome, will he always be such an ***hole? And wait a minute… how come no one seems to care about that dead body under the bridge?
We can't wait for you to find out.
Ron and the Thimbleweed Park Team